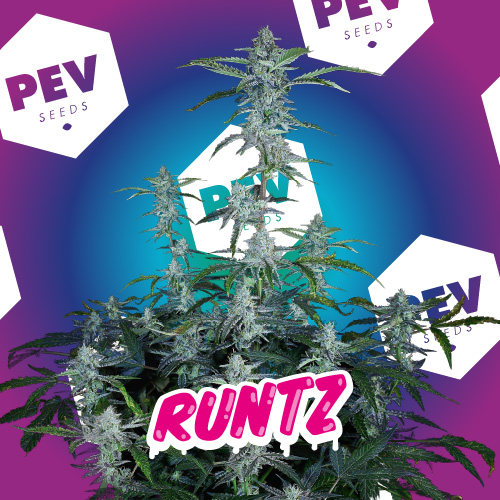 Welcome, Grower! Land in our feminized seed catalogue the new Runtz from PEV Seeds, brings together the best of the two most trendy American genetics, the Zkittlez and the Gelato. It will leave you speechless!
The most remarkable thing about this cannabis is its incredible taste and aroma, its high resin production and the color it acquires in the flowering phase, which ranges from lime green to the purple of some phenotypes.
As a not insignificant fact, we find a THC concentration in its flowers higher than 27%.
What does Runtz cannabis taste like?
With regard to its terpenic profile, it is undoubtedly one of its main features. A delicious combination of fruity notes, with certain sweet caramel nuances, all combined with a tropical background that far from being out of tune, brings the finishing touch to a sensory experience that is difficult to describe. I recommend you to vaporize it to enjoy it to the maximum.
What can we say about its effect?
Its effect is very intense and relaxing, a combination between a fun mental psychedelia and a relaxing body that moves away the bad vibes and allows you to see life in the pink.
Growing Runtz is very easy, here's some advice!
In indoor cultivation, always control the temperature between 20º and 26º C (68-79 ºF), if it is above these values you could have problems. Its structure is certainly sensitive to fungal attacks, so when flowering starts, it is best to apply progressive pruning to open it up a little and allow light to enter the lower areas. With 2.9 US gal (11 litre) pots and 9 specimens per 3x3ft (m2), you can harvest between 15.8 and 19.4 oz per 3x3ft (450-550 grams per m2).
In outdoor crops, it is a plant that stands out for its robustness, it can withstand anything, although if you live in a very sunny and low humidity climate, this little lady will feel at home. Growing, so that it lacks nothing, add Top Veg from Top Crop, in my opinion the best growth stimulator in a quality/price ratio.
Don't miss the opportunity to get your hands on one of the most trendy varieties in America.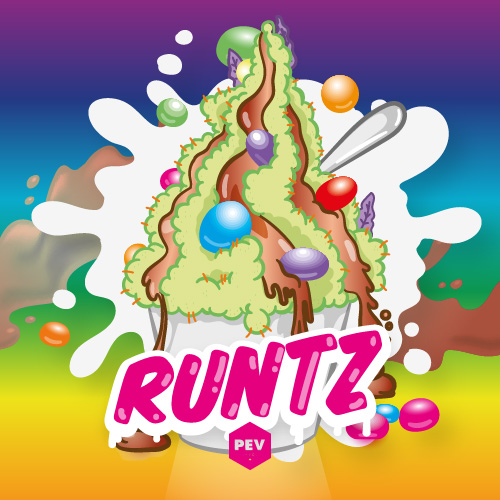 Thank you for coming this far

Enjoy 7% off your next purchase with the discount code: 
PEV2422
You may also be interested in: