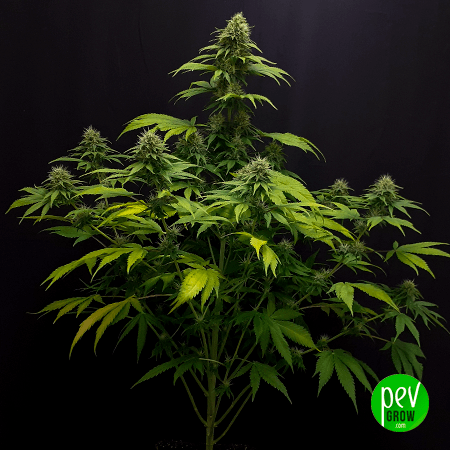 White CBG are feminized medical marijuana seeds produced by Spain Bulk Seeds, and we are not facing another variety, the chemotype of these plants is very special, since they lack psychoactivity but produce levels of cannabigerol never seen before, but I will not anticipate more, if you want to see everything they can offer you, do not stop reading this ...
What is the genetics of these feminized seeds?
This is a cross between aCBG Forcephenotype from Dutch Passion and a large selection of White CBG obtained in Oregon. In the first offspring we analyzed more than 100 specimens to maintain those with the highest percentage of CBG. From crossing the best plants we obtained a fairly uniform next generation, which always maintains high values of cannabigerol, and very low THC.
What is White CBG like in general terms?
It is a very resistant and grateful variety, perfectly adapted to growing indoors and outdoors in different environments. At the beginning it grows a little spiky, especially when it does not have much light, it leaves enough space between nodes, and it does not branch much until it is a certain height.
During flowering it continues to grow quite a bit, at the same time that it begins to take out inflorescences at a good rate. These flowers end up forming buds of great caliber, although not as tight as other varieties. The resinous and shiny appearance at the end of the cycle is deceiving at first glance, as it looks like normal marijuana.
How are these seeds grown indoors and outdoors?
Indoors it is better to prune the main tip so that they do not shoot too much at height. You can wait until the plants are 8 inches to cut the shoot, thus encouraging horizontal and secondary branch development. By putting 16 plants / m2 in 7 liter pots, with approximately 25 days of vegetative growth, occupy the entire illuminated area.
Outdoors or in a greenhouse is where it gives the best results, and it doesn't really need a lot of care to get a huge harvest back. If you want it to grow as large as possible you have to germinate the seeds in early spring, and transplant to mother earth as soon as possible. White CBGs do not eat as much as other varieties, they almost prefer that you prepare a good soil mix, and from there, light fertilizers.
When are Spain Bulk Seeds White CBG harvested?
It depends on where you plant them, indoors they only need about 7 weeks of flowering to be ready to harvest. Outdoors it is one of the first to finish each year, in the northern hemisphere are cut at the end of September, with some plants being mature since the middle of this month. In the southern hemisphere the harvest comes from mid to late March.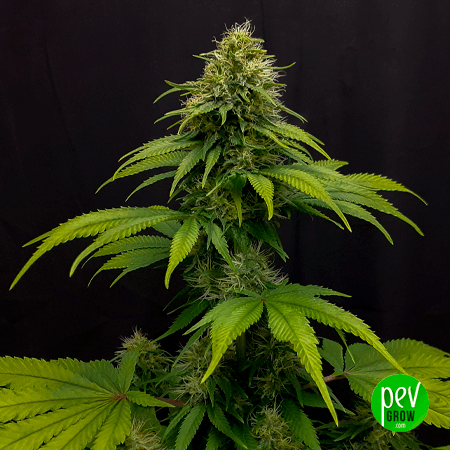 How much do these seeds generally produce?
The production of buds is quite high, with between 15.8 oz per 3x3ft and 17.6 oz per 3x3ft (450 and 500 grams / m2) . indoors, which added to its speed of flowering make it a very interesting option for commercial producers of CBG buds. Outdoors each plant can easily give you 21,2 oz/plant (600 grams) of buds ready to consume.
Among the ancestors of this variety is the elite clone known as "The White", a plant famous for its spectacular production of resin that it has, and which also contributes to its offspring, as well as its flavor.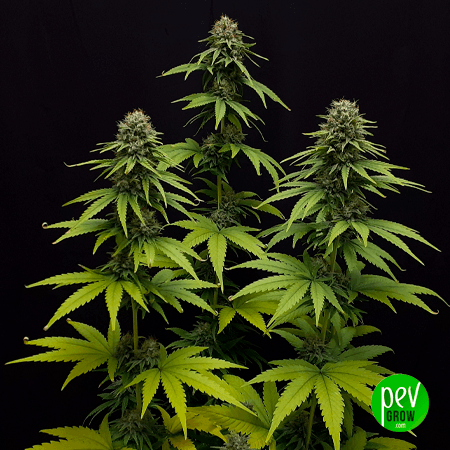 How is the aroma and taste of White CBG?
The aroma is not very intense during cultivation, unless you pass near the plants or some friction, then they do smell strong, with floral and citrus touches. The taste is pleasant, reminiscent of OG Kush, although less long-lasting in the mouth, with oil nuances and the classic lemon undertone.
How is the effect of this cannabis?
At a psychological level, only certain well-being and positivism are perceived, but it does not place anything since its THC content is minimal. Physically enough relaxation is felt, especially at the muscular level, without causing drowsiness. But the best of the effect of White CBG is noticed by people who use cannabis to treat some types of cancer, neurodegenerative diseases such as Parkinson's or Alzheimer's, or pain caused by inflammation.
Buy White CBG seeds from Spain Bulk Seeds at the best price online
CBG is the precursor cannabinoid of THC or CBD, but by itself it also has many properties that we can take advantage of. CBG buds are also spreading as an alternative to tobacco for the good smoking they have and for not placing anything. You see everything that White CBG seeds can do for you, do not let them escape.
You may also be interested in: