Auto Purple are very special autoflowering marijuana seeds, since they end up forming really showy plants, because their buds do not have the usual green color, they are dark, with colors ranging from light blue to almost black purple, passing through different shades of lilac, violet and magenta in some cases. But that's not the only striking thing about these seeds, and if you don't believe me, keep reading…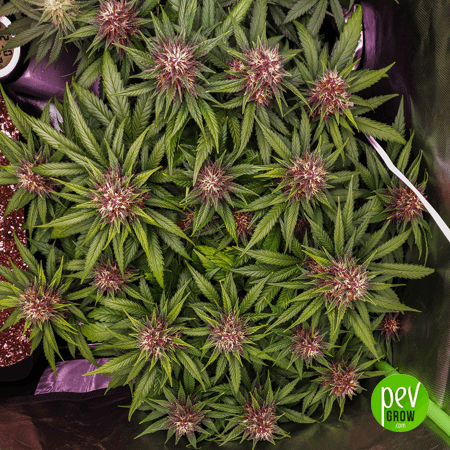 What genetics do these seeds contain?
According to the Spanish Seeds bank, are the result of selective crosses between photodependent Purple varieties and autoflowering. During the breeding program of this genetics, the colorful phenotypes were isolated in each generation, to fix this trait at the same time as the genes responsible for autoflowering were stabilized in 100% of the progeny.
What is Auto Purple like in general terms?
It is very homogeneous, with little variation between phenotypes, and shows extraordinary vigor throughout the cycle. It grows proportionally, forming a geometric structure, with robust stems and little distance between nodes, until the first pre-flowers begin to appear, which begins to stretch the branches to be able to place the buds.
Its flowering cycle is a visual spectacle, you will see the resin appear at the same time and the purple tones, which gradually cover the entire plant, with colors that hypnotize everyone who looks at it.
How are Auto Purple seeds from Spanish Seeds grown?
They are the ideal seeds for novice or inexperienced growers, due to their resistance, ease of cultivation, adaptability, and safety. They can withstand higher levels of stress than most photodependent feminized women, and in no case show hermaphroditic tendencies or stop their development.
Indoors we prefer to put 16 plants / m2 in 1.8 US gal (7 liter pots), without pruning of course, and with aerated substrate rich in food. It is a great idea to add micro-life to the substrate and the first waterings, as well as a root stimulator, this ensures a large part of the success in the final harvest.
On the other hand, for outdoor growers who want to plant Auto Purple, we always recommend using large capacity pots, or directly transplanting to mother earth. In Autumn or Winter with 15 or 20 liter containers they can yield well, but if the plants in Spring or Summer it is better to have more than 25 liters to take better advantage of the season with the highest incidence of sun throughout the year.
When does the Auto Purple seed harvest arrive?
According to Spanish Seeds they need around 67 days of total cultivation to be able to harvest with perfectly ripe flowers. This does not mean that it is so in 100% of the copies, it is an average, but you can still cut a few days before or after. What is clear is that it is one of the fastest genetics with Ruderalis ancestors on the market.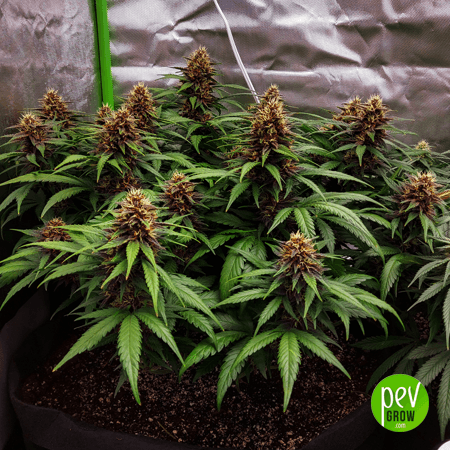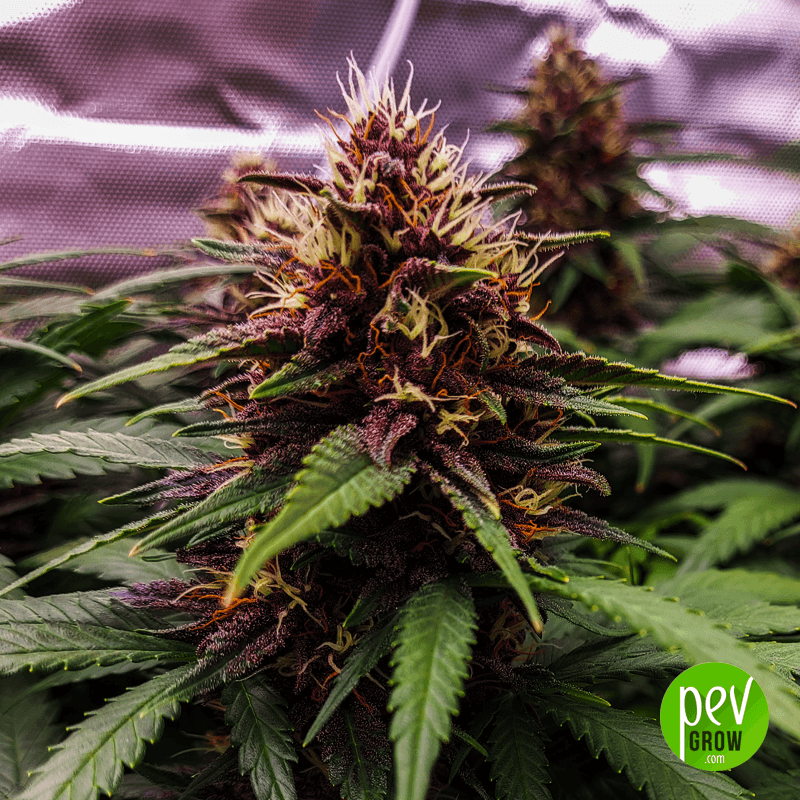 How much do these autoflowering seeds produce?
In normal indoor crops, without limiting factors, can produce about 15.8 oz per 3x3ft(450 grams / m2) or even more. Outdoors the harvest of each Auto Purple can exceed 100 grams dry. The production of resin and essential oils is very high in this strain, especially if we talk about terpenes and flavonoids.
How is the aroma and taste of Auto Purple?
The scent is so genuine that you may not have ever smelled it before. It is not a pungent smell, the kind that permeates clothes, it is rather soft, sweet, caramelized, and with clear hints of black licorice, a pass.
Its flavor is also very original, reminiscent of the fruity of the Blue family of DJ Short, berries, raspberries and other fruits of the forest, but with fresh touches of ripe grapes that, when cured, resemble the bouquet left by the must in mouth.
What type of effect does its consumption cause?
It is of medium strength but long duration, very similar to the effect of most modern polyhybrids, with great brain activity but with a totally relaxed body.. If you are looking for a herb to disconnect, Auto Purple can come in handy, because completely evades the normal world, relieves tensions and calms states of nerves or anxiety.
Buy Auto Purple seeds from Spanish Seeds at the best price
If you were looking for last generation marijuana seeds, Auto Purple may be the best option for you, because they are the result of a cannabis breeding effort that has managed to stabilize plants 100% autoflowering, feminized, colorful, resistant and very tasty, something within the reach of very few genetics today.
You may also be interested in: