Reading Time
6
minutes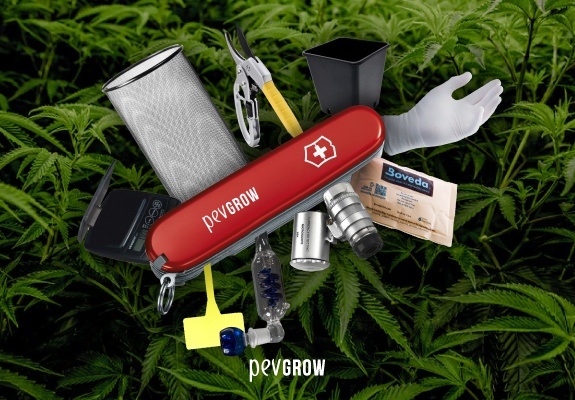 The cannabis industry's production gap spreads to great speed in the virtual market and, therefore, the countries that have legalized their commercialization have not wasted time in exploiting possibilities. Each new day brings, in addition to all varieties of seeds, everything related or involved in the growing culture, curing and use.  Therefore, I want to suggest the 10 indispensable tools to cultivate marijuana, if from now on you are one more of us, the organic ones, the mystical ones, the delicate ones.
There is no social level, rather, level of production, as far as harvesting is concerned, in matters of our plants. The greater this production, the greater the care and dedication to curing to ensure quality. Even more so if it is sold to the public. This article is intended for these cases.  For your personal plant, surely, you will only need the pot, the scissors, the drying envelopes and the hermetic bottle to preserve it.  The pipe and the attention go with you from the beginning.
You are going to need two or three types of pots if you plant feminized seeds: a small one where to germinate the seedlings, a bigger one where it will grow and an even bigger one to transplant when the strain is going to bloom.
Unless you have an outdoor crop of more than 5 plants and can use large-scale humidification and pest control techniques, keeping your plants in pots will reduce your control zone and the chances of outdoor biological agents contaminating your loved one. Make sure that each plant has its own water collecting dish at its base and that they are light in color so as not to attract anything. If you plant autoflowering varieties, then I recommend that you use the same pot (4.7 US gal / 18 liters) during the whole growing cycle.
2. Gloves:
Manipulation of fresh buds is a viscous act and for a long time, it will end up preventing your fingers from working properly and lowering some degree of THC that ends up adhering to your skin. In addition, the gloves are hygienic and avoid contaminating the flowers.
The fibers of the plant are so resistant that also the hemp is produced, so pulling up the stems, branches and buds is not going to be comfortable for you, much less for it. To avoid the stress of the flowerpots during the transplants, the photosynthesis and the harvest, is an unavoidable attitude, if you value a good and clean high in the final user.
It is ideal to have a large, or rather corpulent, one that cuts the stems, whole buds and roots. Either in the pruning techniques to optimize production or in the harvest for post-curing. And a small manicure or trimming shears, to remove the leaves and other imperfections of the buds themselves, which need smaller and more accurate cuts.  There are already several models on the market with new and specialized designs for this market.
4. Drying meshes:
The importance of using these compartments is moisture and light control. This is too important, since during the 4 or more days that are needed for an ideal drying, the mold by excess of humidity when being inferior of 18° or the dryness if they are more than 24°, are going to ruin the 5 months of love and care, although it will never stop being cannabis. In the past, large cabinet racks were used to place the buds properly and spaced for ventilation.  Nowadays, virtual stores have an efficient and economical portfolio, of all sizes, perfect for indoors and even for cabinets.
5. Vault envelopes:
They get the flowers to cure with the ideal percentage of humidity. The component in its interior maintains and stabilizes the perfect humidity (62%) of the buds, increasing or decreasing in each branch to homogenize the lot and preserve it. This technology provides and maximizes the flavors, demanding only a supervision every two days to turn and ventilate the branches during the 2 to 4 weeks required, depending on the variety and climate where you live.
The trichomes are resin glands that indicate, according to their color, the ideal time to cut the buds. More precisely, when you start to see the amber tones. The drawback is that its small size may not be enough to notice in time, also, some pests and insects are often imperceptible to the naked eye. This is why pocket microscopes are now used, with up to 120x magnification and LED illumination. They came to replace small but powerful magnifiers that although less comfortable, work perfectly if you still have your 20/20 visual.
7. Thermometer/Humidifier/Hygrometer/Ph meter/scale:
They are used for what they are intended for (to set the correct parameters of temperature, humidity, ph and ec of the nutrient solution). In the drying and curing processes, humidity and temperature data are very important to control the ideal environment. In large crops it is necessary to have a humidifier for large spaces and monitor the quality of irrigation water with the Ph meter. The environmental temperature and humidity level in home gardens are more stable, but they must be monitored. A sudden change for more than an hour will change the final quality and knowing how much the weight is before and after drying will surely be interesting for you.
Preserving our final product, for personal use or commercialization, requires a harmless, less changing and much safer environment. Glass jars work very well as a final refuge for our weed. Vacuum packing is now super easy and also keeps the properties intact for a long time.
9. Labels:
Very useful for constant growers, who must rotate their product stock and have different crops, to differentiate each package, box or container ba.
An indispensable element to know first hand the quality of the production. Surely you will not want to wait more than 2 or 3 weeks to enjoy your weed, being you the collector "father" of the buds. Perhaps, first of all, you can make an approach to the personality of your crop as a tasting and thus promote it among your colleagues, while you wait for the high of your life that, if all the processes are done correctly, will be much more interesting and pleasant.  Like a trailer for a movie that is about to be premiered, why not?
✨ Conclusion
The growing trend of self-growing has made it possible for the brave ones to have everything they need to have their own crop at a click.  Though in reality a little bit of will, care, water and light have been enough to harvest anything, the results speak for themselves and when it comes to planned production, everything has its reason to exist, its functionality and was created to help. Let yourself be helped, do it by the scientific method that future generations will continue to perpetuate.
Production of marijuana plants indoors and outdoors with different systems →