Do you know the MassRoots application, Instagram Cannabis?
0
35
This is the first social network marijuana users or traders of it. All those who are part of it hanging photos and opinions freely without having to hide this hobby to family, friends or colleagues for fear of being rejected.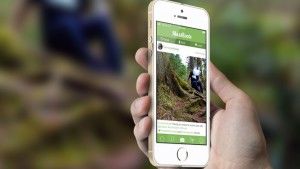 First came the forums and social networks after which revolutionized the information landscape of our society. Today, it seems that who is not in social networks or do not have a website or blog, does not exist. So not surprising that in an increasing number of social networks and that these even specialize by sector, such as Linkedin, which is aimed at professionals from different economic sectors and people wishing for a job or advertise a vacancy in company.
Something like this would be the MassRoots application, which was created in 2013 by two young Americans of just 22 years (Isaac Dietrich and Tyler Knight) and has revolutionized the social panorama cannabis. Available for iPhone and Android, this app is a combination of Instagram and Likedin, where people share photos and reviews on different products and marijuana plants and cultivation techniques or tricks, besides having a space dedicated to trade.
With physical headquarters in Colorado, the company has grown tremendously in the last two years of life. In fact, it has 42 million interactions. Its makers claim that the success of this company has much to do with the legalization of marijuana in Colorado and Washington. And is that this act was not given in the aforementioned American states, most likely, as Dietrich and Knight argue, is that had accused of producing or selling marijuana, when that is not its purpose, but it is just a social network.
A social network whose primary audience is young, since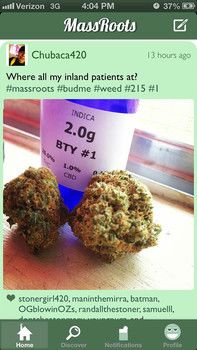 around 18 and 24 years, although, of course, there are all kinds of users. To know better, just download it to your mobile device or tablet and start navigating this new network, which has had great success, not only among consumers but also among traders and investors, who see in this network The first of its kind, a unique opportunity to belong, from the outset, to a network that certainly will not stop growing and will continue to achieve success in the future.
One thing that you have to consider when you go to register is that, so far, no can indicate your actual place of residence (if you are in Spain), since only be registered countries or places where it is legal to use marijuana as therapeutic means or where it has liberalized its use, as in the case of the territories that have above US. Anyway, this will not be strange if you're using social networks, specifically Linkedin, which were not available all cities in Spain so far and people are pointing to that was closer or he felt sympathy such as was the case in San Sebastian, whose users (employees or employers) are recorded, usually in Navarre and Bilbao.
Explained this, it is only a mere informative process that leads nowhere, the fact is that MassRoots is a very interesting place for people who like to exchange information about different types of marijuana, post their own photos, give opinion and advice on the cultivation or other marijuana-related issues and, of course, receive them.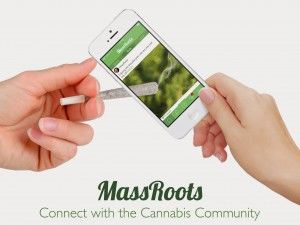 In addition, this tool also serves to unite traders with users, in this case, still talking mainly from the United States, but to learn new and other varieties that are not known in Spain, can always be a good showcase for learning or comparison.
A small piece of information, in this case, to potential investors: the moment its investment exceeds $ 475,000 – who decide to invest in this company achieved a 10% participation in it thanks to its profitability.
By Noelia Jiménez, Team Piensa En Verde