Reading Time
8
minutes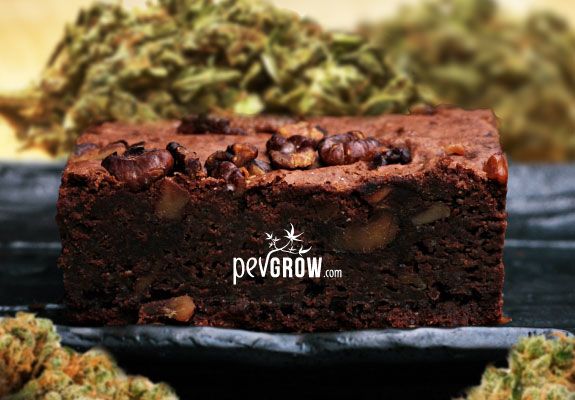 In your Grow Shop we have the recipe of one of the most classic desserts to make with cannabis, but that's not why they are outdated. Today we give you a simple, easy-to-make pot brownie recipe and answer some of the most frequently asked questions about it.
I'll confess one thing: Just seeing a chocolate brownie my mouth begins watering…and I can't help it!?
Chocolate brownie is one of those desserts that goes well at any time of the day and, of course, if it's well done, it is equally liked by children and adults,  by the sweet tooths of sugar and by those who move more for the delicious flavor of cocoa; and of course, the brownie (with marijuana star ingredient) is one of the favorite desserts for marijuana lovers, because its simplicity in the combination of sweet chocolate with our universal medicine.
Thus, it is not surprising that this sweet of American origin is one of the classics among the recipes made with marijuana, and for this reason, today we want to give you one of the hundreds of versions that exist about it.
By the way, did you know that brownie came up by chance in 1987 because the cook forgot to pour yeast while preparing it? Blessed forgetfulness!
We recommend
decarboxylate the cannabis before cooking,
because although during the process of elaboration of the recipe, the marijuana can be decarboxylated, if we do it before we make sure that the decarboxylation is done correctly. If you want to know how to do it click on this link
Weed decarboxylation
⭐ Marijuana Cooking Tips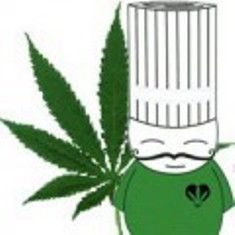 All right. I had told you that I was going to give you the recipe for Marijuana Brownie, promised, I'll do it soon, but before that, and if you think it's okay, I think it's not superfluous to remember some concepts or aspects to keep in mind, not only for this recipe, but whenever you're going to cook with marijuana.
Maybe you already know, or maybe it's the first time you've ever got your "hands on". Whatever your case may be, I'm sure it never hurts to read the following tips for cooking with marijuana again:
–Be meticulous with the amounts of plant: There is not a recommended average dose per person, and the truth is that none of us react in the same way when using cannabis, and you know that the effect between smoking or eating it is very different, mainly because the former is much faster and less durable than the latter.
So, if it's the first time you're going to cook and consume it, or someone who's going to share this brownie with you for the first time, it's best to go little by little, both in its preparation and at the time of eating it, and wait to see what effect it produces. It usually takes about an hour to take effect, so if you've thought about smoking a joint during that time… big mistake!
I Recommend to start with a half gram of marijuana (20% THC) for every 20 g of Brownie if it is in bud form and 2 grams if you use the remains of the manicured buds, but do not use more.
Another thing you have to take into account, if you're going to accompany this recipe with another one that also contains marijuana, let pass one or two hours between them.
-How to use marijuana: If what you want is that, in addition to eating a delicious brownie, enjoy the effect of cannabis, you have to take into account that for THC has an effect, whenever you mix it with food you will have to mix it and heat it with some fat; the most typical is usually butter, in fact, will be the fat that we use to make this recipe.
Previously, the buds and leaves of marijuana will have to be pulverized in a grinder, and collect the resin stuck with a little extra virgin olive oil, and then mix everything with butter and chocolate.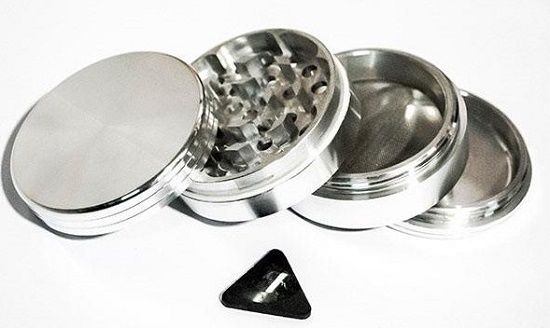 -Control the temperature: The ideal temperature for cooking cannabis in the oven is always the lowest possible. It's better to cook more slowly, in this way,  the cannabis should not lose much of its cannabinoids and terpenes. Cook the Brownie in the oven at 120ºC for a minimum of one hour, until the dough is compact.
What about the Microwave? Never use microwave ovens, thus, we avoid uncontrolled vaporization of terpenes increasing the quality of our final product.
–No alcohol: okay, I know it doesn't sound very good, but if smoked marijuana and alcohol aren't good companions, they are less so when you eat. So, if you can avoid a bad trip, it would be better doing it.
And if you or one of your guests are in the mood, have a glass of wine and satisfy your desire.
-Be patient:  As I've told you before, the effect takes a lot longer to reach, but when it does, it stays for a long time, so be patient, and wait for the high.
⛳ Recipe of marijuana brownie, step by step
And now, we'll pass to the recipe of an easy chocolate brownie, step by step and in only 5 minutes. That is to say, the time it will take you to prepare it, later, of course, you will have to wait until it is cooked in the oven, but in the meantime… it occurs to me that you can go doing a thousand and one things, like preparing the lounge or the table where you and your friends are going to eat it.
You won't even notice!
What ingredients do you need to make marijuana brownie?
Write these down for a brownie for 8 people:
100 grams of butter
4 eggs
1 cup sugar
Half a cup flour
200 grams of chocolate to melt, if possible, special for desserts
4 grams of marijuana (0.5 g per person)

Now that you've got everything, the next steps are as follows:
1-First we put the oven to heat to 120ºC (it won't cost us anything to make the dough, so the ideal thing is to be ready to put our mixture as soon as we finish preparing it).

2-Next, heat a frying pan, to which we will add the butter and chocolate that we are going to mix little by little.

3-While this is being done, in a bowl, add the eggs, sugar, flour and stir. You can do it with a fork or, the easiest thing (even if it's not, gastronomically speaking, the most professional thing) is to take the mixer and in half a second it's all mixed without unpleasant lumps.

4-Finally, add the chocolate and marijuana that will have to be very well crushed and put it in the oven.. How long? It depends on how patient you are. At 120 degrees, in 60 minutes you have it. To check it out, just open the oven after that time, prick the brownie with the tip of a knife and if comes out clean, it's ready.


What about the marijuana brownie smell while it's being cooked in the oven? The truth is, yes, it smells pretty good. Maybe not as much as when you smoke it, but yes.
When you take it out, unless you're in a hurry or want to eat it, the ideal thing is to wait for it to cool down a bit so that it doesn't bad like a pump in your stomach, but if you feel like eating it inmediatly, you can also accompany it with an ice-cream ball, which will make the contrast your stomach needs.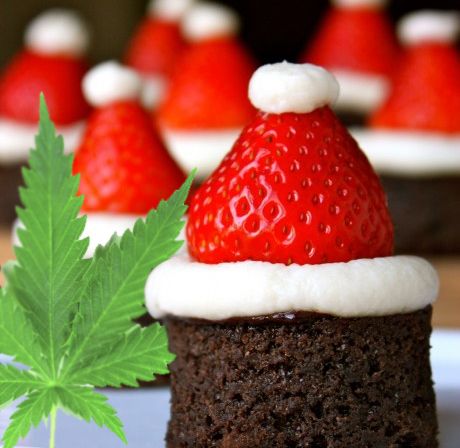 And… you just have to enjoy the trip! Ah! I forgot to tell you! If you want to make a nice presentation, add some almonds cut into small pieces or a little icing sugar. Everything to your taste! There are also people who add even more chocolate, whether in shavings or melted, even some fresh fruit (strawberry, for example, is great), as well as some cream.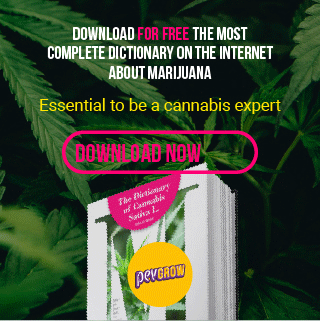 Free Download
Cannabis Dictionary
2023 Edition
Insert a correct email address
You must accept the privacy policy
SITE OF SHOPS ONLINE S.R.L with CIF: B98262777 and address for notifications in C/ VEREDA MAS DE TOUS Nº 22 LOCAL C, 46185 LA POBLA DE VALLBONA, VALENCIA, Phone: 961658271 Email: customer(at)pevgrow.com
At the name of Consulting we process the information you give us in order to provide the requested service, perform the billing of the same. The data provided will be kept as long as the business relationship is maintained or for the years necessary to comply with legal obligations. The data will not be transferred to third parties except in cases where there is a legal obligation. You have the right to obtain confirmation as to whether SITE OF SHOPS ONLINE S.R.L. is processing your personal data and therefore you have the right to access your personal data, rectify inaccurate data or request its removal when the data is no longer necessary
✨ Effects of marijuana brownie
In this case, just like when you smoke a joint, it all depends on your physical and psychological state, your body weight, if you drink liquids, and also, of course, the amount of cannabis edibles you have ingested.
We recommend not to take marijuana edibles in case of  taking any pharmacological treatment as rifampicin, carbamazepine, phenobarbital, phenytoin and St. John's wort.
We also do not recommend the use of alcohol in combination with cannabis preparations.
That's why it's recommended not to take more than one serving or, at least, not to take it until one or two hours have passed by and you've seen the effect it has on you. In fact, if it's the first time you do it, try only one piece and once that time has elapsed, you decide whether or not you want to finish the portion. But remember that the effect always takes longer to reach than if you smoke it, but also lasts much longer.
Once this is explained, the effect also has a lot to do with the strain and quality of cannabis you have used.
For example, if you prepare brownie with an indica or hybrid cultivar with a high CBD (Canabidiol) content and caryophyllene diterpenes, the effects will be narcotic or relaxing.
On the other hand, if you use sativa marijuana with low CBD content and high monoterpenic composition, it is normal for you to become active or be more cheerful and happy.
👌 Conclusion
So, what do you say? Would you like to try it? ??‍? The truth is that marijuana brownie is one of those recipes you always get it fine. That's right, be careful not to put it within reach of children! Don't be scared out of your mind.
Otherwise, you've already seen that it's very easy to make, as the ingredients are basic, so much so that you don't even have to go out to the supermarket for shopping, because you have everything at home, which always frees you from more than a trouble, and you don't need to be a chef specialist. The effects are the same as if you smoked cannabis, only that they take longer to arrive and last longer.
If you liked this article, I'd love for you to leave a comment or add things that have happened to you by making this recipe. And please, share with us if you have other tricks to improve it.
Ah! And if you share it in networks… I'll be even more grateful! Have a nice day and enjoy your cannabis brownie! ??
🎯 Frequently asked questions
What ingredients are needed?
100 grams of butter
4 eggs
1 cup sugar
Half a cup of flour
200 grams of chocolate for melting, if possible, special dessert chocolate
4 grams of marijuana (0.5 g per guest)
How long does it have to be in the oven?
At 120 degrees, in 60 minutes
What flour is recommended?
I usually use pastry flour
Should the marijuana be decarboxylated first?
It is always recommended to decarboxylate it before making any cannabis recipe, and in this case too.
What strain of cannabis do you recommend for this recipe?
To make this brownie recipe with cannabis we recommend PEV's Gorilla Glue strain.
Par Noelia Jiménez, Équipe de PevGrow
Click to rate this post!
[Total:

536

Average:

3.4

]

Noelia Jiménez
I love to cook and write about marijuana. One day I started making marijuana butter and since then I haven't stopped creating the most varied recipes you can imagine.
See more posts
How to make thc syrup →