Reading Time
7
minutes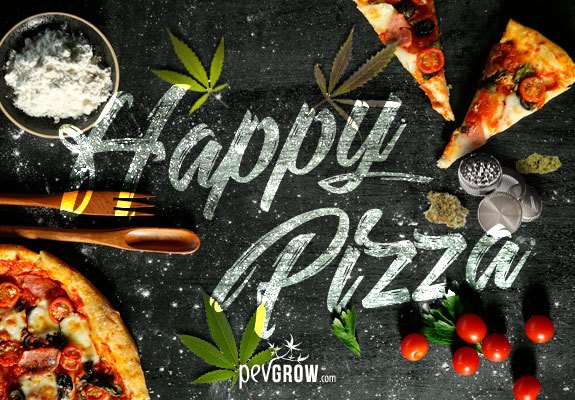 Also known as Happy Pizza, cannabis pizza is an excellent option for laughing with friends, provided you keep in mind the basic rules about cannabis use when you eat it. We explain step by step how to proceed so that you can be successful in your next meeting with your colleagues.
I was looking at previous feeds on cannabis news and I just found out that I hadn't read this one: "A Massachusetts dispensary sells a cannabis pizza". The article talks about the success of the product for medicinal purposes, as Bob Marley put it:"Pot is the cure of a nation; alcohol is destruction".
But on top of that, it is very appetizing. And who doesn't like pizza? I, who declare myself a fan of healthy eating, also like this type of food, especially if it's homemade and I can add a touch of cannabis.
It is not surprising that in some Asian countries, such as Cambodia, it is sold under the name Happy Pizza. If you have tasted it, you know better than anyone else that the effect is usually laughing, in addition to being thirsty. My friends told me that they feel a kind of tingling in their bodies.
Has this ever happened to you before? Have you noticed any other effects? Come on, let's go!  Don't be shy! ?The human body is so complex that reactions can be very different when eating the same product. If it's okay with you, just let me know below.
In the meantime, I'm telling you how to make a cannabis pizza, which is the purpose of today's article. In addition, if you are new to the kitchen of cannabis, I would also like to remind you of some important aspects before using it.
But let's go, let's get started. Take the paper and a pencil, an apron and come cook with me. I promise you that during its preparation and afterwards, once you have eaten it, you will have a good time.
⚠️ How to make a cannabis pizza step by step
A famous pizzeria says that "the secret is in the dough", however, in cannabis pizza the "secret" ? can be anywhere you want it: in the dough, in the tomato, in the oil you add to the ingredients or, for example, as a substitute for oregano, being one more ingredient that is added to the dough.
You will have to choose where you want to add it. You can make it in dough or ingredients, but be careful! You know that smoking cannabis is not the same as using it and that the effects are very different from one person to another, so here's my first tip: add as little as possible.
The recommended measure is half a gram of cannabis per person, but if someone has never used it, you can even reduce it. Anyway, my advice is never to exceed that amount. Why is that so? Very simple: the goal is to have fun and not to make a bad trip.
But that's not all: I know you'd like to mix pizzas and beers, which is typical of a dinner with friends, but think that mixing cannabinoids with alcohol is never a good option, no matter what the degree. Also, water, coca cola or other soft drinks aren't bad either, is it?

So don't forget these tips at all times. And now yes, let's go back to the recipe for cannabis pizza or Happy Pizza, as it is called, for example, in Cambodia and which is also found in some Amsterdam cafés.
We recommend
decarboxylate the cannabis before cooking,
because although during the process of elaboration of the recipe, the marijuana can be decarboxylated, if we do it before we make sure that the decarboxylation is done correctly. If you want to know how to do it click on this link
Weed decarboxylation
If you wish, so that you can choose where to add cannabis to your pizza yourself, let's divide these steps into three blocks: how to make pizza dough with cannabis; how to make homemade tomatoes with cannabis; and lastly, cannabis as another ingredient of the homemade pizza. Let's get started!?
📱 Cannabis pizza dough
How to make homemade pizza dough with cannabis (prescription for 4 people). For its elaboration you will need:

400 grams of flour (if it is specially designed for this type of recipe, better than better because it will be crunchier)
200 ml of water
1 pinch of salt
2 tablespoons of cannabis oil (in this case, you can do it yourself – I'll explain how – or much simpler, you can buy it. We recommend hemp oil!!
Before making the dough, I explain briefly (because I don't want to focus on it) how to make cannabis oil with olive oil for cooking. You need something:
olive oil,
a strainer
30 grams of cannabis (which will be used for several recipes).
Step 1: Grind the cannabis as much as possible.
Step 2: In a saucepan, heat the oil over low heat and when hot, pour in the cannabis.
Step 3: Stir occasionally for two hours.
Step 4: After this time, take the container where you want to keep the oil – which can be closed – and filter the oil. You can squeeze the pieces of cannabis a little, but keep in mind that nothing falls into the container. Leave to cool and keep in a dry place away from the sun.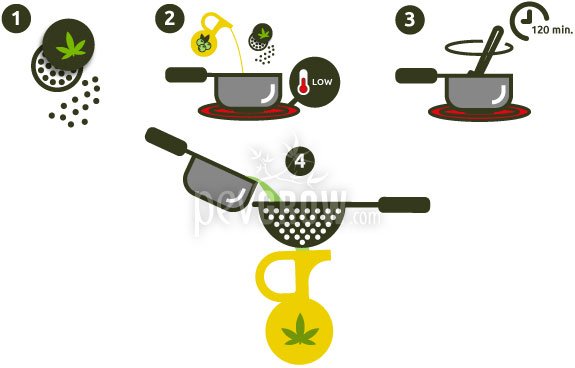 Now that you know how to make the oil, you decide whether you want to make it in-house or you prefer to buy it. In any case, the steps to make a cannabis pizza dough are as follows:
Step 1: Mix all ingredients in a bowl and knead until compact. It will be ready when it no longer attaches to your hands.
TIP: While you are preparing it, dip your hands in flour, so it will be cheaper to handle it until it is ready.

Step 2: Let stand a few minutes (5-10 minutes will be enough, but if it is 20, better than better).

Step 3: On a clean table sprinkle a little flour and put the dough you left in the shape of a ball and start stretching it on the sides. The easiest thing is to make a square, but if you want it round, you can stretch it and cut it to the size of a cake mould, for example.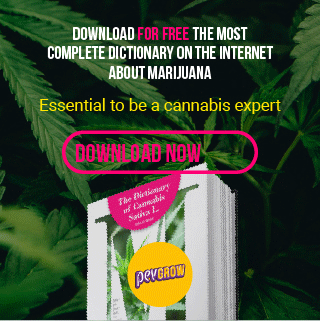 Free Download
Cannabis Dictionary
2023 Edition
Insert a correct email address
You must accept the privacy policy
SITE OF SHOPS ONLINE S.R.L with CIF: B98262777 and address for notifications in C/ VEREDA MAS DE TOUS Nº 22 LOCAL C, 46185 LA POBLA DE VALLBONA, VALENCIA, Phone: 961658271 Email: customer(at)pevgrow.com
At the name of Consulting we process the information you give us in order to provide the requested service, perform the billing of the same. The data provided will be kept as long as the business relationship is maintained or for the years necessary to comply with legal obligations. The data will not be transferred to third parties except in cases where there is a legal obligation. You have the right to obtain confirmation as to whether SITE OF SHOPS ONLINE S.R.L. is processing your personal data and therefore you have the right to access your personal data, rectify inaccurate data or request its removal when the data is no longer necessary
🎯 How to make cannabis tomatoes for pizza
If you want the tomato to be the one that contains the secret ingredient we've already talked about, take note of the simple way to do it. You're gonna need: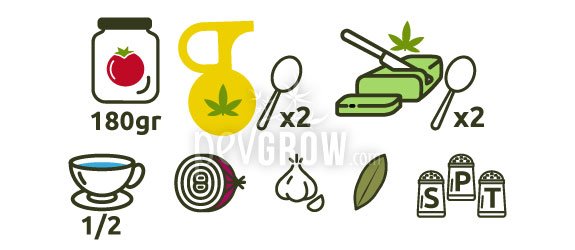 180 grams of crushed tomatoes
2 tablespoons of cannabis oil (homemade or purchased)
2 tablespoons of cannabis butter (here the recipe link) or, if not, 4 tablespoons of oil, although the combination of the two gives it a better flavour
Half a cup of water
Half onion
1 clove garlic
1 bay leaf
salt, pepper and thyme to taste (a half spoonful will suffice, but depends on your taste)
Once you have all the ingredients, the steps to make homemade cannabis tomato sauce are as follows:
Step 1: Heat oil over medium heat. Once the temperature is right, add the onion and garlic clove, taking care not to burn them. Why? If it burns, the burnt flavour will remain in the tomato sauce. Just brown them.
Step 2: once golden, add the remaining ingredients: tomato, water, bay leaf, salt and pepper to taste.
Step 3: stir occasionally until all ingredients are well integrated and cover, leaving to rest for a few minutes on medium-low heat.
Step 4: after this time, your tomato sauce will be ready, but to make it perfect, you can pass it in the blender and remove the onion or garlic pieces, so that it remains light. Delicious tomato lollipop!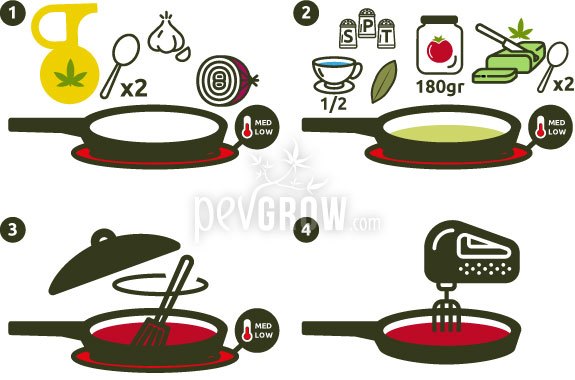 🚀 The final touch to make a Happy Pizza
This is the last part of the cannabis pizza recipe. We've already seen how to make pizza dough with cannabis; we've also seen how to make homemade tomatoes with cannabis, which, as you know, is the basis of all pizza in the world, and now you just have to choose the ingredients you're going to add to your pizza.
Personally, I like simple pizzas: ham and cheese; ham, cheese and mushrooms or pineapple; even with an egg in the middle! I love it when the yellow opens all over the pizza! ?I know it sounds dirty, but it's… so delicious!

But, each taste, choose the ingredients you like best and add them to the homemade tomato sauce you've already poured on the pizza dough. It is not a question of overflowing either, but of bathing her well so that she soaks the dough.
Finally, the final touch: sprinkle a pinch of crushed cannabis as if it were oregano. What do we get this way? That the taste and aroma of cannabis be soaked in pizza

Have you already prepared it? Then, open the oven that you have previously warmed and for 10 minutes at 200 degrees and introduce the pizza carefully so as not to drop anything. In 20-25 minutes (depending on the type of dough you have made), it will be ready and crunchy.

Don't forget the details of preheating the oven; it is important that it is hot enough for cannabis to work,
Finally, if you like crispy pastry well enough, when it's almost ready, add 3 to 5 minutes of grill, making sure it doesn't burn, roast it a little.
⛳ Conclusion
Now you have everything you need to prepare a delicious pizza to your taste: we've told you how to prepare the dough, homemade tomato sauce and finally, how to give a special touch to your cannabis pizza or Happy Pizza as it is marketed in some Asian countries.
In addition, we have also mentioned some tips on cannabis use: remember that it is not the same as smoking it at all. The effect is much longer to achieve. It can take up to two hours, so don't eat multiple servings thinking the results didn't work
As I told you at the beginning, this type of recipe with cannabis tends to thirsty and some people say that they also felt tickled in different parts of their bodies. Has this ever happened to you before? Do you have any culinary advice??‍??‍?
I'd like to hear from you and see if you liked the article. If so, once again, let me abuse your trust and ask you to share in social networks, in addition to enhancing the article. Let everyone make their own pizza and have fun! Enjoy your appetite!?

Noelia Jiménez
I love to cook and write about marijuana. One day I started making marijuana butter and since then I haven't stopped creating the most varied recipes you can imagine.
See more posts
How to make thc syrup →