Reading Time
8
minutes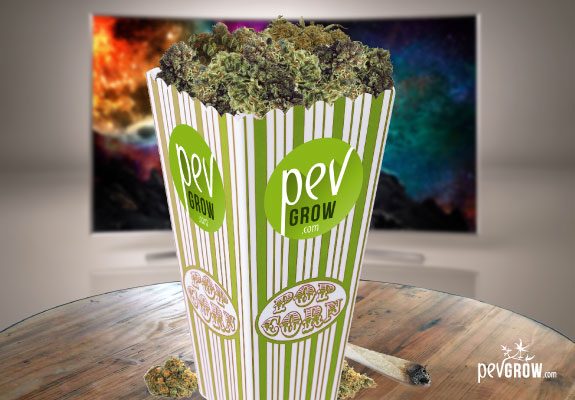 Depending on the type of marijuana you use, the effect will be different, but the truth is that, generally speaking and as long as it's controlled, trying to watch movies when you've been using cannabis has a more than funny and philosophical side to it.
When it comes to using marijuana for recreational purposes, the effects can be very varied. It can give you laughter, a huge "high" or you can start to philosophize and at the same time perceive things that happen around you that you would not otherwise perceive, because you wouldn't have that moment of visual and mental sensitivity to do it.
That's why watching a movie when marijuana has been consumed is a completely different experience from watching the same movie without using cannabis.
In this sense, there are many people who ask us about the best movies to see "stoned" and I have had the pleasure of making a selection of what are for me the best movies to see "stoned" and enjoy. Some of them are related to marijuana itself, especially those that have a more documentary character or that have been based on the effects of marijuana to write the script and / or plot of the film, but others have nothing to do with it and are especially well suited to watch them stoned, because we can laugh much more or think about the message the plot wants to transmit us.
At last you have a place to find movies based on the world of marijuana, some of them for watching stoned and make us thinking, and other movies ideal for watching stoned and laugh, let's go there…
Movies to have fun while being high


As I like to repeat frequently (Philosophy Pev Grow), it's best to consume cannabis responsibly and moderately, watching a good comical movie to laugh thanks to the effect of the herb occasionally consumed, can be something really fun that you have to try.
The Hangover (2009)
Both the first part and the second part are meant to be a long-lasting laugh, it's about adventures that happen to friends who are going to have a bachelor party in Las Vegas and, unawares, it gets out of hand.

Dumb and Dumber (1995)
A comedy that doesn't go out of fashion. If you want to keep laughing for almost two hours, this is the humorous movie par excellence. Jim Carrey and Jeff Daniels make a strange team of losers who embark on a trip to Aspen for a good cause. His crazy mission won't leave you indifferent and make you laugh all the time.
Ted (2012)
Have you ever seen a teddy bear that talks in real life? In this movie you will be able to see it and not only that. The bear has a great vive , as well as non-stop marijuana smoking. Laughter assured!

Harold & Kumar Go to White Castle (2004)
There are versions 1,2 and 3, such has been the good result of the film that talks about some smoking prisoners who want to flee Guantánamo. Laughter is more than assured watching the movie, but even more so after smoking good weed. These two friends are embarking on an adventure they would never have imagined.

Amanece que no es poco, Jose Luis Cuerda (1988)
The Spanish director won 3 Goya awards for this film. This absurd humor may be more of a style than we already have some gray hair. This Spanish production with a surrealist script is about Teodoro, an engineer who works in the United States and returns to Spain for a sabbatical year. When he arrived, he found out something grotesque that his father had done and, to make up for it, he had bought a motorbike with a sidecar to travel together. That's where he begins his journey through the Spanish plateau… A perfect movie to enjoy marijuana. Don't miss this movie in V.O!

Marijuana for laughing
At this point, I would like to recommend a very special product with the flavor of your favorite cannabis to delight you with these films fully. The Hemp Chips, some chips with all the flavor of the best potatoes together with touches of cannabis as well known as the Kush or Amnesia. Incredible but true!
Your ideal snacks to enjoy a good movie in the best company ;).
Remember that from our marijuanas seeds section we have a filter with the best with happy effect. Don't miss them!
Movies to watch being stoned
At the begining I talked about the movies to watch being stoned and having a laugh, now I would like to recommend several movies so that you can watch and blow your mind being under the effects of cannabis. Some are scratchy films that will make you think and reflect.
Requiem (2000)
Directed by Darren Aronofsky. Harry (Jared Leto) and his mother (Ellen Burstyn) have very different dreams: she is permanently on a diet waiting for the day when she can participate in her favorite TV show; Harry and his girlfriend Marion's ambition (Jennifer Connelly) is to get rich by selling drugs and using the proceeds to start their own business, but they never have enough money to do it.

Please, don't miss "Mother" (2017), the new spectacular film by the same director!!
The Box (2009)
Directed by Richard Kelly with Cameron Diaz, James Marsden. Arthur (James Marsden) and Norma (Cameron Diaz) are a couple with financial problems who overnight become owners of an incredible box. That box has a button that when you press it a million dollars appears… although there is a trick, at the moment of pressing the button a person they do not know will die. The film is a bit astonishing and will make you think,"Would you be able to take someone's life for so much money if it didn't have more consequence than your remorse?

The Game (1997)
Directed by David Fincher and starring actors Michael Douglas and Sean Penn will introduce you to a very rare game that will keep you on tenterhooks until the end. It is a critique of the most powerful people whose lives seem to be fulfilled in every way. I'm sure you'll like it.

Cidade de Deus (2002)
Directed by Fernando Mireilles. Based on real-life facts, it describes the world of organized crime in Cidade de Deus, a suburb of Rio de Janeiro, from the late 1960s to the early 1980s, when drug trafficking and violence imposed their law on favelas.

Pay It Forward (2000)
Directed by Mimi Leder. Trebor lives with his single mother in a humble neighborhood, as a result of a job at the school he comes up with an idea that consists of helping three people and that these people in turn help three more people, with the aim of turning the planet into a better world. The concept is marvelous, but he meets this egotistical world head on, but this dear child never loses hope.

Marijuana for thinking and relaxing
In addition to the euphoric effects, another of the most sought after by weed consumers is that of relaxation and creativity, in this state of mind there are ideal moments to take long walks, wander around and of course watch a good movie in which to enjoy all its nuances and even blow your mind with the story.
There's nothing better than accompanying your ideas with the sweet taste of Cannabis Pop Chupachups, which will delight the sweetest movie lovers!
Without psychoactive effects or CBD but with all the flavor of your favorite cannabis varieties, they are the best sweet to offer to your visitors, all the quality of marijuana made into a treat!
Cannabis Pop Lollipops
Cannabis Pop Lollipops are the real marijuana-flavored candy. A delicious way to enjoy those flavors of cannabis that we love so much anytime, anywhere.
CharacteristicsIngredients: Glucose syrup, acidifier and natural aroma.
Flavor of marijuana
No psychoactive effects
Without CBD
Movies about Marijuana
And to end up my recommendations, I'll talk about my top 5 of films and documentaries that talk about marijuana, it is curious that with all the taboos that marijuana still arouses today, the growing and consumption of it, there are numerous films that have been made about cannabis. It's true that some of them are films for laughing, but there are others that have even appeared at major film festivals such as Sundance's and whose central theme was marijuana. Some of these movies are:
Saving Grace (año 2000)
Directed by Nigel Cole, this British film tells the story of Grace, a wealthy woman who, when her husband dies, does not know how to maintain the farm and the high standard of living she has had so far. Grace Trevethan (Brenda Blethyn) decides to look ahead, specifically towards the greenhouse of her garden with the help of Matthew (Craig Ferguson), her gardener, she will use her wisdom in the art of cropping orchids and other flowers to growing marijuana. But their main trouble was to have to sell the harvest.

Kid Cannabis (2013)
Based on a true story of two teenagers from Idaho who managed to amass a real economic fortune by developing their illegal business of growing, harvesting and processing marijuana. Directed by John Stockwell, the film is certainly not a masterpiece, but it does serve to reflect a true and truthful story in a country where marijuana use is not well socially accepted by a large part of the population, and much less by its recently new president. Here you have the original version subtitled in spanish

Paulette (2013)
Another film based on real facts and which in this case takes us to France. Paulette, a jaded widow of the world and somewhat racist, lives in a neighborhood where drug trafficking and robberies are commonplace. One day, as the police chase some rascals, Paulette stumbles across a pack of hashish. This is how this unfortunate woman, with problems to survive, begins in the world of marijuana. The film is directed by Jerôme Enrico and among the cast of actresses, the Spanish Carmen Maura, who has participated in various productions from the neighboring country, stands out. In general, critics agree that it is a funny film with a social-reclamatory character.

Documentary Inside Marijuana (National Geographic)
Documentary about marijuana that approaches the subject from different points of view. You will learn about the legislation in different countries and how it is pursued by the police, the process by which drug traffickers become home-grown farmers.
You will see in this film how they use medical marijuana in Canada, the industrialized country with the highest percentage of cannabis smokers in the world, and of course, which is occurring in California, the cradle of marijuana in the United States. A benchmark for many countries around the world that seek to take steps in the regulation of cannabis for both therapeutic and recreational use.
Savages (2012)
Directed by Oliver Stone, the film is adapted from a novel by Don Winslow. Two friends of Laguna Beach, who share a girlfriend, are dedicated to growing marijuana. A Mexican cartel abducts the girl and demands a ransom from them for all the money they have earned over the past five years. Although the young people are willing to pay, at the same time, they devise a plan to rescue the girl and avenge her kidnappers. It's interesting to see how they grow their plants through hydroponics, at first the idea that is reflected in the film is the sale of marijuana to medical dispensaries, but with the course of the film, the plot takes a turn. Typical American films.
And so far the selection of films about weed, I hope it will help you and of course I'd love to know which are your favorite movies to see stoned and share them with PEV Grow community.
If you liked it, don't forget to share 😛
See you in the next post!
Por Noelia Jiménez, Equipo de Piensa En Verde

Alan Martínez Benito
CEO of Pev Grow, expert grower with more than 20 years of experience.
In constant struggle for the regulation of cannabis, mainly in the medicinal field.
See more posts
Antonio Escohotado Espinosa, a lifetime of drugs, love, freedom, and enemies of commerce →