Critical Widow are feminized cannabis seeds created by the PEV Bank Seeds bank, from which very commercial plants come out in every way, as they are extremely fast, very resistant, produce buds like few others, and their quality is up to par of the most famous.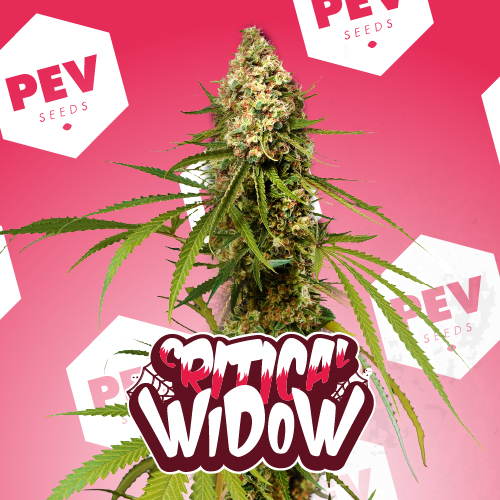 What is the genetics of these feminized seeds?
Its parents were originally created by breeder Shantibaba, White Widow in the Netherlands in the mid-90s, when he was working for Green House Seeds, and Critical Mass at the end of that decade, already in the bank Mr Nice Seeds and working from Switzerland.
Cannabis strains are often crossed with the intention of stabilizing the best traits of each of them in the offspring. This does not always work out well, because many times the progeny inherit the least desired qualities, or even certain good traits can be accompanied by other bad ones.
But in the case of Critical Widow, nature, the cosmos, Mendel, and Burbank have helped us so that 100% of the individuals have the speed of flowering, together with the flavor and aroma of Critical, in the structure, type of effect and potency of White Widow, a miracle of plant hybridization that rarely occurs. Its genotype is approximately 60% indica and 40% sativa.
How is Critical Widow in general?
Its strength is visible since the seedling sprouts from the ground, from there it marks a high growth rate. It begins to branch very soon, from the third or fourth node, and from that moment it begins to reinforce the trunk central, which ends up being very robust. The distance between nodes is more typical of indica varieties, as well as the size of the leaves, but their appearance is deceptive during this phase.
When entering flowering it stretches the internodal spaces a lot, and responds very quickly to the change of photoperiod, beginning to take out pre-flowers at the same time that the structure lengthens, especially at the top. The buds acquire a density and extra hardness, one of the weaknesses being its vulnerability to the attack of fungi.
How are these seeds grown indoors and outdoors?
Its versatility allows you to choose the indoor growing technique that most interests you at all times. You can put 16 plants / m2 in 1.8 US gal (in 7 liter pots) with 3 weeks of vegetative growth, and make a Sea Of Green with 16 well developed main tips and 4 or 6 secondary branches per plant. You can also do a SCROG with 4 plants / m2 with 5 weeks of growth and many pruning. You choose this, with one method you save on electricity and with the other you save on seeds.
In outdoor cultivation it performs better if apical pruning or FIM is done, and it is also an advantage because by distributing the bud production better, the chances of losing harvest due to fungi decrease. If you want it to grow very large and be able to take a nap in summer under its shade, germinate the seeds in early spring, when the weather starts to be good, and make a final transplant to mother earth or a large container, you will see how the Critical Widow grows in all its splendor.
When are Critical Widows harvested?
Indoors only needs 60 days of flowering and the harvest will be ready to harvest. There are few varieties of marijuana that generate so much production of flowers and resin in such a short time, but as I was saying, these seeds are among the most commercial on the market.
When grown outdoors it depends on the environmental conditions of each place, but normally they are cut at late September or early October in the northern hemisphere. Growers in the southern hemisphere sharpen their shears by the second half of March or early April.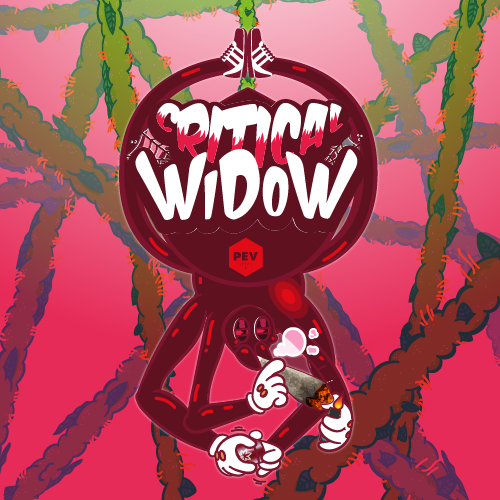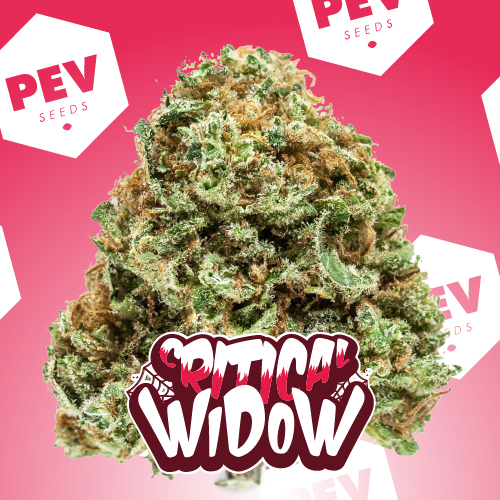 How much do these PEV Bank Seeds produce?
An experienced indoor grower can easily overcome the gramw barrier, reaching 24.7 oz per 3x3ft (700 gr / m2) under normal conditions. We have seen productions of 780 gr dry with this strain indoors with CO2, something very difficult to achieve in general.
But the best thing is the minimum yield offered by this genetics, which allows inexperienced growers to achieve harvests of 17.6 oz per 3x3ft (500 gr / m2) without many problems, being one of the most appropriate seeds for users who have just started self-cultivation of yerba.
Outdoors it behaves very well in temperate or hot climates, where it can yield more than 35.3 oz/plant (1000 gr) dry per plant. Resin production is also notably high in PEV's Critical Widow.
How is the aroma and flavor of Critical Widow?
In organoleptic matters, its Critical Mass heritage is clearly perceived, with that unmistakable Skunk fruity touch, an intense aroma that can be problematic if you do not remedy it, because it smells from far away. If you like herbs that leave a sweetish aftertaste in the mouth, you will love these seeds.
What kind of effect does this variety induce?
It is full effect, and also instantaneous, so be prepared and bear in mind that it is not for all audiences. The psychoactivity is very high, but without the stimulation of sativas, the cerebral speed is accompanied by extreme physical relaxation, and if you are not active it can leave you lying down thinking about your things.
At a medicinal level, it can be an interesting effect to calm pain, nerves, anxiety and stress.. It can also be a good remedy for insomnia or loss of appetite. mouth, and reddened eyes more than other strains.
Buy feminized Critical Widow seeds at the best price online
The 2 most successful strains from one of the best breeders in history in a single feminized marijuana seed. Adapted to many different climates due to its resistance and speed of flowering, very easy to grow, productive like few others, very powerful, and with a flavor that everyone likes, this is how Critical Widow seeds are ... Are you going to to lose?
You may also be interested in: