Gorilla Fast from 00 Seeds is an evolution of the Gorilla Glue#4, after the release of the feminized version and the autoflowering one, now we have a mix of both. This is a improvement of the variety with respect to its flowering speed, but has also gained in strength and vigor. You could say that this is the easiest Gorilla to grow, but these seeds can offer you much more, so I recommend you read what follows.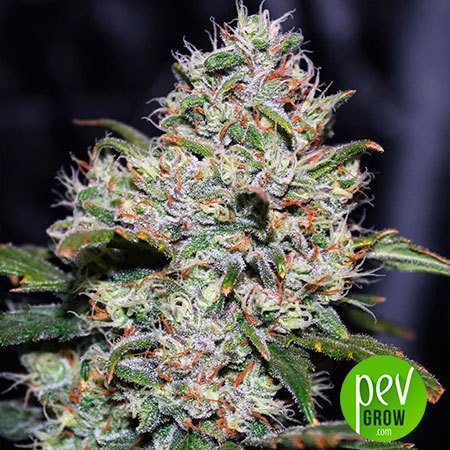 What's Gorilla Fast like?
The speed of its development can be seen practically from germination, growing at a good rate from the cotyledons. Its morphology is a well-balanced hybrid, with open structure, medium distance between knots, and leaves of good thickness with a not very dark green colour.
This strain, like the other fast versions, detects the change of photoperiod considerably earlier than regular photodependents, but not only that, its flowering rate is higher too, without losing in bud or resin yield.
What is its genetics?
This is the cross between the 00 Seeds' Gorilla with its own automatic version, Auto Gorilla. You could say that it is a backcross, in which a certain amount of Ruderalis genes are added to shorten the flowering without losing the traits that made the GG#4 so famous.
How to grow Gorilla Fast indoors and outdoors?
It is really easy, gives less problems than the normal version and is able to assimilate more food, so the risk of over-fertilization decreases. In indoor cultivation we recommend to put about 9 plants per 3x3ft (m2), in pots of 2.9 US gal (11 liters), with Substrate All Mix if possible. It is not necessary to prune to make it yield well, but if you want you can make an apical pruning and have twice the number of main tips.
If you grow your crop outdoors or in a greenhouse it is better to do several pruning during the vegetative growth phase. Another option is to bend the main tip and make LST with the main branches, to spread the bud production over the whole structure and make it receive light more evenly.
When is this plant harvested?
This is one of the strengths of Gorilla Fast, as indoors does not need more than 45 days of flowering to be ready for cutting. Outdoors you can harvest from late August in the northern hemisphere, which is a great advantage, because you will start to enjoy it earlier, and especially because there will be less likely to be stolen or get wet by early fall rains. In the Southern Hemisphere it is harvested from the end of February.
How much does the Gorilla Fast produce overall?
In illuminated indoor crops with 600w HPS can exceed 17.6 oz per 3x3ft (500 grams/m2), it does not require great skill or growing experience to achieve this. Outdoors each plant can produce more than 24.7 oz (700 grams) dry, a lot considering its short flowering time.
The resin and essential oil yield is also high, probably the traits that made the Original Glue a favorite of many, especially lovers of concentrates.
And how does it taste and smell?
Both are very pronounced, if you've ever tried the clone GG#4 you'll know what I'm talking about, it's a very dense smoke, like Haze, but with a totally different taste, earthy, Kush, pine, with citrus tones reminiscent of lemon.
The ancestors Sour and Chem can be noticed, which mix perfectly intensifying both in a very refined final product, especially after a couple of months of curing.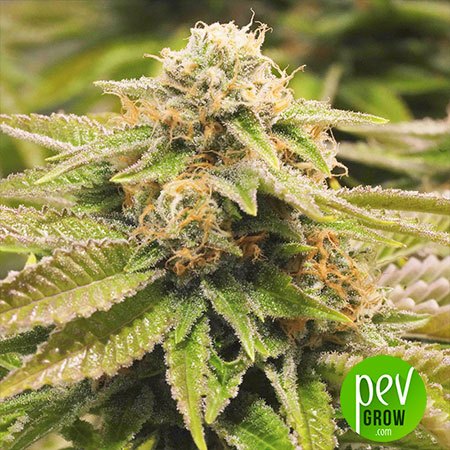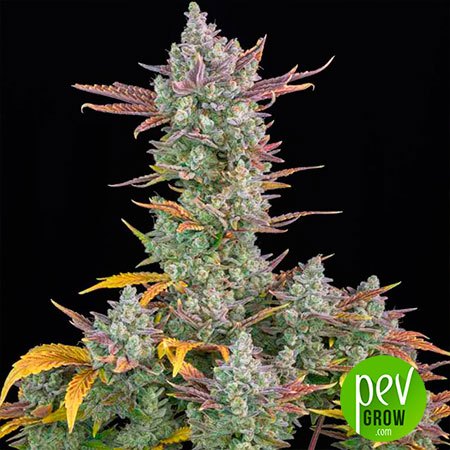 What kind of effect does Gorilla Fast have?
With just a few puffs you will start noticing an euphoria and very exciting energy, an instant high before you realize it, even in this matter is fast this new version. It hits you hard in the brain, but it lets you go except if you smoke too much.
The combination of high THC, low CBD and high concentration of terpenes, makes the effect very powerful in all senses, and quite durable, although it ends with a very relaxing descent as well.
Buy Gorilla Fast feminized seeds from 00 Seeds
In Pevgrow we will be happy to get your seeds of this and any other cannabis variety you need, with the best price/quality ratio online, so don't wait to be told how is the fastest Gorilla and order your seeds now.
You may also be interested in: