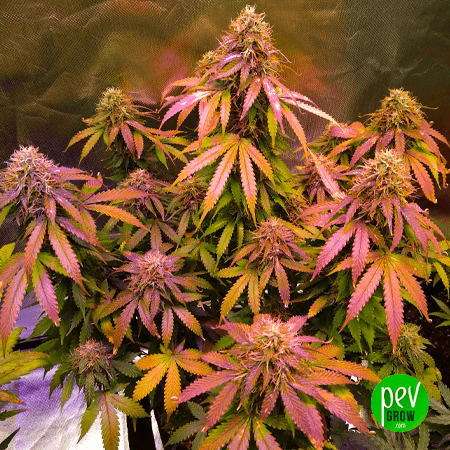 Duct Tape are feminized marijuana seeds produced by Spain Bulk Seeds, a seed bank that is bringing the best of the USA to the European market. These seeds are of superior quality, due to their peculiar characteristics, their immense quality, and because of the genes they contain.
What is the genetics of these seeds from Spain Bulk Seeds?
His parents are well known by all, as they are 2 of the most demanded varieties in the last five years, Gorilla Glue and Do-si-dos. The result is surprising, because it improves their parents in some traits that seemed insurmountable, like the amount of resin and THC among other things. Its chemotype is mainly indica, 60% compared to 40% of sativa, although different phenotypes may appear.
How is Duct Tape morphologically speaking?
It has the classic appearance of the latest generation hybrids, since its growth is reminiscent of sativas, but forming thick stems and very few leaves. During the pre-flowering phase it usually doubles in size, and at the same time As the first buds begin to appear, you will also see the first trichomes appear, so ends completely bathed in resin.
How are these feminized seeds grown?
Thanks to its versatility and adaptability, Duct Tape seeds can be grown in any system, both indoors and outdoors. In indoor cultivation you can leave the plants as is, without pruning or training of any kind, putting 16 plants / m2 in 7-liter pots, with 3 weeks of vegetative growth..
In outdoor crops the same can be done, but given the greater risk of suffering from high humidity or rain, we prefer to prune the main tip and that the bud production is distributed as best as possible by the rest of the plant. This genetics eat more than the usual, so it is advisable to prepare a substrate very rich in nutrients, and adapt the irrigation to its water needs.
When are Duct Tapes harvested?
In indoor crops you have to wait until 9 or 10 weeks of flowering to be able to harvest correctly. Outdoors they are cut in mid-October in the northern hemisphere, and in mid-April in the southern hemisphere.
How much do these seeds produce indoors and outdoors?
Indoors they can produce very well when they do not lack anything, being able to exceed 15.8 oz per 3x3ft (450 grams / m2 ) on many occasions. In the open air or in a greenhouse, it is easy for to give between 14,4 oz/plant and 24,6 oz/plant (400 and 700 grams )each plant, and even more if they are planted in the ground and grown without restrictions. From our point of view, the best quality of Duct Tape is its ability to generate oversized trichomes, something that gives it a white and sticky appearance, hence its name.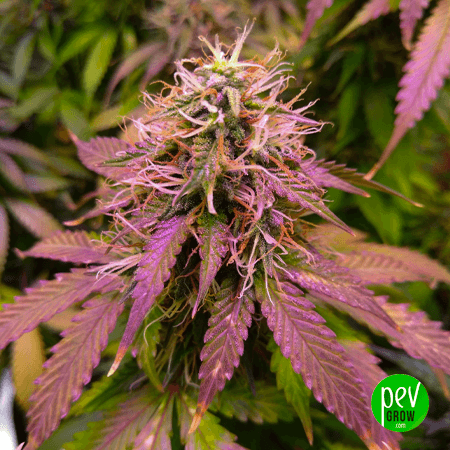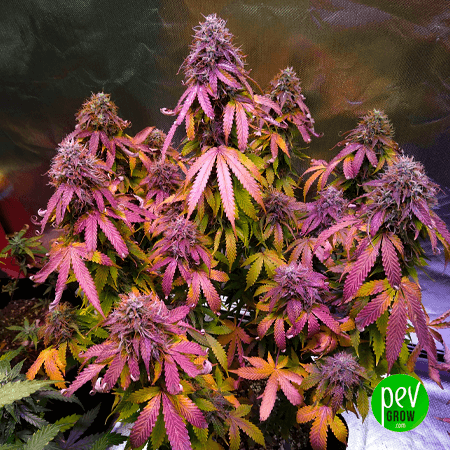 How is the aroma and taste of Duct Tape?
Here you can appreciate the scents of the 2 plants that make up this variety, on the one hand the pine, fuel, and the earthy touch of Gorilla Glue, and on the other the incense with a background of hashish of Do- si-dos, leaving a very complex but really delicious combination.
How is the effect of this cannabis?
It should be noted that its potency can be very high for consumers who do not have a high tolerance to THC, because in this case can exceed 25%. The effect is very euphoric and creative at first, accelerating thoughts and providing well-being in general. Little by little it changes, feeling more and more heavy and relaxing, to the point of having to sit or lie down to get along.
Buy feminized seeds Duct Tape from Spain Bulk Seeds at the best price online
We do not know how high quality cannabis strains can reach, but I assure you that a few years ago it was unthinkable that we could see plants like Duct Tape, with such an amount of resin, cannabinoids, terpenes, terpenoids, flavonoids, and other compounds that modulate the effect, if you don't try it you won't believe it ...
You may also be interested in: