You can now find the best price for marijuana seeds Do-si-dos, this variety is born from the union between the Girl Scout Cookies and Face Off OG Bx3, to create a indica-dominant hybrid with high medicinal value and a captivating flavor that drives consumers crazy, is powerful action at the brain very stimulating for its high THC content.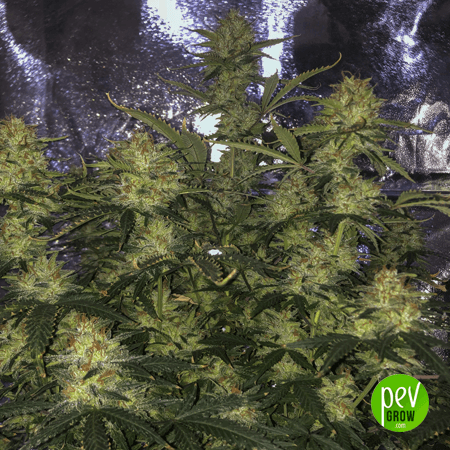 What is the morphology of the Do-si-dos?
Its indica character is shown in the color of its leaves that acquire a beautiful strong violet hue combined with pistils that stand out for their brightness, the buds are light green and quite dense, which in the end can turn purple.
Its shape is compact, develops vigorous and robust, at first it looks like a bouquet of flowers from which then form long tails loaded with resinous buds.
What is the taste and aroma of Do-si-dos?
Its aroma is sugary with floral and earthy notes, when you taste it you will perceive a sweet and fruity flavor like lime, an exquisite combination of lime sorbet flavor with hints of mint Girl Scout cookies with the creamy of the Face Off OG Bx3, both strains are harmoniously nuanced to conquer the most exclusive palates.
How does the Do-si-dos work?
Its effect is very powerful,the percentage of thc of this variety can reach up to 25% therefore the stimulation is guaranteed, it will invade you at the beginning of a great state of euphoria and dynamism, which then becomes a state of pleasant relaxation.
At therapeutic level it is recommended to combat insomnia, depression and anxiety.
How is the cultivation of the Do-si-dos?
Indoor you can place 9 plants per m2 in 11 liter pots, in which it will grow comfortably, provide enough light led to grow vigorously, en 55 to 66 flowering you can harvest its dense and fat buds.
Under the sunlight, get ready to harvest your crop in mid-September if you are in the northern hemisphere, is one of those strains that do not disappoint their growers, is resistant to mold and disease, but despite this you should keep it cool, it does well in warm or temperate climates.
How much does the Do-si-dos produce?
Its harvest will leave you very happy, in indoor crops you can collect for m2 approximately 350 grams and outdoors the results are even better up to 750 grams for plant.
Buy feminized cannabis seeds Do-si-dos
Now available in Pevgrow the feminized seeds Do-si-dos from the seed house: Spanish Bulk Seeds.
Ideal for those looking for strong experiences and those who deal with lack of sleep, anxiety and depression, Do-si-dos lifts your spirits and relaxes you divinely.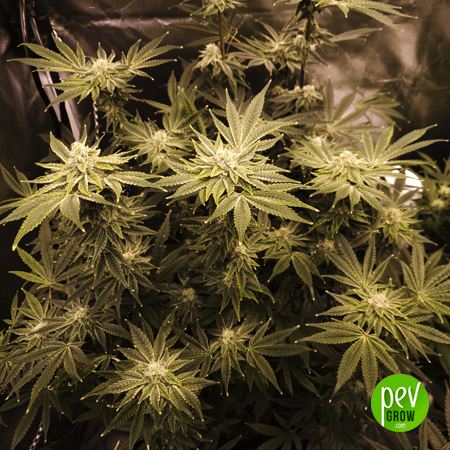 You may also be interested in: