Jet Fuel are feminized marijuana seeds that the bank Spain Bulk Seeds has presented with the intention of offering the market a genetics that you don't see every day, and if you don't believe me, I invite you to read what comes next. , where we describe it in detail.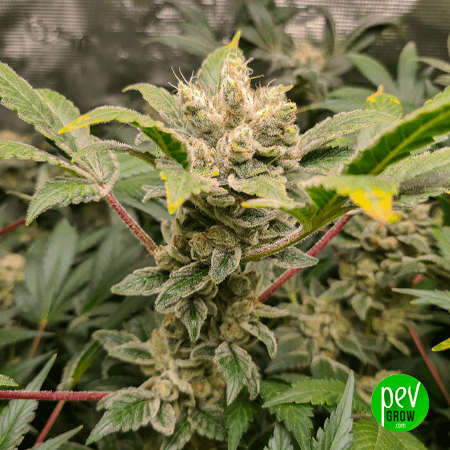 What is the genetics of these unique seeds?
This is a selection found in a package of Jet Fuel G6 seeds, which thanks to self-pollination we can offer in a 100% feminized format. The original genetics is from the 303 seed bank, , a cross between Aspen OG and High Country Diesel, although it has been out of print for a long time. Jet Fuel from Spain Bulk Seeds is the first feminized version of this plant, a balanced polyhybrid with approximately 50% indica and 50% sativa.
What is Jet Fuel like in general terms?
Develops a fairly open structure, with many long and flexible branches, medium-thick stems, and wide leaflet leaves. Grows a lot when conditions are ideal, but is molded very well, so it adapts perfectly for indoor cultivation.
In flowering it stretches to triple its size in many cases, but forms generous buds, of considerable density and hardness, and what is better, frosty in appearance due to the tremendous amount of trichomes everywhere.
How are these seeds grown?
First of all, it must be said that anyone can get good results with Jet Fuel seeds, regardless of their level or skill as a grower, but it is true that after a couple of crops they get the hang of it. In indoor cultivation it is better to do a SCROG with 9 plants / m2 in 11-liter pots, with about 4 weeks of vegetative growth, and apical pruning + pruning of secondary branches.
In outdoor cultivation, look for a place where the plants can have the maximum hours of direct sunlight, and use large-volume pots for the final transplant. As in indoors, outdoors several prunings are very useful during growth, and using stakes, meshes, or any structure to hold the flowering branches, this is very important.
When is the Jet Fuel harvest coming indoors and outdoors?
It is not one of the fastest, since indoors needs 9 to 10 weeks to complete its flowering, but of course it is worth it. In outdoor cultivation, it is harvested at mid-October in the northern hemisphere, and mid-April in the southern hemisphere.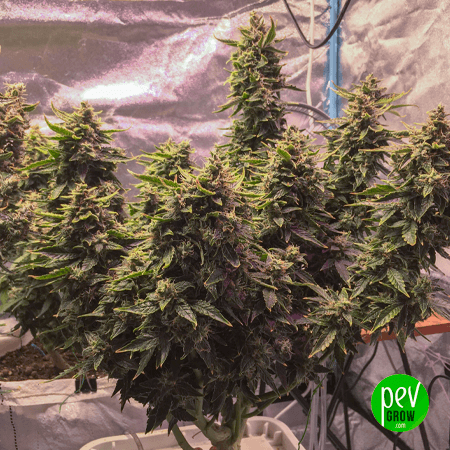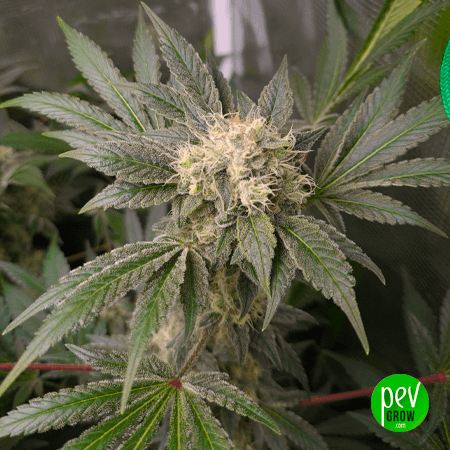 How is the production of these seeds from Spain Bulk Seeds?
You can expect very high harvests indoors and outdoors, with yields that can exceed 17.6 oz per 3x3ft (500 grams / m2)  indoors and 28,1 oz/plant ( 800 grams / plant ) outdoors or greenhouse. The return on extractions is also very high, especially when using solvents such as butane, CO2 or ethanol.
What kind of aroma and flavor does Jet Fuel have?
This is where Jet Fuel fully showcases its ancestors OG and Diesel, with a deep fuel aroma that charges the atmosphere. After drying and proper curing, the aroma acquires a citric point that is later perceived very well in the flavor, which incorporates the acid touch so characteristic of the Sour family.
How is the effect of this cannabis?
At the beginning it is very euphoric and stimulating, socially perfect because encourages and cheers, without head scratches. As time goes by, is noticed more and more at the body level, without becoming heavy, but relaxation is increasing. THC levels can be very high, exceeding 20% concentration in many specimens.
Buy Jet Fuel feminized seeds from Spain Bulk Seeds at the best price online
Since we tasted Jet Fuel for the first time we had it clear, this yerba has to be tried by everyone. Until now it was very difficult to do it, but from now on you have the opportunity to cultivate this wonder.
You may also be interested in: