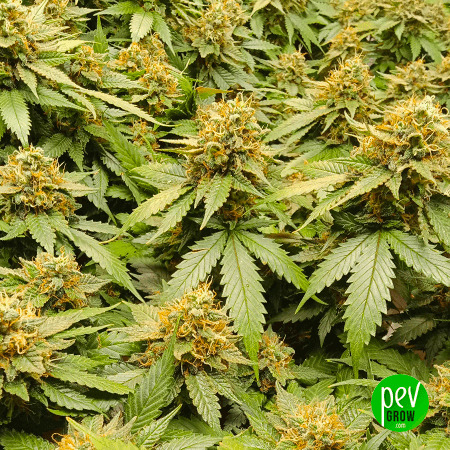 Motorbreath are feminized marijuana seeds created by Spain Bulk Seeds, and they are special for lovers of the most authentic genetics in America, since they combine the best qualities of 2 of their most famous hybrids of all time.
What is the genetics of these feminized seeds?
It is a cross between Chemdog and OG Kush , so it can be said that it is a backcross of Chem, I mean it has all its qualities highlighted. Genetically it is very balanced, around 50% indica and 50% sativa.
How is Motorbreath morphologically speaking?
In its appearance it can be clearly seen that it is a modern polyhybrid , with a mixed structure between sativa and indica, that is, flexible but resistant stems, few leaves but wide leaflets, wide distance between nodes, but very dense buds and hard. Branches a lot naturally, and in flowering it stretches a lot but remains with a manageable size. The resin is of the Kush type, giant in size and in large quantities.
How are these seeds grown indoors and outdoors?
Indoors, you can place 9 plants / m2 in 11-liter pots, with approximately 4 weeks of vegetative growth. approximately. At this time it is important to carry out at least 2 pruning, one early to the main tip, with about 15 days of life, and another to the secondary branches with 20 or 23 days of life. By applying the SCROG method you will be able to distribute the light in the most efficient way, and at the same time the network is useful as a support for the branches.
If you grow outdoors or in a greenhouse, bear in mind that it can grow a lot, so it is not necessary to germinate the seeds very soon. Another way to contain its size is by pruning, although the main tip can also be bent for low-stress training. Be that as it may, try to have enough substrate, at least 40 or 50 liters, and as much light as possible.
When is the Motorbreath harvest coming?
In indoor cultivation you have to wait until 9 or 10 weeks of flowering to complete the maturation of these seeds correctly. Outdoors they are harvested at mid-October in the northern hemisphere, and mid-April in the southern hemisphere.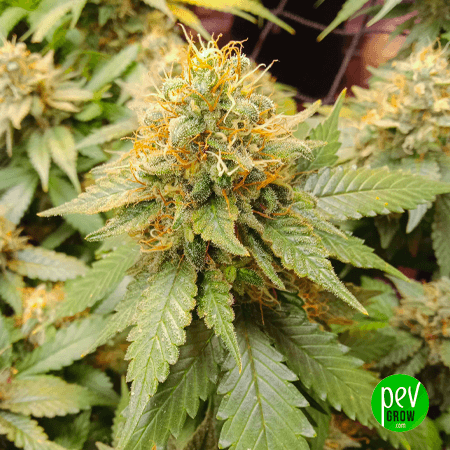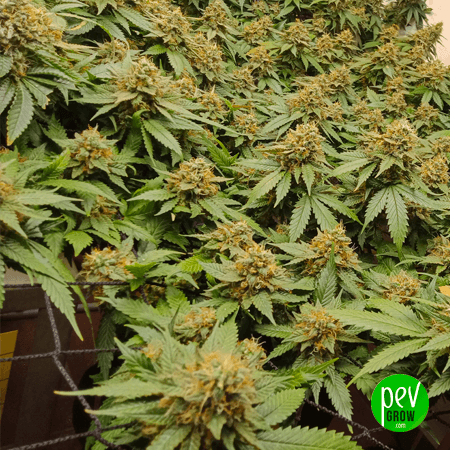 How much do these seeds from Spain Bulk Seeds produce?
A lot in every way, especially buds, which can reach up to 21.2 oz per 3x3ft (600 grams / m2) indoors and more than 35.3 oz/plant (1000 grams / plant) outdoors. If we talk about resin, you will see that the performance is impressive, as well as cannabinoids and terpenes.
How is the aroma and taste of Motorbreath?
The name gives many clues, because after exhaling the smoke you have a aftertaste of tremendous fuel in your mouth.. During cultivation it smells a lot, so much so that it can cause problems if you do not put the means to avoid it. The aroma of the cured buds has a earthy and citrus touch, but it already presents those oil nuances that are later enhanced with a correct curing.
What kind of effect does this herb have?
Combines mental euphoria with body relaxation, and it is not necessary to consume much to feel its effects fully. It can help with some types of pain, but above all it is very effective to treat stress and anxiety, 2 of the most typical disorders of the 21st century.
Buy Motorbreath feminized seeds from Spain Bulk Seeds at the best price online
These seeds are special for those people who have never tried the American genetics par excellence, the herb that changed everything, the mother of all OG and Sour from the market. Make a hole in your garden for this queen and do not forget to save some mother plant, you never know where the next champion may emerge.
You may also be interested in: