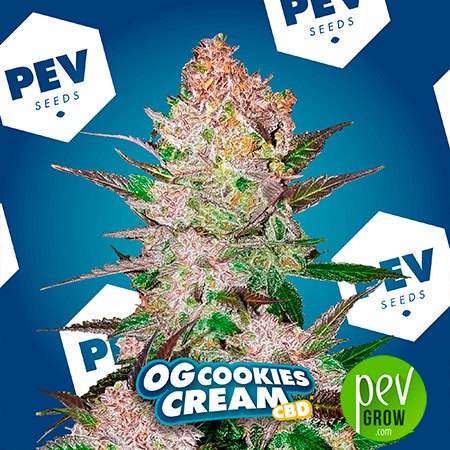 OG Cookies Cream comes to the market as an answer to the demand for US and medicinal genetics. In this plant we have combined a high level of CBD with unique organoleptic qualities, so we are very proud of this creation.
How is the OG Cookies Cream CBD?
Its morphology is typical of hybrids with the greatest influence of indica, although it is noticeable that it is a modern plant for several reasons. The first is its great rate of growth, much stronger than that of the common Indica plants. Also in the great branching, from the first stages of growth, with resistant stems and short distance between knots.
It responds very quickly to the change of photoperiod, although during pre-flowering it continues to grow and stretch the branches to later load them with buds.
What's the genetics in it?
This is a cross between a selection of Cookies & Cream from Exotic Genetix and a pure OG CBD which gives it high content of Cannabidiol. During breeding, several phenotypes were analyzed, and at the end the 2 that showed more CBD were crossed.
Genetically it is very similar to Cookies & Cream, its appearance, aroma and taste are practically the same, but with a THC to CBD ratio of 1:1.
How is OG Cookies Cream CBD grown?
It is a plant that requires pruning to maximize its production. In indoor cultivation it is interesting to apply the SCROG method, because the amount of branches it produces and the flexibility of these are ideal for this technique. With 9 plants per 3x3ft (square meter) and 3 weeks of growth will be enough to fill well all the space of culture. You can also fill the area well with 4 plants, but in that case you would have to give 10 or 15 more days of vegetative growth, it's your decision.
In outdoor cultivation, it is important to use tutors or some support structure for the branches. Indoors the mesh placed in the SCROG technique works really well for this mission, and outdoors we should try to do something similar to increase the production of the OG Cookies Cream CBD.
When is it time to harvest indoors and outdoors?
When you grow it indoors you can cut it from the ninth week of flowering. In varieties rich in CBD the effect does not change much by bringing forward the harvest or letting the plants over mature, so we recommend harvesting with half of the trichomes in amber color.
Outdoors you must cut in mid-October in the northern hemisphere, like most modern hybrids on the market. In the southern hemisphere it is harvested in mid-April.
How is OG Cookies Cream CBD production?
It is high in every way, at first sight it does not look very productive because of the volume of its buds, but the density and hardness of these give it more weight than it might seem at first. As for resin, there are few strains that surpass it, the layer of trichomes that covers the flowers and leaves is incredible.
In a standard indoor cultivation, a production of around 15,8 oz per 3x3ft (450 grams per square meter) can be achieved. Each well cultivated outdoor plant can give you more than 17,6 oz (half a kilo) of dry resinous buds.
The production of cannabinoids, terpenes and other oils is also outstanding, so that each bud of OG Cookies Cream is better exploited than other genetics..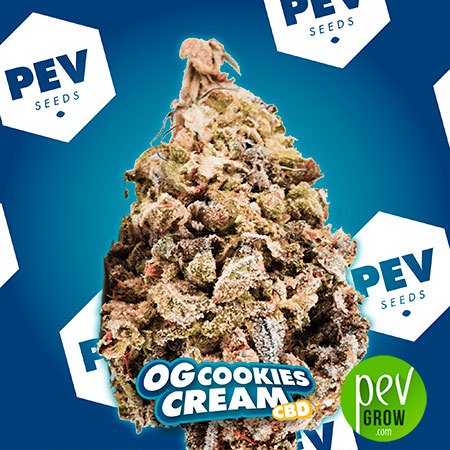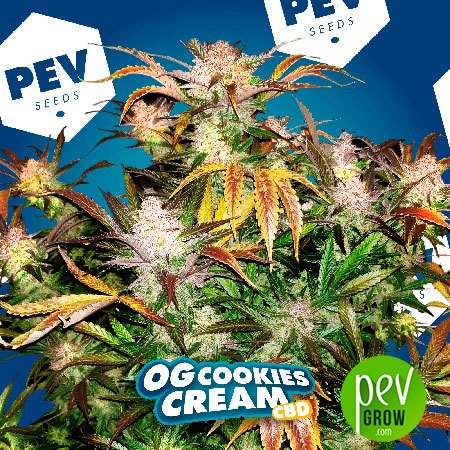 What does this medicinal variety of PEV Seeds taste like?
The aroma represents very well its Cookies part, as it reminds the dough of the cookies or the baking of them, sweet and very appetizing. Its flavor keeps this sweetness, but mixed with earthy and citrus notes that the OG Kush parental provides. If you have never tried a Cookies one, I invite you to do it as soon as possible, you may not have discovered your favorite weed taste yet.
What is the effect of OG Cookies Cream CBD?
This variety is perfect to start the day, be high, but its effect is very lucid, does not stun the mind, on the contrary, it stimulates it tuning your senses in many cases. By containing the same amount of CBD as THC, the psychoactivity remains moderate, while the body remains totally relaxed.
At medical level is very suitable for patients or users who need therapeutic cannabis to relieve muscle tension, localized pain, stress, anxiety, spasms, and many other ailments for which Cannabidiol is recommended.
Where can I buy OG Cookies Cream CBD seeds?
If you are looking for a modern cannabis strain with US genetics, feminized, tasty and medicinal, this is your plant. In our online growshop we provide you the OG Cookies Cream CBD seeds at the best market price, as well as all the growing tips you may need. Are you going to wait for someone to tell you?
You may also be interested in: