Miracle Alien Cookies looks like a cannabis plant coming from another world. It is the paradigm of modern cannabis breeding, a variety that represents everything we want to find in our weed: power, flavor, production, speed and a number of extraterrestrial trichomes.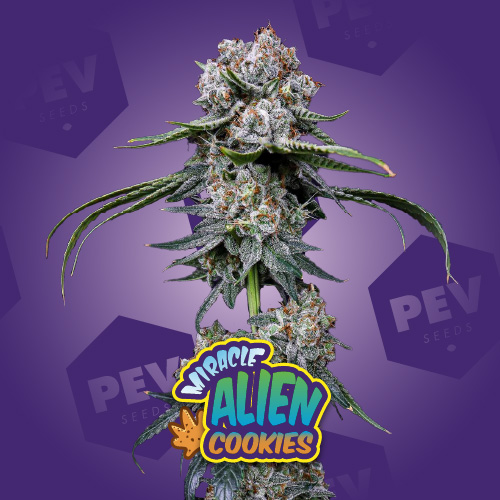 What is the genetics of Miracle Alien Cookies?
It arose from the combination of an Alien Cookies F2 with the cross between a Colombian and the great Starfighter. In its ancestors we can find the mythical Alien Technology twice, as it is part of both the Alien Cookies and the Starfighter.
How is the Miracle Alien Cookies from PEV Seeds?
As we said, it is difficult to find a more complete variety, since it is quite commercial considering its general production, it has a unique bouquet and an alien power. Its flower has a high density, which gives the dried buds a rocky appearance.
How to grow MAC indoors and outdoors
Its compact growth and tight knot spacing make it a great candidate for SOG production optimization method. Putting 16 plants per 3x3ft (m2) with a vegetative growth period of 3 weeks will fill the entire growing area with bright buds.
In outdoor cultivation it is better to prune, if you shape it into a hedge the light penetrates better through the whole structure and produces more. A support or stakes to support the branches in flowering is a great idea, and feeding it with organic fertilizers is recommended to enhance its organoleptic profile.
When is Miracle Alien Cookies harvested?
Its flowering time indoors and outdoors can be considered standard. Indoors usually blooms and matures in about 9 weeks, being able to advance or delay the harvest depending on your preferences regarding the effect.
Outdoors, it is cut in mid-October in the northern hemisphere, like the vast majority of commercial hybrids on the market. If you grow it outdoors in the southern hemisphere, the harvest will come in mid-April.
How much does PEV Seeds' feminized MAC produce?
It is quite commercial, taking into account that it produces from 17.6 to 21.2 oz (500-600 grams per m2) in indoor crops. Its resin production is Top, a trait it inherits from the Alien and has been enhanced with Cookies genetics.
Growing in the open air can give you more than 35.3 oz (1 kilo) of dry weed, but for that you will have to germinate the seeds soon, and give a long time of vegetative growth.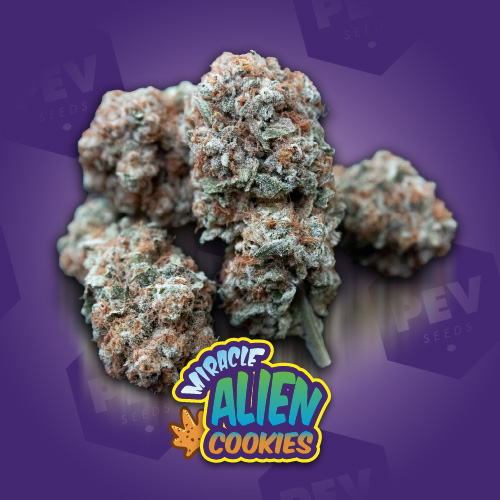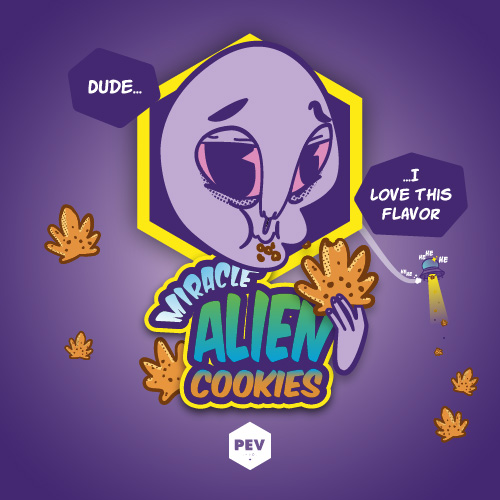 How is the aroma and taste of Miracle Alien Cookies variety?
The aroma reminds you of the orange sweets, as it mixes a base of cookie dough with a deep orange background that feels like eating rather than burning. Its taste is citric and sweet, with earthy touches that beg you for more and more...
What is the effect of Miracle Alien Cookies?
This is the typical effect of balanced hybrids, but raised to its maximum expression. Even if you have a high tolerance to cannabis, you may find it too potent. It rises like a pure sativa, speeding up your heartbeat and thoughts, but the high comes with a significant body charge, so it keeps you awake but relaxed.
Buy MAC feminized by PEV Seeds
If you wanted to try an amazing strain here it is. In the USA it is spreading like an apocalyptic plague, and it won't be long before the same thing happens in the rest of the world. In Pevgrow you have available now the feminized seeds of this genetics at the best price, so don't be the last one to try it.
You may also be interested in: