Now you have the Cookies Kush marijuana seeds on offer, they are born from the cross between Girl Scout Cookies and an OG Kush, a variety of indica dominance very striking for its original aroma and flavor different from the others of its kind.
Its high levels of THC will give you an intense experience, which will immerse you in deep relaxation for the body and mind.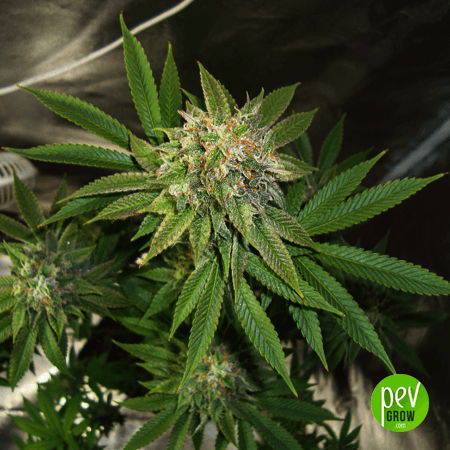 How is Cookies Kush?
It is a plant with a small structure, but at the same time strong and resistant, with a short flowering, will give you buds full of resin. It will not disappoint you!
It grows bush type, with many branches where a good part of its harvest will be distributed, its size is very comfortable, you can grow it in your garden very easily and nobody will notice.
What does Cookies Kush taste like? What is its aroma?
Its flavor is different. You will perceive the charm of chocolate mixed with rich mint and woody notes, the aroma transits between sweet, fresh and chocolate.
What effect does it produce?
Its effect is long-lasting relaxing, if you want to rest and relax Cookies Kush is your best option.
Regarding the medicinal properties that this herb has, it can help combat stress, insomnia, loss of appetite, chronic pain and eye strain.
How is Cookies Kush grown?
Being an easy-to-grow plant you can get very high quality crops, you will not regret growing this strain.
In indoor crops it reaches a height between 0.50 to 1 meter, it is a manageable and quite discreet plant for this type of cultivation, ideal for cupboards.
The flowering period is 50 to 60 days, in which you will be delighted with compact buds loaded with trichomes with high levels of THC, buy anti-odor filters if you need discretion.
One of the weaknesses of this plant is its low tolerance to humidity, keep it under control if you do not want to have major problems, you can place 9 plants for each m2 in 11-liter pots, under led spotlights that will favor it.
Grown outdoors it gets along very well with temperate climates, you can also sow it in a greenhouse, its structure is very suitable for it.
The ideal is a balanced diet in nutrients and it is not recommended to make transplants, you must place them in 50 liter pots from the beginning
In indoor cultivation it produces 21.2 oz per 3x3ft 600 gr. per m2 and in outdoor cultivation 18 oz/plant to 24,6 oz/plant(500 and 700 gr. per plant).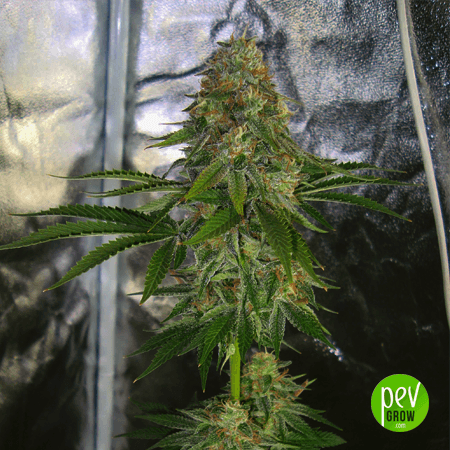 You may also be interested in: