Girl Scout Cookies variety became popular as soon as it appeared. Everyone wanted to try it, in the industry forums there was no other thing to talk about, but what does this plant have to create so much expectation? If you keep reading, you'll see…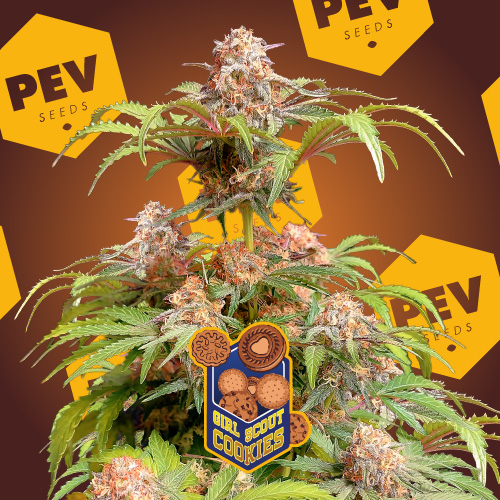 How is Girl Scout Cookies variety?
It is one of the few strains of cannabis that you can recognize just by seeing it, the shape of its leaves will clearly tell you. And probably it is the only strain that you can recognize seeing a dry bud, since it combines colors that together with its amount of resin make it unique.
Its structure looks like a sativa, stretches the knots quite a bit, branches a lot, and the stems are not very thick. But the leaves are much more similar to those of indica plants, wide and dark.
What genetics does Girl Scout Cookies have?
It was born from the crossing between a Durban F1 and the mythical OG Kush, made by a collective of growers and breeders in the bay area of San Francisco, California. With this plant began a saga that continues to bring out champion strains, the Cookie Fam, with the great Gelato as its maximum exponent.
How is Girl Scout Cookies grown indoors?
Due to its morphology, it is better suited to the "Screen Of Green" system, its long and flexible branches make the task much easier. In addition, its numerous branches and rapid growth speed accelerate the filling process of the mesh.
We can put 4 plants per square metre in 20-litre or 25-litre pots, with the necessary growth time to cover the entire growing space. Once covered we change the photoperiod to flowering and we will optimize its production to the maximum.
Can I grow Girl Scout Cookies outdoors?
Of course, growing Girl Scout Cookies outdoors is also a visual gift, especially in areas where the nighttime temperature is low. In these cases, there are phenotypes that turn into dark and very striking colours.
Girl Scout Cookies can be grown outdoors in many places, their harvest is not too late, but you have to consider the impressive density of their buds. We love this quality, especially when we put the grass in a grinder and after chopping there is much more than we expect. But it has the disadvantage of having low transpiration, and during ripening that can be a problem if it gets wet.
We recommend using tutors or, even better, some structure where you can support the branches during flowering. It is very interesting to make several prunings while growing, trying to shape the structure into a ball. Cultivated in that way it can also receive the best light for the whole plant, and it will surely yield much more than if it is allowed to grow naturally and without supports.
When can I harvest my Girl Scout Cookies?
In indoor cultivation it takes 9 to 10 weeks to flower and ripen properly. Outdoors it is cut in mid-October when grown in the northern hemisphere. In the southern hemisphere is harvested in mid-April.
During the ripening process you will be able to see an authentic spectacle of colour contrasts. The dark background of calyxes and leaves stands out in brilliant white due to the huge layer of resin that creates, Can you imagine?
What is the production of Girl Scout Cookies?
The flowers are not very bulky, but due to their high density they are quite heavy. In a square meter of indoor cultivation you can get a yield of about 500 grams.
Outdoors a single plant can give you more than half a kilo, as long as you plant it in early spring, in a place that has enough hours of direct sun and has water and nutrients in their right measure.
The production of resin is extraordinary, sure that it is in the top of more resinous varieties of marijuana, something very interesting when doing cannabis extractions. The resin weight return of Girl Scout Cookies in extractions is significantly above average.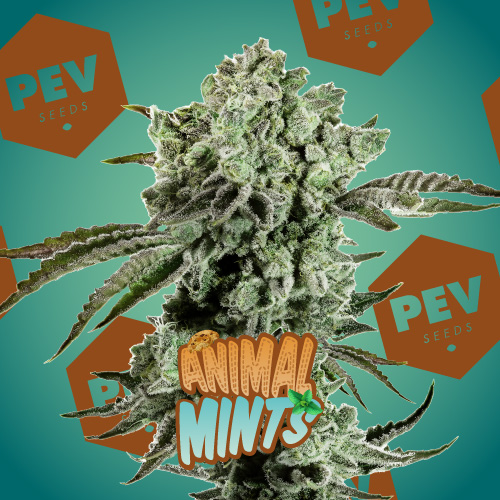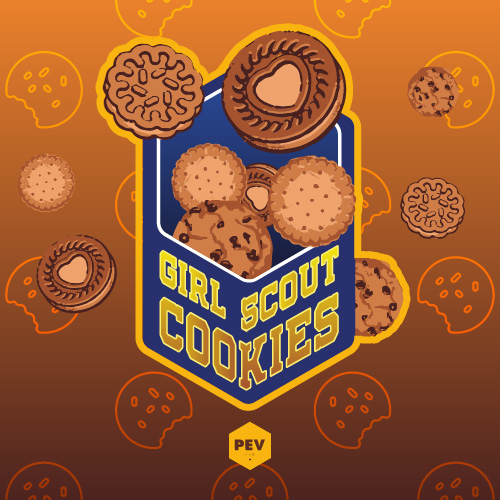 What does feminized Girl Scout Cookies taste like?
The name is perfect for this hybrid, because its aroma resembles freshly baked cookies. In combustion it produces a very soft smoke, which easily flows in, and if you do a correct root wash it doesn't scratch anything at all.
The taste is sweet, with menthol and earthy touches that invite you to consume more and more, if it wasn't for the fact that its power will knock you out if you smoke too much.
What is the effect of Girl Scout Cookies from PEV Seeds?
The effect is general, both cerebral and corporal, and with an extraordinary power. The elite clone known as "Forum Cookies" exceeds 25% in THC content, and phenotypes approaching 30% have been found.
With the first puffs you begin to feel a tingling that warns you that what's ahead is strong, and when you realize you' re not yourself. It starts with a flood of ideas and accelerated thinking, like the sativa effect, but quickly leads to a total high. You'll enjoy muscle relaxation, but with the mind always active, it's a fairly complete effect.
Can I buy cheap feminized Girl Scout Cookies seeds?
Of course you can, at Pevgrow we offer you the best feminized version of Girl Scout Cookies at an unbeatable price. Take as many as you want, from one unit to as many as you need, all are on sale. Make up your mind and try one of the cannabis seeds everyone talks about.
You won't find a better value for money when buying genetic Cookies anywhere else.
You may also be interested in: