You can now find in your trusted growshop Chemdawg bulk marijuana seeds.
The origin of this plant is quite curious; a guy named Chemdog bought marijuana during a rock concert in the 90's and was so fascinated that he went for more, so this strain came to the American coast.
When he decides to cultivate discovered that it contained 13 seeds, after certain variations Chemdawg 91 and then the fabulous Chemdawg a feminized variety of indica dominance noted for its taste and aromatic qualities arises.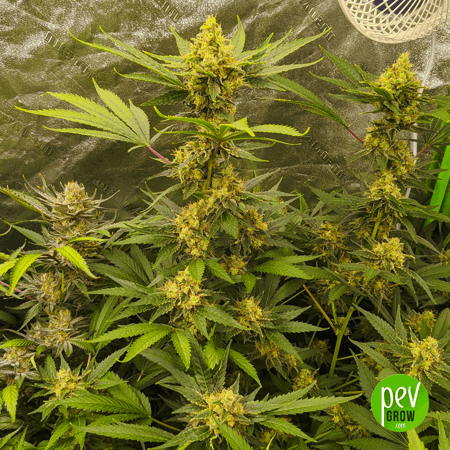 What does Chemdawg look like?
Its structure is hybrid, they have a main tip that protrudes above all the branches, has a bushy shape of medium height, its structure is resistant and produces elongated, thick and well resinous buds.
Very attractive to the eye, presents a variety of colors between purple and yellow that catch the eye.
What does it taste like?
Its flavor is strong and intense,with citric notes like lemon, tropical fruits like pineapple with some touches of gasoline; its smell is also very enigmatic, it will remind you of the smell of oil and pine.
What effect does Chemdawg produce?
Its effect is pleasant, it immerses you in a very pleasant feeling of euphoria, when smoking it will improve your moodo, it will serve you as a relaxation therapy, also indicated to relieve pains.
How do you grow it?
We recommend placing 9 plants in pots of 11 litres per square metre, and providing it with a good substrate improved with bat guano.
Outdoors it does well in dry and sunny climates, greenhouse cultivation brings out its qualities, it has a better response outdoors than indoors, it can do very well with SOG and SCROG techniques.
Its cultivation is a little demanding so it is advisable to keep it under controlled environments, such as greenhouses, do not overdo it with nutrients and be very careful with the humidity and temperature conditions.
What is the production of Chemdawg?
In experienced handsproduces between 400 and 600 gr. per m2 indoor, while outdoor can reach up to 2000 gr. per plant.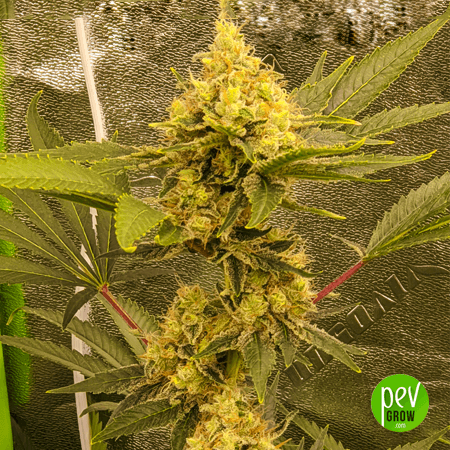 Buy feminized cannabis seeds Chemdawg.
Buy now at Pevgrow the feminized seeds Chemdawg from the seed house: Spanish Bulk Seeds
You may also be interested in: