Reading Time
8
minutes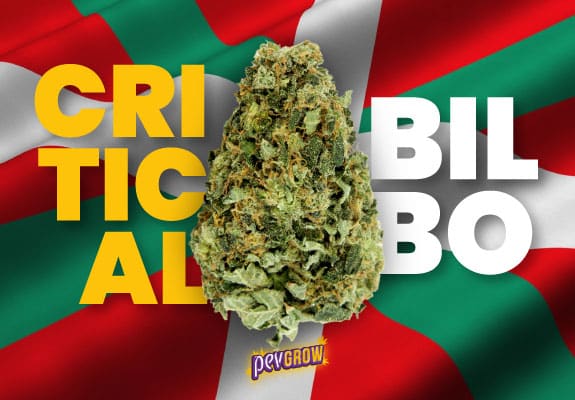 Critical Bilbo marijuana is the variety that has won the most cannabis cups in Spain in all of history, and now that it is 20 years since its fame began to spread and conquer millions of weed consumers from all corners, we have thought that It would be a good idea to create an article explaining its history, characteristics, and incidentally see some opinions of those responsible for the creation of this variety. Find a good posture and make yourself comfortable, I assure you that reading will not be heavy for you and that you will be able to learn something new.
🧐 History of the original Critical Bilbo Where and how did it come about?
Critical Bilbo is an elite clone, which means that it is a selection of seeds in which a specimen has been chosen that stands out above all the others due to a series of characteristics. In this case, Critical Bilbo is called that because it was selected near Bilbao (Basque Country) in the year 2.000, and it came from a package of Critical Mass seeds from the Mr. Nice Seeds bank that César from the Makonha grow shop grew with a friend named Mikel, and although at first glance this plant did not seem like anything special, when it began to flower they saw that it was a very special individual.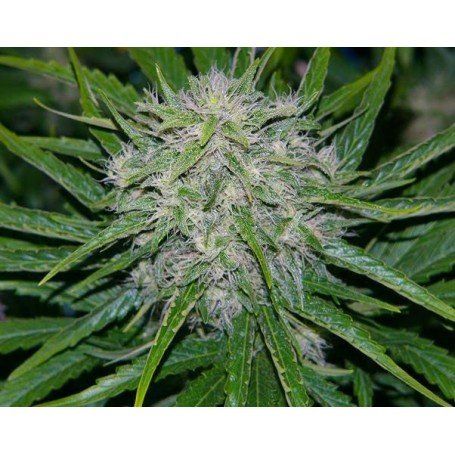 Buy Critical Mass MrNice
They saved cuttings of this jewel and began to cultivate it through their clones, which they also began to share with other growers in the Basque Country, such as David de Genehtik, who at that time was in charge of the Ortue distributor. Little by little it spread first throughout the province of Vizcaya, then throughout the rest of the Basque Country, later to other Spanish communities, and so on until it reached all corners of Europe and later the entire world.
During the first years of the new millennium, Critical Bilbo won several local cannabis competitions, and in 2.004 he won the prestigious Highlife BCN, a title that gave him international fame. In 2.008, she won the "Girl of the Year" award from Soft Secrets magazine, and from that moment on, feminized seeds of this genetics began to appear, first through the Dinafem bank, but little by little the rest of the seed banks. Spaniards were incorporating it in one way or another into their catalogues..
🎯 Critical Bilbo characteristics in interior
At first it looked like a plant to discard, with ungainly and disorderly growth, too much distance between knots, and thin stems that need reinforcement tutors not to break. The leaves have long, thin leaflets, more similar to those of the sativas, with a shade of rather light green, and not as serrated as those of other varieties. It shows a great branching naturally, even when the main tip is not pruned, but you have to know that it accepts both pruning and other performance improvement methods such as supercropping and SCROG very well.
Critical Bilbo height
In indoor cultivation it is advisable to give a generous vegetative growth time to achieve the best results, since the Critical Bilbo cutting responds very quickly to the change in photoperiod and begins to flower a few days later. During the pre-flowering phase, its height can increase between 50% and 75%, so when it goes to flowering with 40 cm it can end up with a height of approximately 60 or 70 cm.
Thanks to the impressive hybrid vigor of this strain and its rapid development, giving 30 days of vegetative growth can be enough for the plants to reach 40 cm in height, and due to its curious morphology in indoor cultivation, light can penetrate to the upper parts. lower to get well-formed buds in those areas, something that does not happen with many other varieties.
Bloom of Critical Bilbo
This same plant that during the vegetative phase behaves like a sativa, with a very fast development speed, a lot of branching, a very wide distance between nodes, and leaves with narrow leaflets, during flowering it changes completely to produce flowers in an explosive way, with inflorescences everywhere that end up forming ultra-dense buds, extremely hard, and of considerable size.
The best thing is that Critical Bilbo's flowering ends before that of most commercial marijuana varieties on the market. In indoor cultivation it can be harvested after 45 days of flowering, although many people prefer to let it mature for 55 or 60 days because it improves the yield of resin and essential oils, although the effect also becomes more narcotic.
Critical Bilbo production
The production of buds, trichomes, terpenes, flavonoids and other active compounds is exaggeratedly high, without a doubt Critical Bilbo is one of the most productive cannabis varieties of all time in general. With a monoculture of Critical Bilbo clones indoors, a yield of more than 600 grams/m2 can be achieved without being any expert, and if the plants are exposed to a CO2 level of 1500 PPM from the second to the sixth week of flowering they can reach 800 grams/m2, and we have seen this with our own eyes.
Critical Bilbo produces resin in a massive way, without being the size of the Kush genetics, but with such a concentration that it can secrete drops of sugar. They are notched glandular trichomes that generate a large amount of essential oils, and when the gland breaks, it releases a very sticky and aromatic resin, with large amounts of limonene, myrcene and caryophyllene, among other terpenes. Critical Bilbo's cannabinoid production is also very high, exceeding 20% ​​THC and generating traces of CBD and CBN among others.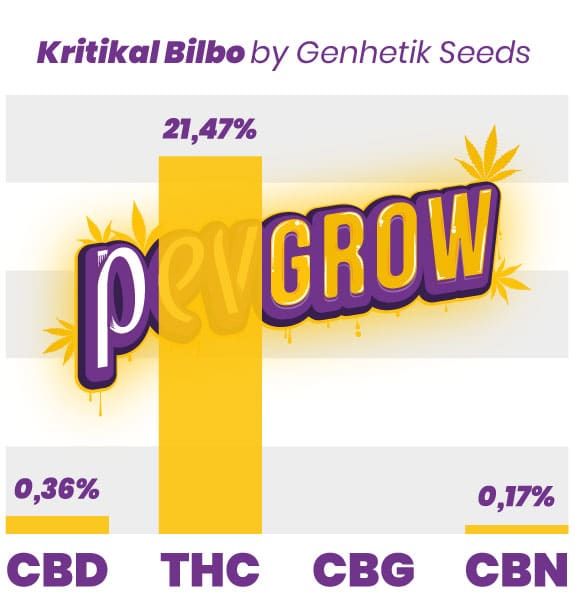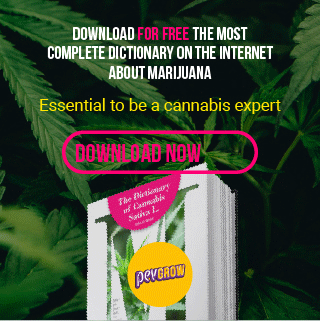 Free Download
Cannabis Dictionary
2023 Edition
Insert a correct email address
You must accept the privacy policy
SITE OF SHOPS ONLINE S.R.L with CIF: B98262777 and address for notifications in C/ VEREDA MAS DE TOUS Nº 22 LOCAL C, 46185 LA POBLA DE VALLBONA, VALENCIA, Phone: 961658271 Email: customer(at)pevgrow.com
At the name of Consulting we process the information you give us in order to provide the requested service, perform the billing of the same. The data provided will be kept as long as the business relationship is maintained or for the years necessary to comply with legal obligations. The data will not be transferred to third parties except in cases where there is a legal obligation. You have the right to obtain confirmation as to whether SITE OF SHOPS ONLINE S.R.L. is processing your personal data and therefore you have the right to access your personal data, rectify inaccurate data or request its removal when the data is no longer necessary
👾 Critical Bilbo outdoors
It is necessary to differentiate the characteristics of Critical Bilbo indoors and outdoors, because its morphology can vary greatly. Outdoors, this plant maintains a more compact and controlled structure, with a shorter internodal distance, a larger and stronger trunk and branches, and a greater production of leaves. Just as in indoor cultivation they tend to grow vertically, outdoors it invades all the available land on the sides very quickly.
Outdoor production of Critical Bilbo
This depends on several factors, such as the amount of substrate available, the quality and amount of light it receives, nutrition, vegetative growth time, and above all the experience or skill of the grower. The vegetative time depends on the moment in which the cuttings are taken outside, and the size they are at that moment must also be taken into account.
When grown in pots of less than 50 liters they can give up to 300 or 400 grams approximately, but if they are larger pots they can even exceed 500 grams. On the other hand, when they are grown directly on the ground in a large hole with good soil, they can exceed 1,500 grams per plant.
Critical Bilbo outdoors, when to mow
One of the best advantages of Critical Bilbo is that in outdoor cultivation it can be cut from the end of summer, that is, before the arrival of the dreaded autumn rains so typical in many regions. To choose the optimal harvest time, several things must be taken into account: the maturation of the buds, the environmental conditions at the time, and the grower's personal tastes in terms of the effect he wants to achieve.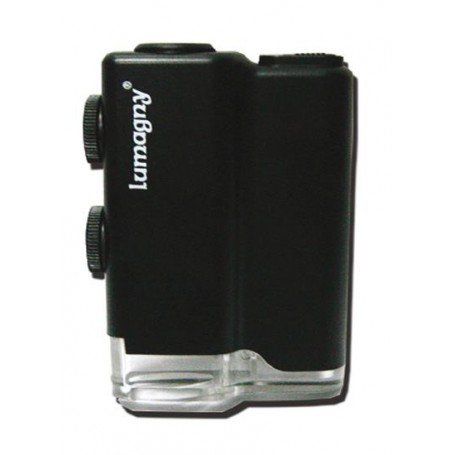 Buy Microscopio Lumagny Mini Zoom 60-100x
To check the maturation of the buds, the ideal is to look at the state of the trichomes with a microscope of more than 60 magnification, in order to determine the best moment depending on their color. If you want to go deeper in this regard, I recommend you take a look at this article from our blog where we explain the maturation of trichomes in a broad way. It is also interesting to know the environmental conditions to be able to decide when to cut, since sometimes it is better to advance the harvest a few days if we see that rain is coming. Finally, we must decide the type of effect we want to achieve, knowing that when very mature plants are harvested the effect is more relaxing, sedative and narcotic than when they are cut before.
✅ Critical Bilbo indica or sativa
Is Critical Bilbo sativa or indica? We have been asked this question hundreds of times, and at first glance it can be difficult to qualify. It's actually a mostly indica hybrid, around 75% to 25% sativa, but it has qualities reminiscent of both subspecies of cannabis. Their structure during the growth cycle is more similar to that of sativas in general, but the morphology of the buds and the flowering time are much more reminiscent of indicas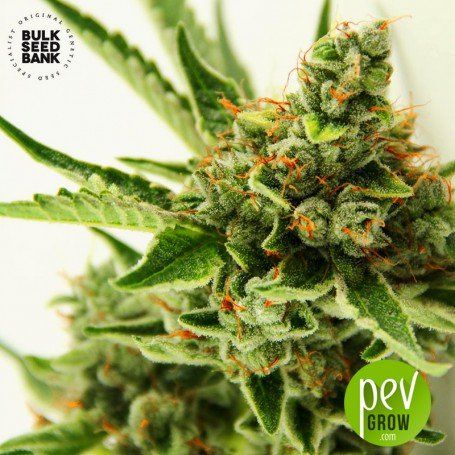 Buy Critical Mass Bulk Seed Bank
The truth is that we usually classify marijuana varieties based on a series of characteristics, taking into account that sativas grow more, have a longer flowering period, and the effect is more stimulating and cerebral, and indicas all the same. contrary, but this is not always the case. Critical Bilbo is a cross between Big Bud and Skunk 1, and among Skunk#1's ​​ancestors there are Mexican and Colombian sativas that can pass some traits on to the offspring.
🚀 Critical Bilbo effects, aroma and flavor
The type of effect can be compared to that of many other current hybrids and polyhybrids, being euphoric, uplifting and mental in the beginning, and more relaxing in the final part. The effect is more similar to that of indicas, interesting for people who want to eliminate anxiety and stress at a stroke, and as side effects it must be clarified that it stimulates the appetite a lot, makes the eyes very red, and if too much is consumed amount over a short time may cause drowsiness.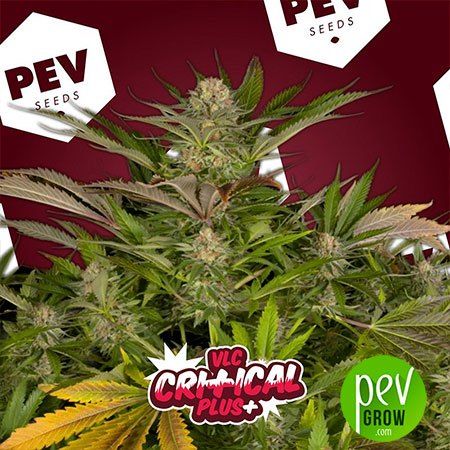 Buy Critical Plus
The organoleptic properties of Critical Bilbo are extraordinary, to the point that it becomes the favorite herb of many people who try it, and leaves no one indifferent. The aroma is very sweet, floral and fruity, but so powerful that it can cause problems during cultivation if means are not applied to avoid it. The flavor is directly the favorite of millions of people around the world, similar to a fruit salad where citrus and sweet tones stand out.
👌 Critical Bilbo reviews
One of the most valid opinions we think may be that of Shantibaba, the creator of the original variety who recognized that it is the best selection of Critical Mass in history, "One plant in a million" said by his own mouth. Several selections of this variety have been made, even among thousands of specimens like the one made in Switzerland many years ago, but none has surpassed the great Critical Bilbo in quality.
Cesar, the owner of the Makonha grow shop who was the one who selected Critical Bilbo, refers to it as a very appreciated guest in any garden, and according to what many people tell us, it is the best marijuana plant they have grown in their entire lives, directly. As a personal opinion, I will tell you that it is very difficult to gather so many qualities in a single plant: high yield, easy cultivation, great resistance to stress, excellent aroma and flavor, and a top quality effect.
⛳ Conclusion
Critical Bilbo is one of the best elite marijuana clones in the world, and undoubtedly the best cannabis selection ever made in Spain. Anyone can achieve a great harvest with these genetics, regardless of their experience as a grower, and it doesn't even need curing to be one of the tastiest weeds of all time. If you have not tried it yet, I assure you that its flavor will surprise you, and it is very possible that it will become your favorite variety.
⭐ Frequent questions
When does Critical Bilbo start to flower?
In indoor cultivation, the Critical Bilbo cutting begins to flower about 4 days after changing the photoperiod, and the Critical Bilbo, Kritikal Bilbo, Critical Plus, or Critical Mass seeds generally need about 8 days after the change. In outdoor cultivation, the Critical Bilbo clone begins to flower at the end of July in the northern hemisphere, and at the end of January in the southern hemisphere. The seeds begin to flower a little later, usually at the beginning of August in the northern hemisphere and at the beginning of February in the southern hemisphere. It must be taken into account that the cuttings are always earlier because they are sexually mature.
What is the best variety of Critical?
If what you are looking for are the seeds that are most similar to the Critical Bilbo cutting, the ideal is to look for S1 feminized seeds, since they are made from the self-pollination of the Critical Bilbo elite clone, and they come out practically the same. In this case, I recommend trying the Critical Plus seeds from PEV Seeds, and if you are looking for Critical Bilbo crosses you can try Sugar Black Rose from Delicious Seeds, Channel + from Medical Seeds, or Critical x Somango from Spain Bulk Seeds.
← Properties of hemp seeds
Landrace Marijuana Strains →