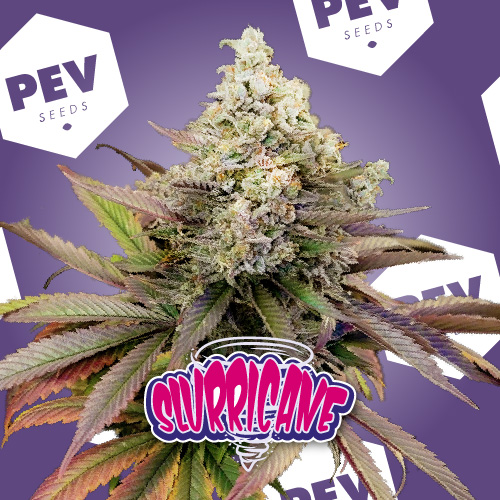 PEV Bank Seeds is pleased to present its new addition, and it is not just any one, we are talking about Slurricane before Dosidos x Purple Punch, a genetics that combines 2 of the most demanded clones in the USA today, so these seeds have an unsurpassed pedigree.
How is Slurricane in general?
It is a very complete cannabis plant, since it combines resistance, power, resin production and flavor, all wrapped in very striking tones, which surprises locals and strangers. It is perfectly adapted to indoor growing, where it loves high intensity light, and performs well under all circumstances. Slurricane seeds are perfect for selecting elite phenotypes, their genetic variation makes them the perfect choice for "Pheno Hunters"
What is the genetics of these seeds?
It is a cross between Dosidos and Purple Punch, 2 marijuana plants that have reached a beastly popularity around the world in recent years, due to their potency, flavor, and amount of resin among other things.
It is actually a well compensated polyhybrid, and in its genetic pool we find varieties such as Girl Scout Cookies , Face Off OG, Gran Daddy Purple or Larry OG, that can give you an idea of the potential of this variety.
Both Dosidos and Purple Punch are creating their respective cannabis families, leaving a legacy that will go down in the world history of marijuana strains.
How is Slurricane grown indoors and outdoors?
Although it is a plant suitable for the hands of novice growers, to get 100% out of it requires some experience. In indoor cultivation it is interesting to prune the main tip to try that the majority of secondary branches reach a good height. You can put 9 plants per square meter, in 11-liter pots, with 3 or 4 weeks of growth, depending on the light intensity.
In outdoor cultivation it does not need much care, as long as it does not lack substrate, light and water of course. In the open air or in the greenhouse it is also better to do several pruning, trying to shape the plants into a ball, so that they receive the light more evenly.
When are these feminized seeds harvested?
Its flowering time indoors is about 8 weeks, after the corresponding growth time. As with other polyhybrids, Slurricane ripening can be "played" to give it a more "sativa" and cerebral effect if cut earlier, or more physical and relaxing if harvested after 8 weeks.
It is cut outdoors at the beginning of October in the northern hemisphere, and at the beginning of April if you grow it outdoors in the southern hemisphere.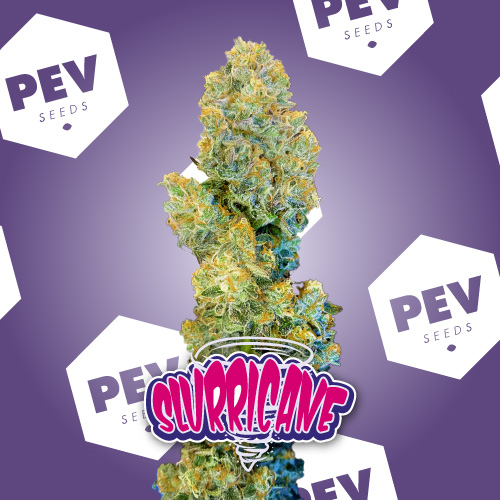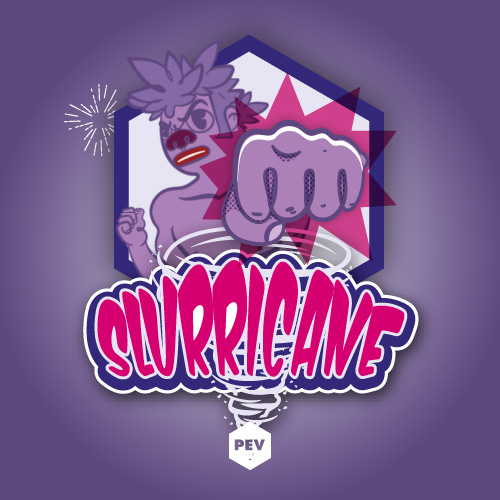 How is the production of Slurricane?
Really high in every way, both in flowers, as in resin and essential oils. In a standard indoor grow lit with 600w HPS you can get about 17.6 oz per 3x3ft (500 grams per m2).
Each Slurricane seed grown outdoors can give you more than 35.3 oz/plant  (1 kilo ) of dry grass, but to achieve this it is necessary to germinate early and not have factors that prevent its development, such as a plague, stress or lack of nutrients .
What does PEV Seeds' Slurricane smell and taste lik e?
Get ready to enjoy a special flavor, complex but full of nuances. Its aroma will make you salivate, but you will have to control it with the help of ozonizers and filters so that it does not give you away during cultivation. The taste is reminiscent of berries, but with a unique refreshing sweet undertone. We are very proud to be able to offer this strain as it has an unrivaled terpene profile.
What kind of effect does this marijuana cause?
Although its THC content is over 20%, it must be said that the effect is mostly indica. It relaxes body and mind, in a very pleasant way, which can be considered medicinal for users who need cannabis to sleep, calm anxiety or localized pain.
Buy Slurricane seeds from PEV Seeds at the best price online
This strain represents the best of modern cannabis, so if you are looking for a complete marijuana plant it may be your best choice. If you decide to try it, we will provide them in feminized format, and at the best price you can find.
You may also be interested in: