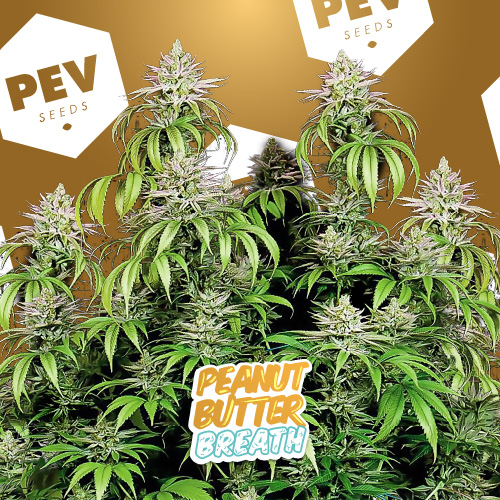 Peanut Butter Breath are feminized marijuana seeds produced by bank PEV Seeds in response to the great demand for new varieties with unique aromas and flavors. This herb stands out for a curious peanut butter aftertaste, in addition to its excellent resin yield, and devastating effect.
What is the genetics of these feminized seeds?
There are seeds S1 obtained by self-pollination of a cutting that is giving a lot to talk about right now in the USA. The genetics of this clone is Dosidos x Mendo Breath F2, 2 plants that can exceed 25% THC and are part of a lot of new polyhybrids.
How is Peanut Butter Breath morphologically speaking?
Its appearance is hybrid mainly indica, fast growing but quite compact, leaves of good size, and strong stems. During flowering it does not even double its height, so it is ideal for indoor cultivation, since it is quite manageable in size. The stigmas of this plant are of a intense red color, and the buds are of a light green tone, although some phenotypes can end with bluish tints.
How are these seeds grown indoors and outdoors?
In indoor cultivation it allows you to choose the optimization technique you prefer, since its compact structure allows a SOG with 16 plants / m2 in 7-liter pots, or 9 plants / m2 can also be placed in pots of 11 liters, but in this case with one or more pruning to promote lateral branching.
For outdoor cultivation you just have to find a very sunny place to place your little Peanut Butter Breath there, in large pots or if you have the possibility, better in mother earth. This genetics copes with humidity quite well, and fungi are not usually a problem for her, although you can prevent her from getting wet when the buds begin to form better. In the open air it is more advisable to prune the main tip, and it is very interesting to tie the branches or use good stakes so that the weight of the buds is not a problem.
When is the Peanut Butter Breath harvest coming?
Its flowering time in indoor cultivation is about 8 or 9 weeks, depending on the phenotype. Outdoors they are normally harvested at early October in the northern hemisphere, and during the first half of April in the southern hemisphere.
How is the production of these seeds from PEV Bank Seeds?
If we are based on the production of buds, it can be said that it is standard, since is between 15.8 oz per 3x3ft and 17.6 oz per 3x3ft (450 and 500 grams / m2) indoors and from 18 oz/plant to 24,6 oz/plant (500 to 700 grams per plant) outdoors. But if we talk about the yield of Resin and essential oils, Peanut Butter Breath will meet all your expectations, and it is even possible that you have not seen a marijuana before with so many trichomes, flavor, and potency.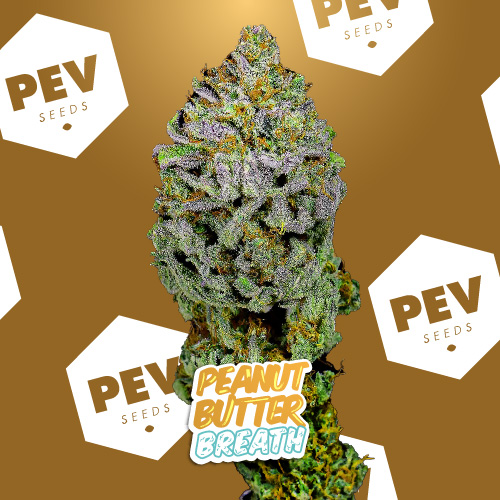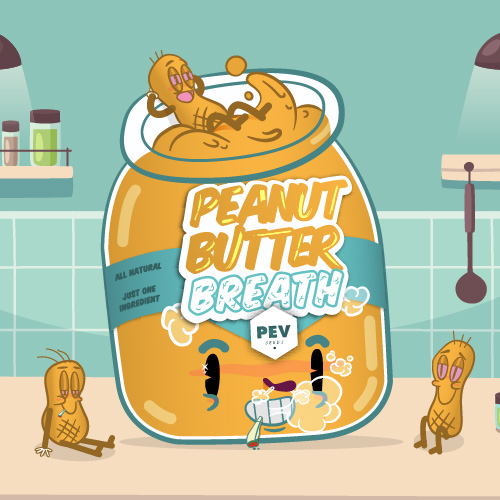 What does Peanut Butter Breath smell and taste like?
Its name gives it away, and when you exhale the smoke of this herb, a aftertaste of peanut butter remains in your mouth, very pleasant. Some consumers claim to find earthy and woody nuances that are interspersed with the hint of nuts, peanuts, pistachios, and other dried fruits.
How is the effect of this tasty cannabis?
It can be too powerful for people not used to the effect of THC, since rises very quickly and affects body and mind equally. It can be a good medicine to treat depression or apathetic moods, because you makes you forget the problems and see everything from another point of view, while relaxing the muscles and joints in a very pleasant way.
Buy PEV Seeds Peanut Butter Breath seeds at the best price online
If you are tired of the usual flavors of cannabis, and want to try something powerful and surprising at the same time, give these feminized seeds a try and if you can save some mother plant of this genetics, because each seed is a jewel from which something unique can come out.
You may also be interested in: