Biscotti are feminized marijuana seeds from the PEV Bank Seeds bank. This genetics descends directly from the famous Cookie Fam, and contains many of the qualities that we usually demand in a quality herb, but if you want to know more about it, I recommend that you continue reading this ...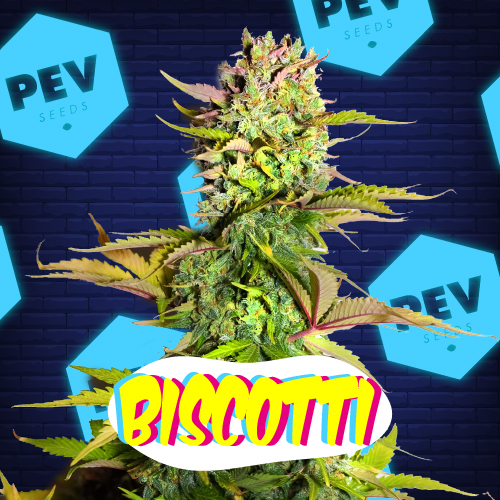 What genetics does the Biscotti variety contain?
At this point there is some controversy, as some say it is a cross between Gelato and South Florida OG, while others think it is a combination of Gelato # 25 x Girl Scout Cookies x Gorilla Glue. What is clear is that it has many genes of the Cookies family, and you can see that with the naked eye ... or as soon as you smell it.
How is this plant in general?
Its morphology is similar to that of shrubs, with symmetrical growth, rather compact, and strong, with thick stems and closely spaced internodes. Its indica influence can be seen well in the development of the Biscotti from the first weeks of cultivation.
In flowering it is a spectacle for the senses, buds with a sticky touch and extreme hardness, visually very striking due to the contrast between the bright resin on the dark background of the leaves and flowers, and above all the aroma, faithful to its Cookies lineage , of 10.
What is the best way to grow Biscotti indoors and outdoors?
Indoors you can choose between letting them grow normally, without pruning, putting 9 plants / m2 in 2.9 US gal ( 11-liter pots ) with 3 weeks of vegetative growth. Or apply a SCROG, with 4 or 5 plants / m2 in 5.3 US gal ( 20-liter pots ) with about 5 weeks of growth and a lot of pruning, you choose.
However, in outdoor cultivation we think it is better to try to shape it into a ball or spherical hedge. It is the best way to take advantage of the sunlight, and for that you only have to do a weekly pruning from the first month of life, until the pre-flowering stretch begins.
Both indoors and outdoors, I recommend that you feed your Biscotti with organic fertilizers, it is the best way to get that deep flavor that only Cookies can offer, listen to me, you will appreciate it.
When is it harvested indoors and outdoors?
Indoors it takes around 65 days to complete its flowering cycle, apart from vegetative growth of course. If you like the heavy, sedative and narcotic effect, let it mature one more week, you will cut it with most amber trichomes and its effect will be special to forget everything when you need it.
For those who grow Biscotti outdoors, sharpen the scissors at the beginning of October, this strain matures outdoors from the 1st to the 15th of that month in the northern hemisphere. Those of the southern hemisphere will celebrate their harvest during the first half of April.
How much does this feminized PEV genetics produce in grams?
Its bud yield is medium / high, standing at a more than acceptable 15.8 oz per 3x3ft (450 grams / m2) in indoor crops that maintain good parameters. Outdoors each specimen of this variety can give you about 21,2 oz to 24,6 oz ( 600-700 grams) easily, you don't have to be a "manoverde" to get good results with Biscotti.
Trichome production is well above average, making your Blood Cookies proud. If you like cannabis concentrates and extractions, you have to try making hashish, rosin or BHO with Biscotti, because apart from obtaining an impressive return, you will enjoy an organoleptic quality without equal.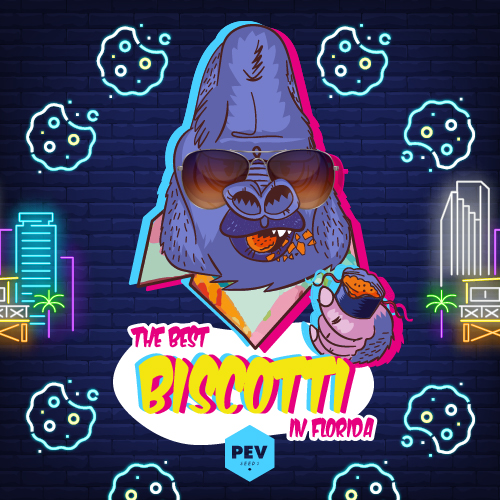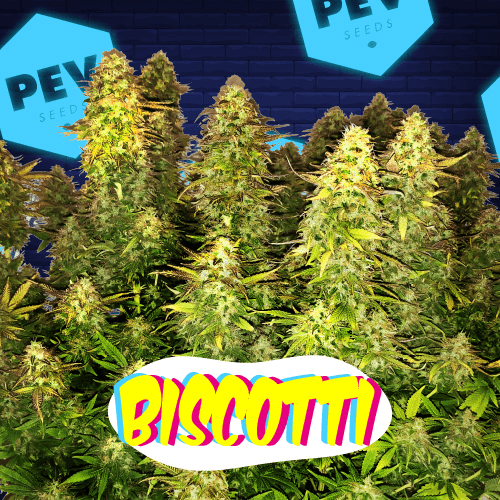 What does Biscotti really taste and smell like?
The aroma is reminiscent of pastry shops, a mixture of sweet nuances with a yeast background, not very pronounced until you carve the buds. The flavor is very good as well as complex, fruity, very sweet, and with spicy touches, difficult to describe, you have to try it to understand what I am talking about.
How is the effect of this plant?
It is very powerful, be warned, of total effect, the mind stimulated but the body super relaxed. It's not easy to find highly indica-dominant hybrids that exceed 25% THC, but Biscotti does.
At a medicinal level, it is a very appropriate herb to alleviate some types of pain, treat stress and anxiety, or relax muscles. As you can see, we are talking about high quality cannabis no matter where you look at it.
Sale of feminized Biscotti seeds at the best price
If you were trying to grow a connoisseur marijuana, look no further, Biscotti seeds not only satisfy those who try them, they create Biscotters fans wherever they pass.
You may also be interested in: