Reading Time
6
minutes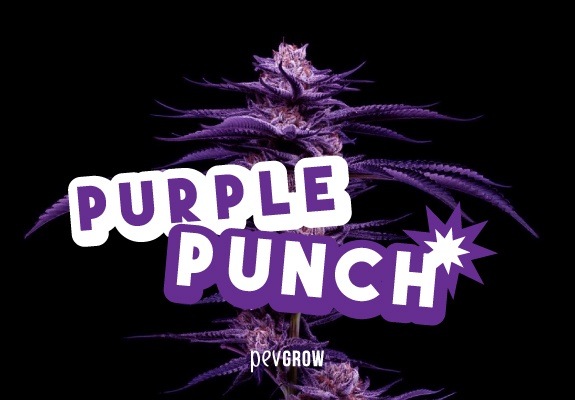 Purple Punch has earned a place on the most privileged areas of the counters of all cannabis dispensaries and smoking clubs around the world. In a market where Cookies and Gorilla Glue versions were devastating, this variety entered like a hurricane, destroying everything in its path. Are you curious about the reasons for its meteoric rise? Well, in the following lines I'll explain it to you…
⚠️ Where did this plant come from?
Although the original clone is now old, its popularity did not really take off until 2017, when the Symbiotic Genetics seed bank was also born. Its breeder, known as The Village, got a cutting of the original Purple Punch from Budologist, a friend who had it since 2013, when the creator of the variety passed it on, Supernova Gardens.
Symbiotic Genetics worked the clone until they obtained F2 seeds that represented very well the qualities of this plant. Later they produced Purple Punch 2.0 and spectacular crosses such as Mimosa, Wedding Crashers and Cherry Punch among others.
Dosidos x Purple Punch
Dosidos x Purple Punch, in its genetic pool we find varieties such as Girl Scout Cookies, Face Off OG, Big Daddy Purple or Larry OG,…
Features
Bank: PEV Seeds
Type: Feminised.
Genetics: Dosidos X Purple Punch
Flowering period: 9 weeks
Phenotype: 40% Indica/ 60% Sativa
Ext. harvest HN: Beginning of October
Ext. harvest HS : Beginning of April
Outdoor production: 800 gr/plant
Internal production: 400 gr/m2
THC:24% – CBD:0,5% – CBG:0,1%
🧐 Genetics that are part of the Purple Punch
We are talking about a cross between Larry OG and Grandaddy Purple, which shows a great hybrid vigor, and above all represents a perfect mix between both parents, taking the best of each of them.
The purple tones, the type of effect and the taste are inherited from the Grandaddy and the power, resin yield and organoleptic nuances come from the Larry, resulting in a very refined polyhybrid in all aspects.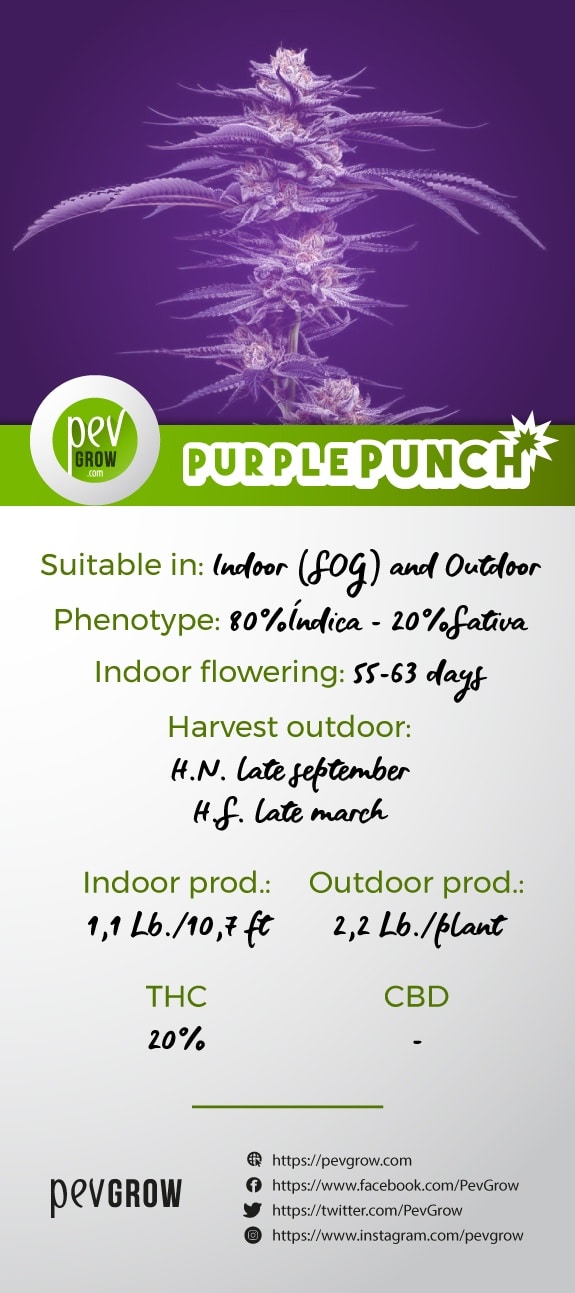 🎬What's it like in general ? Indica or sativa?
It is mainly indica, although the speed of growth and its great vigor may make you think otherwise, you can say that is about 80% indica compared to 20% sativa, and where it is most appreciated is in its powerful sedative effect.
Its structure is quite compact, and it doesn't stretch the knots too much. It develops large leaves and branches normally, with robust but mouldable stems. In flowering it does not squeeze the buds as much as other varieties, they are rather spongy but with a very appealing appearance.
Purple Punch as a weed
One of the reasons for the overwhelming success of this variety is its image, because nowadays cannabis not only has a good aroma, taste and potency, but it also demands presence, which is one of the strengths of this plant.
Purple Punch buds are striking at first glance because of the great contrast between the purple flower, the orange pistils and the amount of white and amber trichomes covering both the calyxes and the surrounding leaves. I'm not going to say that the Punch has succeeded thanks to its colors, but I'm sure it has helped a lot.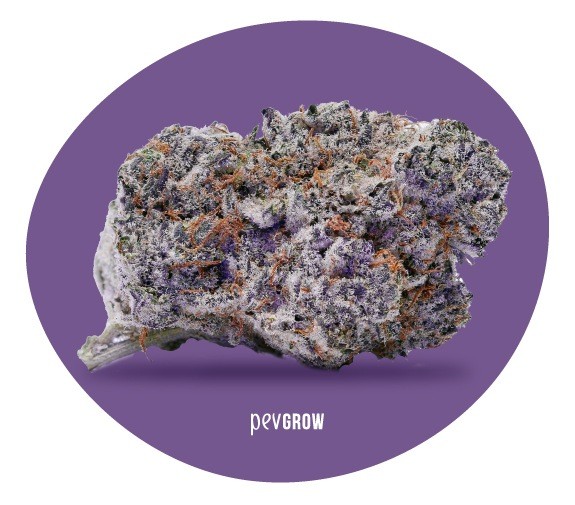 🎯 Growing the Purple Punch, comments and tips
If you've only recently started growing cannabis, it's best to try other varieties, because this one requires a little experience to achieve an acceptable yield and quality. It's not that it is very picky about food, but some pests have a special predilection for it, and it is somewhat sensitive to fungal attack, so if you don't act quickly they can ruin your crop.
In indoor cultivation you can take advantage of its columnar morphology to make a SOG with 16 plants/3x3ft (m2) in 2.9 US gal (11 litre) pots. If you choose this method you just have to leave them in vegetative growth until they reach a height of 0.82 ft. (25 cm.), without pruning the tip of course. Once they reach that size you can change the photoperiod to flowering, and so they will end up with about 1.80-2 ft. (55-60 cms.).
Outdoors it is preferable to prune, not only the main tip but several prunings throughout the growth phase. Use preventive fungicides and insecticides since the plant is small, especially bacillus T. for the caterpillar. Purple Punch loves to sunbathe, but to acquire the dark shades it needs cool temperatures during flowering and ripening. It also appreciates good defoliation during pre-flowering, to avoid becoming too dense and to have better ventilation.
Flowering time of the Purple Punch indoors and outdoors
It is quite fast in general, in indoor cultivation its flowering cycle is usually not longer than 63 days, and if you prefer the less narcotic effect I advise you to cut it earlier, with 55 days maximum.
Outdoors, either on terraces or in gardens, and also in greenhouses, it ripens at the end of September, provided it is grown in the northern hemisphere. In the southern hemisphere the harvest comes at the end of March. When night temperatures drop to 59º F (15º C), P. Punch dresses in its best clothes, with attractive purple tones that in some cases look almost black.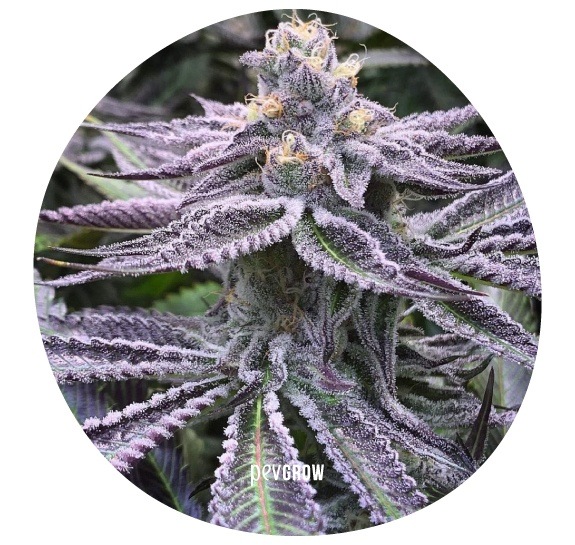 Yield weight of the Purple Punch strain
Flowering is fast, but in that time it has enough to create a large production of high volume buds, although not as dense as those of other Kush crosses. Indoors it can reach a yield of about 17.6 oz per 3x3ft (500 grams/m2) in the hands of growers who know how to squeeze the food from this genetics.
Outdoors in temperate or warm zones is where it feels best, and it appreciates it by bringing back a crop that can exceed 35.3 oz (1000 grams) dry per plant if given enough hours of direct sun and not lacking in nutrients.
Performance in Wax, Shatter, Rosin, and other concentrates
Thanks to the dense layer of resin it produces, Purple Punch is one of the favorite strains for lovers of cannabis extractions. If you like concentrates extracted with the help of solvents with this plant will get a return of over 25%.
For those of us who prefer not to use solvents the performance will be slightly lower, but the quality will be much better from our point of view. In Rosin you can get a return of approximately 20%, and in Bubble Hash around 12% which is not bad at all.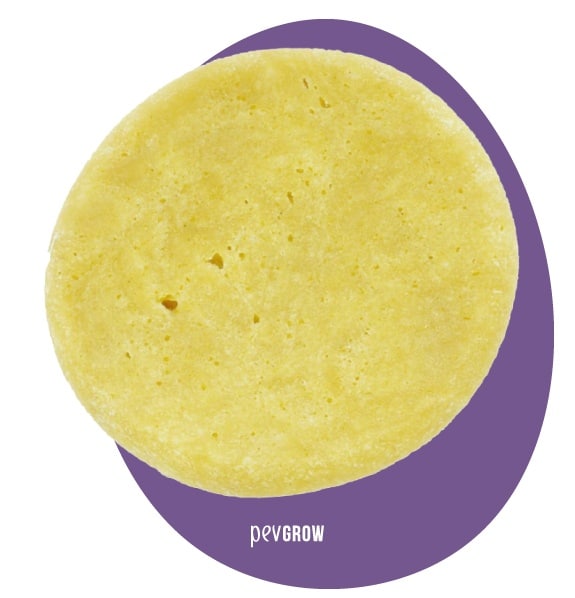 🔥 Purple Punch's aroma, taste and terpene profile
The first thing that surprised The Village when growing the original clone was its mid-flowering aroma, which reminded them of blue Gatorade. Once dried and cured, Purple Punch weed has a fruity aroma reminiscent of grapes and berries, and when the buds are crushed they give off an incredible sweet fragrance, so much so that they make you want to bite them.
The taste is very faithful to the aroma, fruity with many nuances, where the grape predominates, although with a point of acidity that reminds us of blueberries, berries and blackberries, very consistent and long lasting in the mouth.
The terpene profile is distributed approximately as follow:
Limonene : 25%.
Caryophyllene : 19%.
Myrcene : 19%.
Linalol : 6%.
Pinene : 5%.
Others : 26%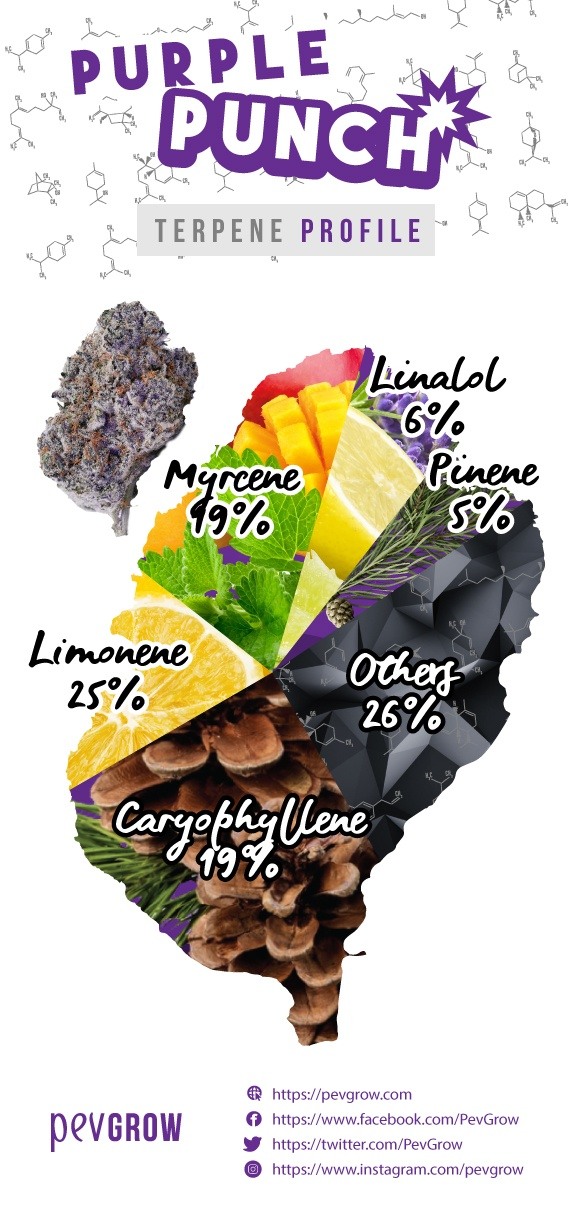 ✅ Effects, medicinal properties and THC level
For recreational users the best time to enjoy the Purple Punch is at night, or in those moments when nothing important needs to be done and you can detach yourself from the world, because this girl hits hard and, although it causes quite a lot of mental stimulation, the strongest sensation is a strong body sedation.
But if you need cannabis in a medical way you can find in this plant the relief for many types of pain, including headaches like sinusitis or migraines. On a muscular level it is very effective, eliminating tremors, spasms and pain caused by inflammation, thanks to its high content of Caryophyllene. People with insomnia find in Purple Punch their best nighttime companion, deep and restful sleep as never before.
THC content does not usually exceed 20% in this strain, but that does not mean that it is not powerful, because thanks to its chemotype and its combination of terpenes the entourage effect is greater than in many other varieties, so it feels more powerful than other strains with a higher concentration of THC.
🚀 Purple Punch seeds and crosses currently available
Symbiotic Genetics was very well received by the public during its first years of life, which caused them to run out of seeds in a very short time. But luckily the original clone spread to several areas in the USA, and later to Europe and other places in the world.
That is why nowadays we have available in the cannabis market a series of versions in seeds, both regular and feminized, and even the lovers of autoflowering have their own automatic flowering copy.
In Europe, the feminized version of Barney's Farm is triumphing, although we know that Seedstockers' Purple Punch is in high demand too. Among the autoflowering plants we choose Fastbuds' one, but we must admit that it is still not as good as the regular one.
Among the Purple Punch crosses there are several very interesting ones, starting with those made by the Symbiotic breeders, with Mimosa at the top. Other hybrids that do very well are Dosidos x Purple Punch from PEV Bank or Purple Punch Cookies from Original Sensible Seeds.
What about you? Have you tried the Purple Punch yet? If you have, write us a comment and tell us what you think, and if you haven't tried it yet, I recommend that you don't take too long to do so, because the seeds don't usually remain on sale for a long time…
Landrace Marijuana Strains →