Wedding Crasher are feminized marijuana seeds produced by the bank Spain Bulk Seeds, which bring together many of the qualities that every cannabis consumer wishes to have. If you are looking for a genetics with high performance indoors and outdoors, intense flavor, and with a quality psychoactive effect, you have just found the one you need.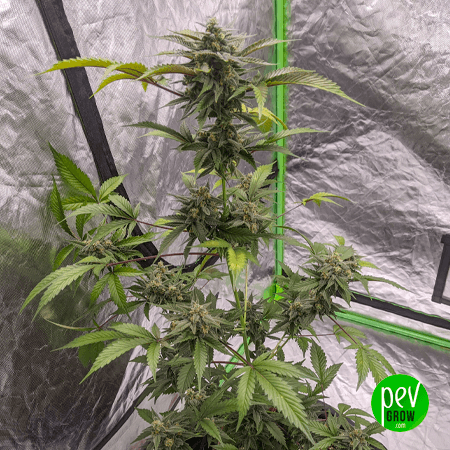 What is the genetics of these seeds?
This is our own feminized version, obtained after a meticulous selection work, where two very special female phenotypes of Wedding Crasher from Symbiotic Genetics were isolated, which showed in a balanced way the traits of the parents of this variety, Wedding Cake and Purple Punch.
Both the crossing of both selections and the self-pollination of each of them were tested, verifying that the S1 of the earliest gave a more stable and quality offspring, with little variation between individuals, so we choose these seeds. The final genotype is a 80% indica and 20% sativa approximately.
How is Wedding Crasher in general?
Although it is not its most important virtue, it must be said that above all it is beautiful, striking like few others. It contains a good hybrid vigor, and shows it from the first stages of life with an accelerated growth rate. The growth pattern is more reminiscent of the indica varieties, geometrically proportioned, although not as compact.
In flowering it stretches its structure to almost triple the size, something that must be taken into account before changing the photoperiod in indoor cultivation. It forms thick buds, of good caliber and extreme density, which as they mature they turn to purple color, at the same time that giant-sized resin glands are covered.
How are these seeds grown indoors and outdoors?
Indoors it adapts perfectly to any growing system, but we recommend growing it in soil to enhance its level of terpenes. You can choose different optimization methods, with 16 plants / m2 in 7-liter pots, with 3 weeks of growth and without pruning the main tip, you can make a very homogeneous SOG , where there will only be differences in height, something that you can easily solve by putting the tallest plants on the perimeter of the crop. Another option is to put4 plants / m2 in 25 liter pots, with 5 weeks of vegetative growth and many pruning, to get a SCROG full of branches.
For outdoor cultivation it is more recommended to prune Wedding Crashers when they have 4 or 5 knots. In this way lateral growth is encouraged, which has several advantages, since on the one hand better use of light is achieved that increases performance, and on the other hand ventilation is gained, something that prevents the appearance of fungi.
When is the Wedding Crasher harvested?
With these seeds you can choose the time of harvest depending on your preferences regarding the type of effect. I tell you this because this herb can vary a lot if it is cut very mature compared to the one harvested a few days before, which would be less heavy and with greater psychoactive power.
In indoor cultivation it can be cut after 9-10 weeks of flowering, and outdoors it is harvested at mid-October in the northern hemisphere. On the other hand, in the southern hemisphere the harvest arrives during the second or third week of April.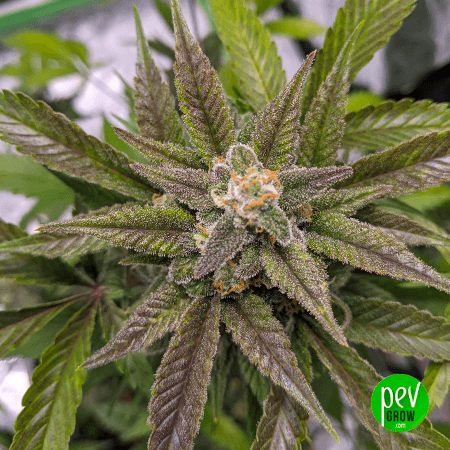 What is the production of these seeds?
It is very high in every way, both buds and resin, cannabinoids, terpenes, and other aromatic compounds. In indoor cultivation it is relatively easy to achieve yields greater than 500 grams / m2, and in expert hands it can exceed 600 grams when dry. Outdoors each Wedding Crasher can give you more than 800 grams, especially if the seeds germinate early and there is no lack of substrate or sun.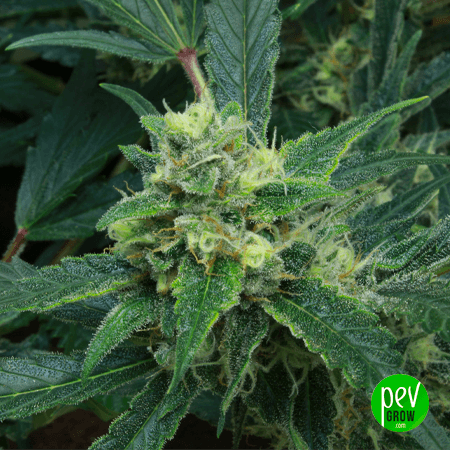 How does Wedding Crasher smell and taste?
In its aroma fruity and sweet notes are perceived, with great intensity, both during cultivation and later, when it is already dry and cured. The flavor is the best, complex as well as original, a mixture of vanilla, grape, fuel, and a spicy touch reminiscent of black pepper.
How is the effect of this variety?
It is very complete, because it affects the body and the brain in equal parts. Its high content of THC immediately elevates the mind, and leaves you in a constant flight for several hours. But the best thing is that it is a trip without paranoia, nervousness, or anxiety, on the contrary, it leaves you very relaxed at the body level, with some excitement or stimulation, but very pleasant in any case.
Buy feminized Wedding Crasher seeds at the best price online
As soon as you try it you will understand why this genetics has become one of the most demanded in dispensaries throughout North America. Do not wait for them to tell you and reserve a space in your garden for this beautiful lady, surely you will not regret it.
You may also be interested in: