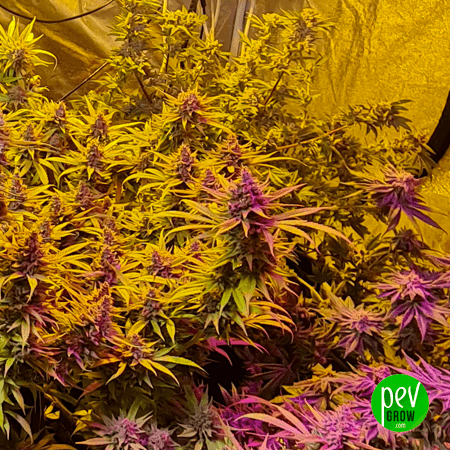 The Grandaddy Purple feminized marijuana seeds from Spain Bulk Seeds are perfect for inexperienced growers, because they are resistant like few others, and you don't have to be a green hand to get big and heavy purple buds.
What is the genetics of these feminized seeds?
To have 100% feminized seeds as close to the original genetics as possible, the Spain Bulk Seeds production team did a self-pollination of an elite GDP clone (Grandaddy Purple) very widespread in North America. That nearly 100% indica plant grew out of the combination of Mendo Purps and a Skunk x Afghan cross, a line that was grown endemically for more than 20 years in the hills of Northern California.
How is the Grandaddy Purple plant in general?
Its appearance is a small shrub, with a bushy structure, with very geometric branching, great density of leaves, robust stems, and strong growth. During flowering it does not usually grow much, it only stretches the spaces between nodes to put its buds there, which are large and quite rocky, with colors at the end of the cycle that will leave you shocked.
How are these seeds grown indoors and outdoors?
Due to its compact morphology, in indoor cultivation it yields very well if the method Sea Of Green is applied , leaving only the main tips and a couple of branches per plant. The ideal is to put 16 specimens / m2 in 7 liter pots, giving 3 weeks of vegetative growth. Once the photoperiod is changed to flowering, the lower branches can be removed, to enhance production at the tips.
On the other hand, for outdoor cultivation of Grandaddy Purple , we do recommend pruning the upper tip, and not only because it achieves higher production, it is also useful to gain ventilation in the interior part, and thus we avoid the spread of pests and mushrooms. Outdoors you can make a tree taller than 3 meters if you plant it directly on the ground, but if you can't, nothing happens, use the largest pot you can and give it a specific substrate for cannabis.
When is the Grandaddy Purple harvest coming?
It is very fast, only needs 8 or 9 weeks of flowering in indoor crops, and outdoors is harvested from the end of September to the beginning of October in the northern hemisphere, and from March 25 to March 5 April in the southern hemisphere.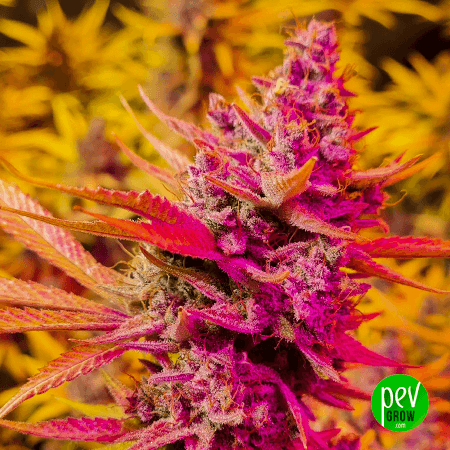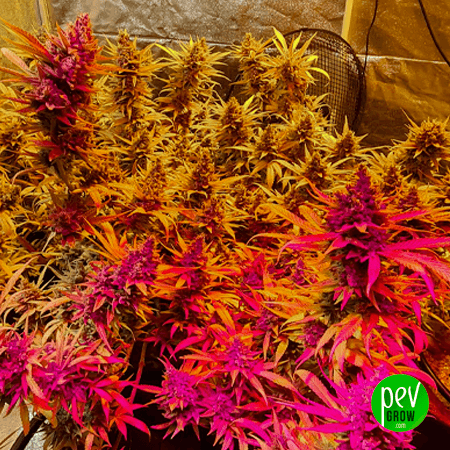 How much do these seeds from Spain Bulk Seeds produce?
Indoors it is not difficult to get a yield of 14.1 oz per 3x3ft and  17.6 oz per 3x3ft ( 450-500 grams / m2 ) with these seeds, it is something feasible even when growing conditions are not optimal. Outdoors or in a greenhouse it can produce a lot, exceeding 35.3 oz/plant ( 1000 grams per plant ) on many occasions.
How is the aroma and taste of Grandaddy Purple?
The aroma is somewhat complex, fruity with many nuances, where the grape stands out above all others. The smoke is very dense, the kind that charge the atmosphere in a short time, and has a very pleasant mid-palate, without scratching anything when a proper root wash is done, maintaining that characteristic grape touch.
How is the effect of this famous herb?
Due to its morphological qualities you can expect a devastating indica effect, but surprisingly the Grandaddy Purple has a cerebral point that keeps you alert, focused, and wanting to do things. Its antiemetic and analgesic properties made it one of the varieties preferred by cancer patients in the USA.
Buy cheap Grandaddy Purple feminized seeds online
So cheap that if you find them with a lower price we will refund twice the difference. If you are looking for a different marijuana, with striking colors, special flavor, and medicinal effect , here you have a perfect candidate.
You may also be interested in: