Reading Time
7
minutes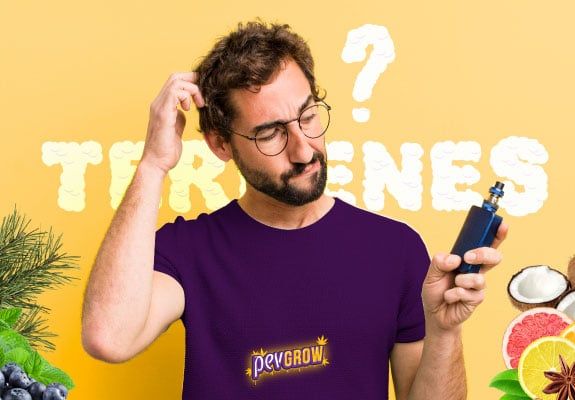 Vaporizing is one of the best ways to take advantage of all the benefits of the cannabinoids and terpenes in cannabis, as it is much healthier, cleaner, and even cheaper than smoking. When we smoke, we introduce a series of toxic compounds into our body that can have a very negative effect on our health, but we can avoid this with vaporization, without completely giving up feeling all the psychoactive and medicinal effects that marijuana contains.
Terpenes are the molecules responsible for the aroma and flavor in cannabis. If you want to know more about these substances, I recommend reading this article that talks in depth about terpenes (Terpenes, what they are?), since in this post we are going to see the differences between vaporizable terpenes and the best ways to consume them in vaporizer.
🧐 CBD oil with terpenes to vaporize


The easiest way to vaporize medicinal terpenes is through commercial E-liquids that combine different concentrations of cannabidiol with terpenes of all kinds, limonene, myrcene, linalool, etc. There are commercial products based on liquids for vaping of many types, but those of the ARAE brand are broad-spectrum, totally natural, and very effective because they achieve a very powerful entourage effect.
It is also good that you know that there are CBD oils with terpenes to vape from the most famous marijuana varieties, such as OG Kush among others, but there are also pure terpenes, so you can create your own combinations to suit your taste. The best thing is that through these terpenes with CBD you can take advantage of the therapeutic properties of cannabis anywhere, and quickly and easily.
But what if I want to vape botanical terpenes with THC to also feel the psychoactive effects? Unfortunately, they can only be purchased legally in those countries that allow recreational or therapeutic marijuana use, but don't worry because at Pevgrow we think of everything and we have a solution for these cases.
E-Liquid ARAE CBD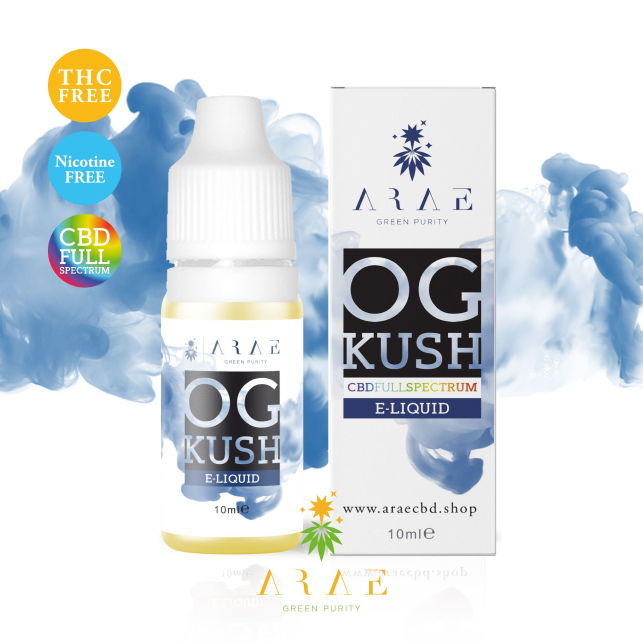 The ARAE e-liquids are mainly designed for those gourmet hemp-loving vapers, their aroma is 100% authentic, offering you different concentrations of CBD for each profile of terpenes proposed. Its unique taste is enhanced by the addition of terpenes obtained by natural extraction replicating the best cannabis strains on the market.
Features
– E-Cig liquid with cannabidiol.
– Bottle content: 10ml.
– Enjoy CBD Full Spectrum.
– Enriched with naturally extracted terpenes.
– Available in different CBD concentrations: 30mg, 100mg, 300mg and 600mg.
👾 How to make terpenes to vape THC
Actually, rather than making terpenes with THC, the most interesting thing would be to mix terpenes with some extraction or concentrate of THC, such as Rosin, BHO, or pure THC oil. It involves diluting a drop of your favorite terpene with 1 gram of THC extract, although the amounts may vary depending on personal tastes, but it is recommended not to exceed a concentration of 3% or 4% of terpenes in the mixture.
If we take into account that in a drop of terpenes there are approximately 0.025 ml, mixing a drop for each gram of concentrate we would have a proportion of 2.5%, which from our point of view is the best. You can use a silicone container to make the mixture, but you have to weigh the extraction well to determine the right amount of terpenes that we are going to add.
Once we know the exact weight of the THC concentrate, we add a drop for each gram and start beating so that the mixture is as homogeneous as possible. It is possible that with the shakes it emulsifies a little, it is normal and even a good sign that it is mixing well. When we stop mixing, the ideal is to put the mixture in the fridge for about 24 hours so that the terpenes are completely integrated into the THC concentrate, and from that moment on it can be consumed perfectly.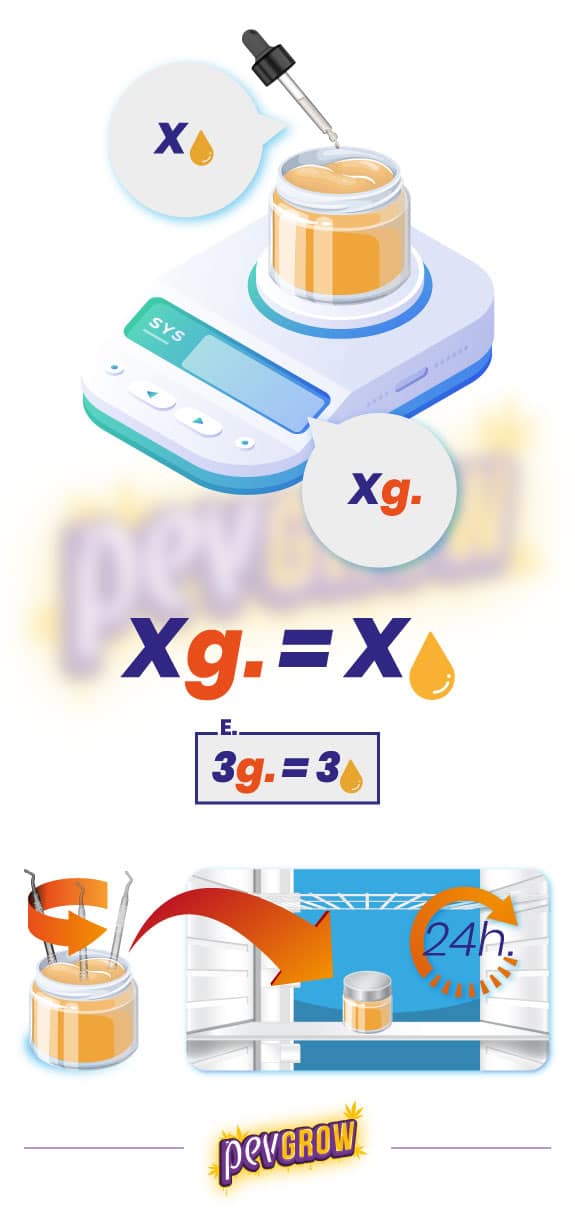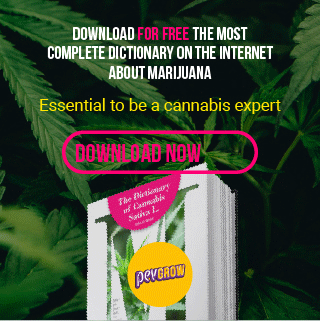 Free Download
Cannabis Dictionary
2023 Edition
Insert a correct email address
You must accept the privacy policy
SITE OF SHOPS ONLINE S.R.L with CIF: B98262777 and address for notifications in C/ VEREDA MAS DE TOUS Nº 22 LOCAL C, 46185 LA POBLA DE VALLBONA, VALENCIA, Phone: 961658271 Email: customer(at)pevgrow.com
At the name of Consulting we process the information you give us in order to provide the requested service, perform the billing of the same. The data provided will be kept as long as the business relationship is maintained or for the years necessary to comply with legal obligations. The data will not be transferred to third parties except in cases where there is a legal obligation. You have the right to obtain confirmation as to whether SITE OF SHOPS ONLINE S.R.L. is processing your personal data and therefore you have the right to access your personal data, rectify inaccurate data or request its removal when the data is no longer necessary
🎯 Advantages of mixing terpenes with vape concentrates
You can get à la carte concentrates, varying their flavor and even their effect
Improve the organoleptic quality in low quality concentrates
They enhance the entourage effect by adding new aromatic molecules
Improve the texture of the concentrate.
🔥 How to make your own terpene refills to vaporize
Cartridge refills used for vaping contain a mix of vegetable glycerin, propylene glycol, and terpenes, but commercial mixes can have different proportions of each. As a general rule, it could be said that a standard mixture for 30 ml of recharge would be composed of 14.5 ml of vegetable glycerin, 14.5 ml of propylene glycol, and 1 ml of terpenes.
✅ How to use terpenes in a vaporizer?
E-liquids contain natural terpenes ideal for vaping, and they are very convenient because you just have to fill the cartridge of a vaporizer, or add several drops on the metal mesh bridge, depending on the type of vape. In most models, it is enough to unscrew the cartridge that comes with the vaporizer, and insert the tip of the refill container through the open part, squeeze the container and wait until it is filled. It is not good to fill it completely, it is better to leave a small part of air so that it flows better.
In the vaporizer models that contain a mesh cartridge up to the outside, the ideal is to wet the mesh drop by drop, and wait for it to absorb them. It is not necessary to wet it too much, and it can also be counterproductive because it can flood the atomizer and prevent it from working properly, a maximum of 3 or 4 drops is enough, which is enough for approximately 20 puffs.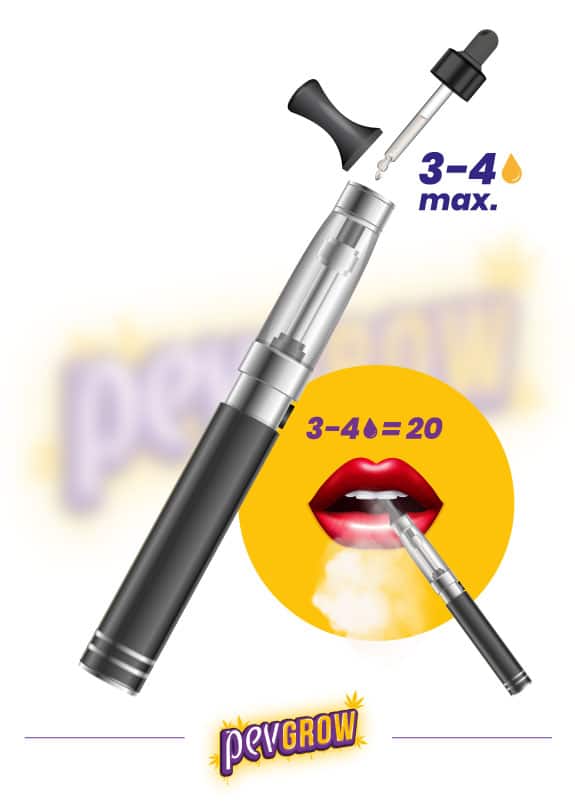 🚀 Best Terpenes for Vaporizer Refills
Although this is something very subjective, in general the best terpenes to vaporize are those that, due to their medicinal properties, are special for aromatherapy. D-limonene is very popular because it is used as an anxiolytic, antidepressant, anti-inflammatory, and anticancer, being the best terpene to lift your spirits. Beta caryophyllene is an antioxidant and anti-inflammatory, but above all it is a great analgesic, so it could be considered the best terpene to vaporize in cases of punctual or chronic pain.
Linalool could be considered a natural relaxant, it is analgesic, anticonvulsant and anxiolytic, very effective as a sedative for those people who have trouble falling asleep. Beta pinene for its part is very effective as an expectorant, antiseptic, relaxant, and strengthens the immune system to prevent diseases of all kinds. Something more unknown is the terpene Nerolidol, which has given very satisfactory and hopeful results in the prevention and cure of diseases such as malaria in humans or leishmaniasis in animals.
However, a good part of the consumers of terpenes for vaping choose E-liquids that mimic the terpene profiles of famous marijuana strains, such as Gorilla Glue, OG Kush, Gelato Weed Strain, Super Lemon Haze, etc. both aromatic and those containing CBD.
👌 Mix of terpenes to mimic the aromas and flavors of cannabis strains
You may be wondering, how have certain companies managed to imitate the organoleptic properties of White Widow, Sour Diesel, or Girl Scout Cookies Strain? It's not magic, it's science, and in order to know the terpene profile that makes up the aroma and flavor of a specific variety, a terpene analysis is done that shows the concentration of each one of them.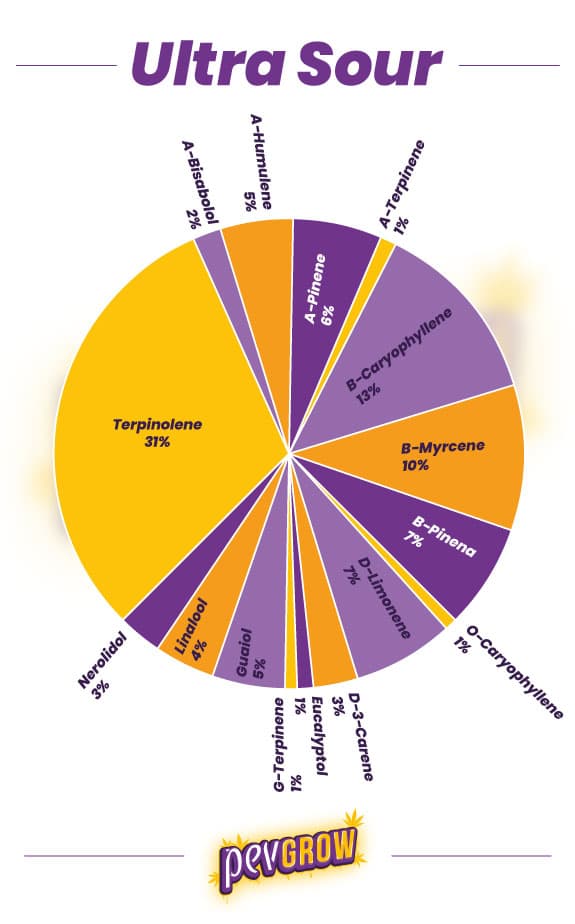 Once we know the specific amounts of each of the terpenes, it is enough to mix the right proportions of each one to achieve an aroma very similar to that of the analyzed cannabis variety.
✨ Best vaporizers to vape terpenes
For people who only want to taste the tastiest terpenes, we think that the best quality/price ratio vaporizers are the Ego Aio Joyetech and Alien Baby Al-85 models, since they are also very easy to use, discreet, and very durable. The Atmos 150 vaporizer model offers very good performance due to its power and autonomy, although it is a little larger but it is still portable and very practical.
CBD Vape Pen Vaporizer Phenopen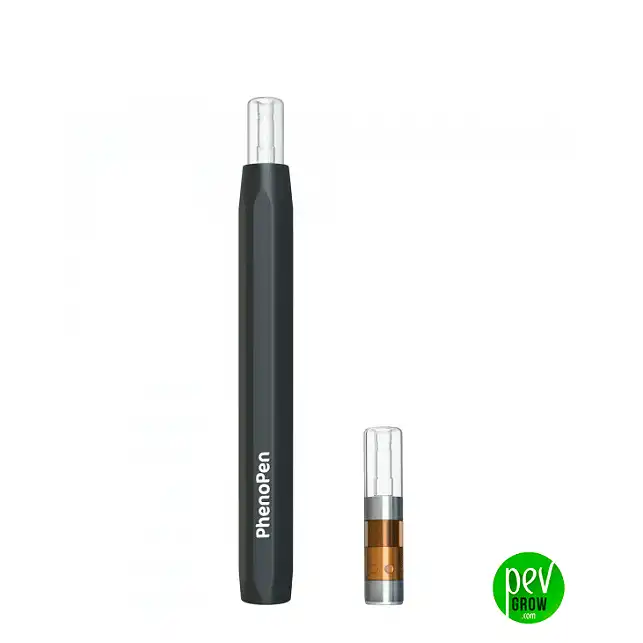 It is the perfect complement to your vaping sessions and promises to revolutionize your experience thanks to its fine vapor loaded with flavor and cannabinoids, in this case CBD and CBDV…
Specifications
CBattery capacity: 320mAh
Output power: 8.5W
Charging current: 300mA (1.5W)
Length: 105 mm – Diameter: 14mm
Weight: 27g
75% cannabinoids – 360 mg of CBD + CBDV
If you prefer to vaporize extractions or concentrates enriched with terpenes, we think that the best option is the Pax 3 vaporizer without any doubt, which is the evolution of the 2 previous models that already gave very good performance. If you can't afford the Pax 3 model but you need a vape with similar characteristics, X Max V2 Pro is your solution, since in addition to being able to vape concentrates, it can also be used for buds.
Vaporizer Pax 3
The Pax 3 takes vaporization to a top quality level, with an elegant, groundbreaking and durable design. You'll love its matt or glossy finished and its metallic assembly, so you'll avoid scratches and breaks due to falls…
Features
-The Pax 3.
-Adapter for concentrate.
-Two mouthpieces
-Two lids to cover the bowl.
-Three screens
-Charging cable and spring
-A maintenance and multi-tool kit.
3500 mah battery -Cleaning and maintenance..
⛳ Conclusion
Cannabinoids are the star molecules of cannabis, but we never give enough importance to other compounds in this plant that can also provide many benefits to our health, such as terpenes. Today we have seen what are the best terpenes to vape and the best way to consume them, how to make mixtures of concentrates and terpenes, and even to imitate the aromas of marijuana varieties through their analysis, among other things. If you liked the content, share it on your social networks, so that the information does not stop expanding.
⭐ Frequent questions
Are terpenes safe to vape?
They are safe as long as they are natural, botanically derived, pure, and used in the correct proportions or concentrations. Commercial terpenes are completely safe, but when you make your own blends or mix them with concentrates, it is recommended not to exceed 3% or 4% for safety, since in some cases it can cause allergic or other reactions.
What resistance to use to vape CBD with terpenes?
It is recommended to use high ohm resistors at low power, between 10w and 30w to take full advantage of the properties of CBD and terpenes. We think that the best resistors in this case are those between 1 ohm and 1.6 ohm. Sub-ohm coils are great for getting big hits and hits straight to the lungs, but they aren't the best for taking advantage of all the CBD compounds and terpenes.
← Recipe CBD Oil
The entourage effect of cannabis, pure magic →