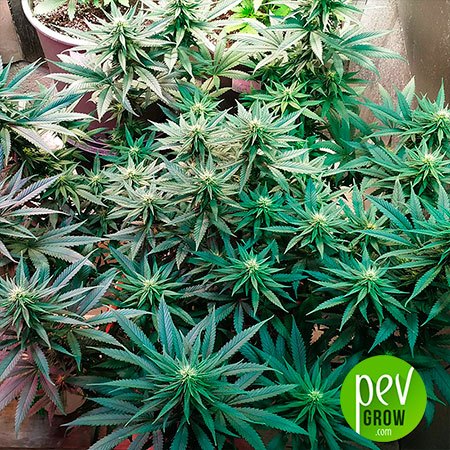 Durban Poison is one of the best sativa strains of all time, Dutch Passion imported it to Europe four decades ago and the legend has not stopped growing.
It is a very psychoactive marijuana plant because is a unique phenotype has never been hybridized, 80% Sativa.
Durban Poison produces large buds with lots of resin.
This strain is perfect to be grown either in indoors and outdoors, becoming a delicious cultivar for sativa lovers.
Under the lamps produces flowers loaded with trichomes, in only 65 days of flowering you can harvest more than half a kilogram per m2 square if you grow a mínimum of 9 plants.
In outdoor crops is harvested fairly early, at the end of September in the northern hemisphere, which is quite surprising for a sativa chemotype.
You can grow it in any climate, withstanding perfectly temperatures ranging from 5º to 45ºC.
Its place of origin makes it have a high resistance to cold and humid climates, and yet it is not surprising that you collect 500/600 grams per plant. Its flavor and aroma is of the most peculiar, with nuances of anise-like flavor and liqueur.
Its effects are potent and very cerebral as a good sativa, 5 minutes after the first puff you will begin to notice a devastating narcotic tingling that ends in a heavy feeling that will make you to lie down on the couch.
You can buy the seeds in feminized or regular version at the best price in Pev Grow.
You may also be interested in: