Dear cannalovers!! Welcome to PEV Grow!
Spain Bulk Seeds is proud to present its new hybrid CBD-rich, Black Domina CBD Autoflowering. A new feminized and autoflowering genetic, that is, with Rudelaris traits in its genetic composition which makes it non photodependant.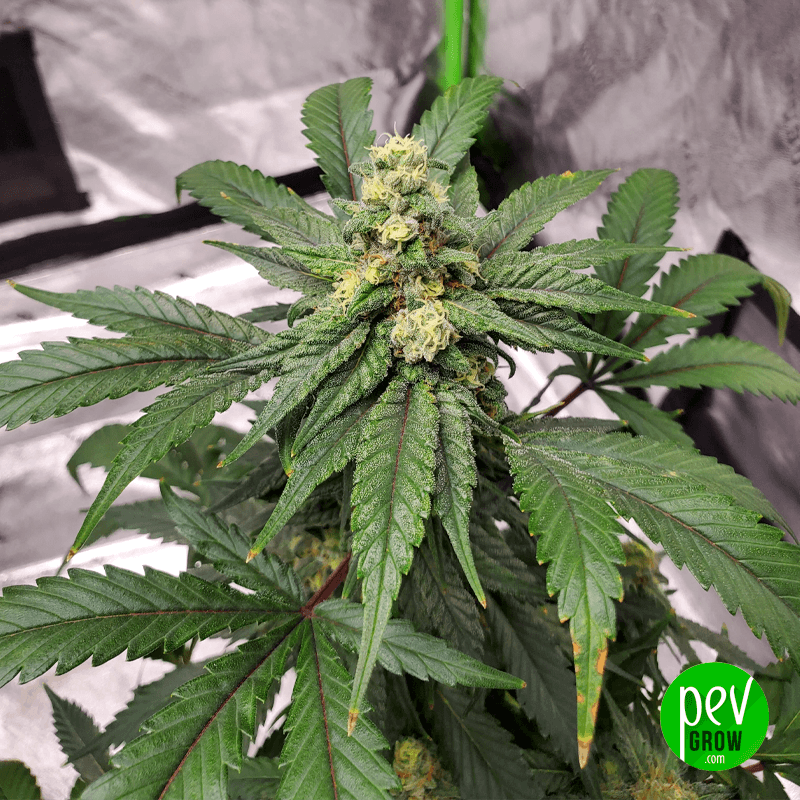 In its development, the technicians of Worldpharma Biotech have taken as starting genetic a 100% THC-rich strain Black Domina, a Kush plant cultivated for decades by the old European school and adapted to continental and Mediterranean climates, to obtain, by means of successive hybridizations with industrial hemp strains of very high CBD a powerful commercial genetic with THC values of around 8%.
Its "white" offspring, with pronounced Northern Lights features, make it express an abundant production of opalescent and crystalline resin. In addition, its great Afghani touch, has been of crucial importance in its chemotype, developing high concentrations of sesquiterpenes in its trichomes, very typical of Hindu Kush varieties.
As good indica genetics, it develops strong and vigorous, with characteristic phenotypic indica phenotypic features such as its medium-low height, potent resin loaded with terpenes and large production of dense and compact buds.
It is an indica plant rich in CBD and short flowering, taking between 55 and 60 days to complete its flowering cycle, is also a plant with great resistance to fungi and pathogens, and high tolerance to irrigation, with no need to use of large amounts of fertilizer.
The taste of Black Domina CBD Autoflowering is more spicy than fruity, due to its high concentration of β-caryophyllene, also providing a certain aftertaste of black pepper, noble woods and hash. Its aroma gives an earthy note to your growing space, elevating your garden to the purest Afghani atmosphere.
The Afghan ancestors of Black Domina CBD Autoflowering have been increasing their potency in THC due to the selection of high psychoactive clones, for hash production, and for the design of high performance resin extractions, in order to obtain medicines; Although, THC and its main acid derivative (THCa) extracted directly from the plant are very interesting as antioxidants at neurological level and as potential anticarcinogenic agents we cannot ignore the positive effects due to the action of all cannabinoids in a synergistic way (entourage effect), taking into account the fashionable Cannabinoid: CBD.


What is

β

-caryophyllene?

Cariyophyllene or (-)-β-caryophyllene, is a very widespread natural product. It is a natural bicyclic sesquiterpene which is a major element in the main composition of many essential oils. This compound is found especially in oil extracted from clove stems and flowers, rosemary essential oil, cannabis and hops.
It is a food additive approved by FDA, being the first "Cannabinoid" accepted for food use, although its chemical classification encompasses it better within the terpene compound classification, we may affirm that it is a Cannabinoid due to its activity on cannabinoid receptors type 2 (CB2).
Caryophyllene contributes to the fragrance associated with vegetable oils. It is also very common in African black pepper. A research performed in 2008 identified some of the medicinal benefits for this compound.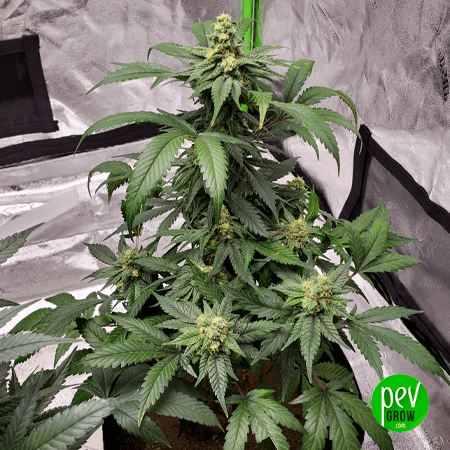 Pharmacological activity of β-caryophyllene:
Since from the chemical and pharmacological point of view, terpenes and cannabinoids are related among them, they both exercise related biological activity in the organism. Although more research is needed on their terpeutic activity, their potential biological activity may be mentioned as follows:
Anti-inflammatory - Decreases inflammation and swelling gradually
Antibacterial - Inhibits growth of bacteria
Neuroprotector - Restricts damage to the brain and nervous system
Antiproliferative - Inhibits the growth of cancer cells
Antidepressant - Mitigates various depression indicators
Antioxidant - Repair oxidative damage to the body's biological molecules
Analgesic - Helps to relieve pain
Anxiolytic - Reduces anxiety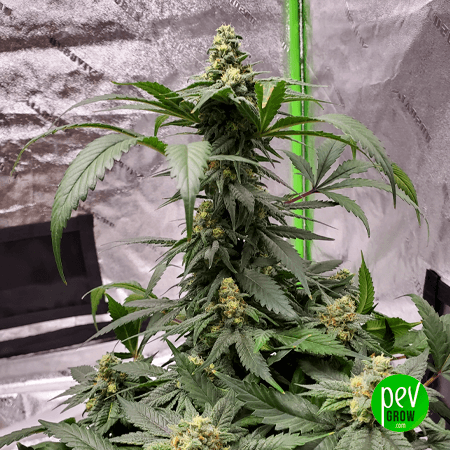 How to use Black Domina CBD Autoflowering?
This CBD-rich cannabis strain, feminized and autoflowering, provides a chemical phenotype featured by its CBD:THC of 8 to 8, eliminating the psychoactive effect characteristic of THC-rich genetics, making this strain an excellent chemotype for medicinal use.
Its THC content is 8% on average, balanced by the same level of CBD, the latter being crucial for eliminating undesirable THC side effects.
The overall effect of this strain is a total relaxation, with no subsequent mood alterations, euphoria or high, neither short nor long term, providing full control of daily cognitive and motor tasks.
The medicinal effects of CBD, along with the rest of cannabinoids and terpenes (entourage effect), are ideal for the treatment of generalized anxiety states, fibromyalgia, chronic neuropathic pain, neuralgia and oncological pain.
It has also been shown to be effective in reducing muscle spasms, spasticity due to neurological ailments, as well as in reducing seizures derived from epileptic states or demyelinating neurodegenerative diseases.
The medicinal value lies in its edibles or direct extracts from its buds and leaves, being valid the techniques Rosin Hash and BHO or any other more professional extraction method that provide CBD oil of the best quality given this exceptional cannabis strain.
You may also be interested in: