Mango Auto, an automatic variety from the cross between Big Bang Auto and the Mango strain; Pevgrow brings you this first class seed, with a quite short flowering.
This indica-dominant hybrid, considered a plant that has it all , great productivity, exquisite aroma, easy cultivation and an unparalleled effect that will leave you captivated once you try it.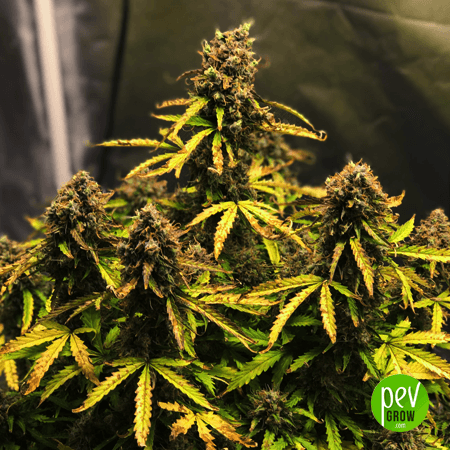 How is the Mango Auto plant?
It develops with lateral and long branches, with a strong structure, the internodes are short, you will need to manicure a little to allow the air to pass through all its branches.
From a fast flowering, from she sprouts beautiful, large and compact buds loaded with resin, which will leave you totally satisfied with the results.
It is fast growing, you can plant it at any time of the year, however, the best yields will be between the months of May to September.
What does Mango Auto taste like?
A delicious fruity, exotic and tropical mango flavor will invade your palate, in the background you will be able to appreciate bitter notes at the end of the smoke.
What are the effects of Mango Auto?
Its effect is powerful and long-lasting, as all indica has first-line medicinal properties, excellent to combat chronic pain, stimulating appetite.
How is Mango Auto grown?
Easy to grow, it will hardly cause a problem, indoors in just 9 weeks from germination, you will have a harvest that will leave you with your mouth open.
If you do not have much space, she will easily adapt to your limitations, for each square meter put 9 plants in pots of 11 liters and help her with appropriate lighting, at first you can use a kit Lec of 315 Watts
Mango Auto does very well with cultivation techniques such as SOG and SCROG.
In outdoor crops it will not exceed one meter in height, if you use 30 liter pots they are enough for its entire growth stage, it needs many hours of sunlight and humidity control to obtain the best yields.
We advise you to use fertilizers that protect it from fungal and pest attacks.
How much does Mango Auto produce?
When you grow it indoors you can get 21.2 oz pe3ft (600 grams per m2), however, grown outdoors you will have a harvest of 2,4 oz to 2,8 oz(70 to 80 grams per plant).
Buy now Mango Auto seeds at Pevgrow!
Pevgrow has for you the best seeds and cultivation complements, such as the seeds of Mango Auto, do not stop trying them.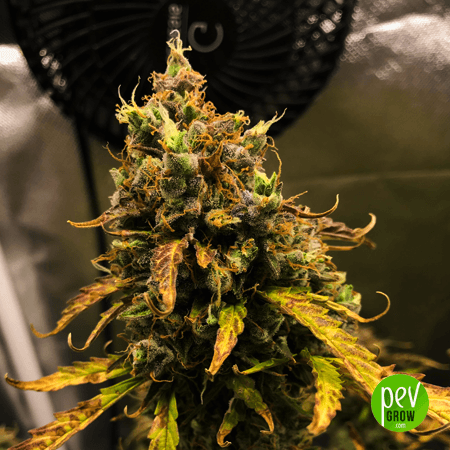 You may also be interested in: