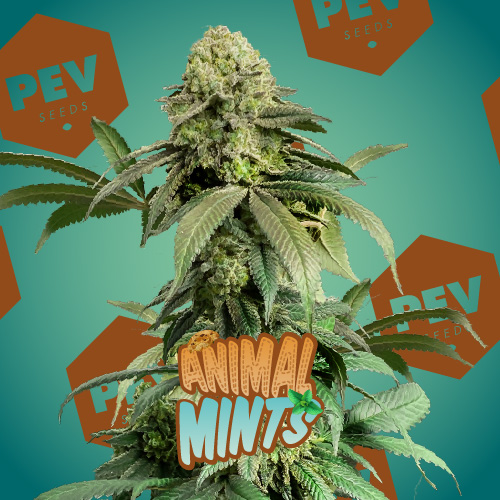 The feminized marijuana seeds Animal Mints from PEV Bank Seeds will delight the most demanding growers, because you rarely find plants with the qualities of this variety, and if you don't believe me, keep reading and you will see…
¿ What is the genetics of these PEV Seeds seeds?
It is a polyhybrid mostly indica, around 80% compared to 20% sativa, and composed of Animal Cookies from Seedjunky Genetics and SinMint Cookies from SinCity Seeds. As you can see, the main genetics of these seeds is Cookies, one of the most used in recent years in the creation of new strains.
How is Animal Mints in general?
It is a very vigorous plant, which shows rapid growth practically from germination. Its stems are flexible and resistant, with medium distance between nodes, and wide, dark green leaves. In flowering it can double in size, beginning very quickly to create flower formations throughout its structure. Many specimens end up with very striking dark tones, especially when they suffer a bit of cold during the last part of their life.
How are these feminized seeds grown?
The best way to take advantage of the branched and flexible structure of these plants in indoor crops is by means of the SCROG technique . 9 plants / m2 can be placed in 11 liter pots, with 25 days of vegetative growth, and with pruning on the main and secondary tips.
Outdoors it is also highly recommended to prune, and it is very important to place some type of structure that serves as a support for the flowering branches. If you want to squeeze your production, don't skimp on the quantity and quality of the substrate, since it is directly proportional to the final yield.
When are Animal Mints harvested?
In indoor crops its flowering does not usually exceed 9 weeks, but it is one of those varieties that you can advance or delay its harvest depending on your personal tastes in terms of the effect. Outdoors it is harvested at at the beginning of October in the northern hemisphere, and at the beginning of April in the southern hemisphere.
How much do these seeds produce indoors and outdoors?
Under normal conditions they produce from 14.10 oz per 3x3 ft to 17.6 oz per 3x3ft  ( 400 to 500 grams / m2 in indoor crops ) , and outdoors each plant can give you more than 18 oz/plant (500 grams ) easily. It should be noted the immense production of large resin that Animal Mints is capable of forming, one of the highest seen to date, special yerba for making concentrates and cannabis extractions for quantity and quality.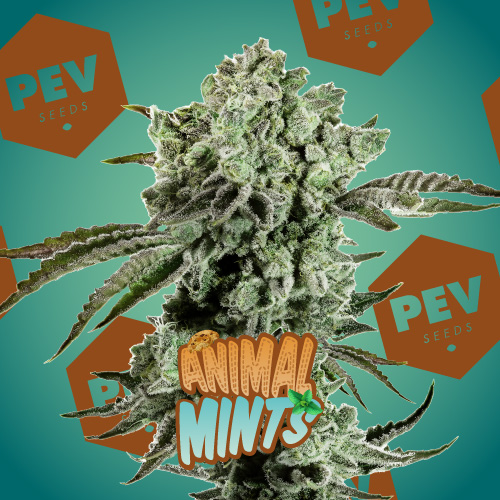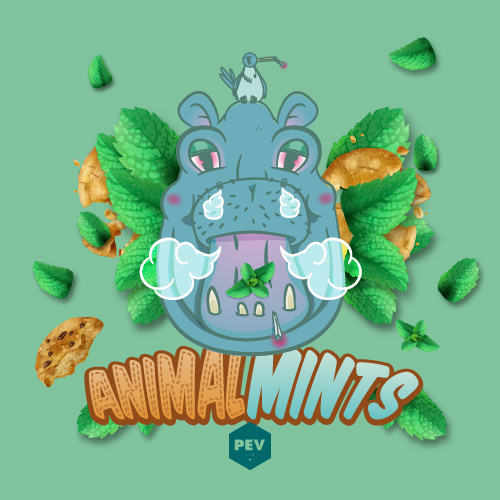 How is the aroma and taste of Animal Mints?
If you like the pastry aromas so typical of the Cookies family , you cannot miss these seeds, because in Animal Mints it is increased to its maximum power. The flavor gains in intensity thanks to the smoothness of the smoke produced during combustion, being sweet and minty in equal parts, reminiscent of biscuit type biscuits that last on the palate.
What kind of effect does this marijuana have?
Despite being mostly indica, it must be said that it produces great brain stimulation. Although what is more clearly perceived is its calming, relaxing power, relaxing, and in some cases also sedative. On a medicinal level it can be very appropriate to treat some ailments or disorders.
Buy cheap Animal Mints feminized seeds online
If you are still wondering why this genetics is causing a sensation on the other side of the pond it is because you have not tried it, because it is one of those that become your favorite as soon as you try it for the first time.
You may also be interested in: