Reading Time
7
minutes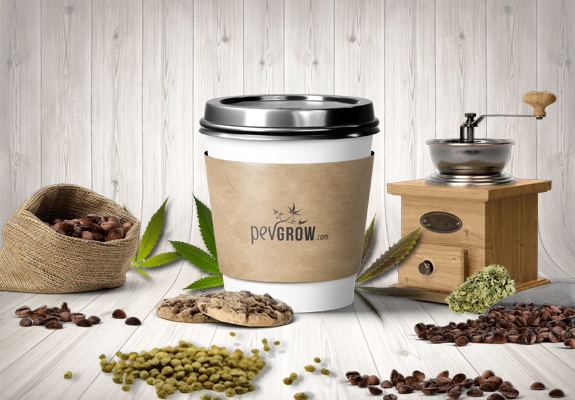 For some people, this is the most enjoyable way to start or end the day, combining two products they love: coffee and cannabis; the science concludes that coffee consumption increases the desire to consume cannabis. We discuss how to prepare this combination and its effects, among other things.
A few days ago, I met a friend on the street. He barely noticed I was there. He was painting one of his paintings, but with particular dedication. I didn't want to disturb him, but I was curious to know what he was painting. The first thing he said to me was when I approached him: God bless coffee with cannabis!
Cannabis coffee? I didn't understand anything. He and I share our passion for cannabis, so the first thing I thought was that it was a new product he bought. Finally, he told me that he had tasted cannabis coffee for breakfast and that he felt really inspired.
Then I understood everything. Some time ago, a common friend told us about the benefits of having breakfast or finishing the day with a cannabis coffee. I had tried to take cannabis herbal teas (How to Make Marijuana Infusion), but it wasn't the same thing.
The fact is that between the two of them, I was curious to investigate cannabis coffee and its effects, as well as the methods of preparation according to what I was looking for at the time with marijuana, and I want to use this post to explain it to you as well. Do you want to? Come on, let's go!
🎯 Preparation
Tell me, when do you usually have coffee? in the morning? in the afternoon? at night? Probably, if you like it very much, you will drink it several times a day and almost certainly there will also be a specific goal for each of these cups, even if you don't know it consciously.
I explain myself. Usually, when we drink coffee in the morning, it's usually to cool our minds, as well as after lunch, when you're knocked out or in the middle of the morning, when you're hungry or feel that if you don't drink it, you won't be able to continue your chores.
Something similar happens with cannabis. If we smoke it in the morning, or at least if we do it during the week, we always try to use one that activates us, a sativa. If we also carry out artistic works, as was the case with my friend, we will also seek to achieve this effect.
  If you've ever read the stories of Sherlock Holmes, you've probably heard this sentence:"There's nothing like a cup of coffee to stimulate brain cells," but you know as well as I do that there's something else. Isn't that correct? 😉
Am I wrong or am I on the right track? Well, I'll keep going. If we smoke at night, we usually use an indica, which helps us to relax and fall asleep. Like when we were having decaffeinated coffee.
And another question: how many social cafes do you have? That is, how often do you meet for coffee? In such cases, the objective is different. Usually to have a good time. Like when you smoke cannabis with a laugh and date friends.
Therefore, the first thing to keep in mind when preparing your coffee with cannabis is the type of effect you want to achieve and also the time of day.
But since I know that you also like to drink coffee, don't forget its flavour, because depending on the type of roasting you choose (light, medium or strong), it would also be advisable to choose one type of cannabis or another.
Par exemple, pour les cafés torréfiés légers qui sont généralement beaucoup plus acides, mais au goût plus sucré, une variété de Skunk strain, comme Cheese Strain, sera excellente parce qu'elle rehaussera la saveur du café, mais contrebalancera l'acidité. Ce pourrait être une combinaison parfaite pour commencer la journée, car elle vous apporte bonheur et créativité.
However, if you opt for strong roasted coffees, there's nothing like Blueberry, whose fruity flavor will go wonderfully well with this type of bitterness. If you also choose a variety with touches of chocolate or nuts, the result will be epic. How about a Blueberry 99 to start the day? It will bring you happiness and inspiration and make you enjoy your first cup of coffee of the day as never before.
In the case of medium roasting, it is also advisable to choose a sweet-tasting cannabis, but it all depends on how you like coffee. The fact is that combining the softness of one with the other could be excessive if you don't manage to do it properly.
We recommend
decarboxylate the cannabis before cooking,
because although during the process of elaboration of the recipe, the marijuana can be decarboxylated, if we do it before we make sure that the decarboxylation is done correctly. If you want to know how to do it click on this link
Weed decarboxylation
🚀 Cannabis Coffee Recipe
And now, yes, take note of the cannabis coffee recipe, because if you haven't tried it yet, I promise you will have a hard time getting rid of it once you've tried it. To do this, you will need the following ingredients:
3 cups of water
coffee
butter or coconut oil
half a gram of cannabis of your choice

Once you have everything, these are the steps to follow:
Step 1. Crush the cannabis. If you wish, you can use a grinder to make things easier.

Step 2. Once you have crushed it well, heat the 3 cups of water I indicated above and bring them to a boil. Don't forget to add coconut oil or butter. Whatever you want.

Why is that so? Because this product will absorb the cannabinoids lost in boiling marijuana. Otherwise, we would not achieve the desired effect or to a much lesser extent.
Step 3. Add the crushed cannabis to the water and leave on for 40 minutes, but stir occasionally.

Spend that time, strain the mixture into a strainer. Prepare the coffee with the water obtained. Tip: To complete the mixture, you can mix it with a blender.

Ready! Now you can enjoy your hot or cold cannabis coffee. Whatever you say. However, keep in mind that with coffee like when you eat marijuana: the effect is much longer to appear, about 40 minutes or an hour or two depending on the person and the variety used, so go slowly. You better take advantage of it, don't you?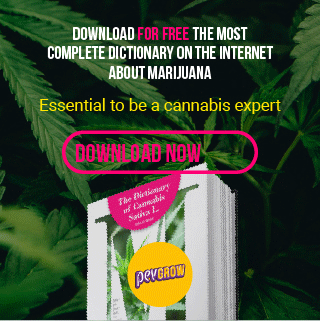 Free Download
Cannabis Dictionary
2023 Edition
Insert a correct email address
You must accept the privacy policy
SITE OF SHOPS ONLINE S.R.L with CIF: B98262777 and address for notifications in C/ VEREDA MAS DE TOUS Nº 22 LOCAL C, 46185 LA POBLA DE VALLBONA, VALENCIA, Phone: 961658271 Email: customer(at)pevgrow.com
At the name of Consulting we process the information you give us in order to provide the requested service, perform the billing of the same. The data provided will be kept as long as the business relationship is maintained or for the years necessary to comply with legal obligations. The data will not be transferred to third parties except in cases where there is a legal obligation. You have the right to obtain confirmation as to whether SITE OF SHOPS ONLINE S.R.L. is processing your personal data and therefore you have the right to access your personal data, rectify inaccurate data or request its removal when the data is no longer necessary
👾 What are its effects?
I will now tell you something that may not be entirely agreeable, but until there is conclusive data, that's all I can tell you. At this stage, coffee and marijuana, and the combination of the two, have very different effects for different people.
How? Yes. As you see fit. Just look around or see it for yourself. You can be one of those who drinks coffee at any time and sleeps like an angel or, on the contrary, you can only take one cup of coffee a day and the rest decaffeinated, because this stimulates you strongly.
It also happens with cannabis, as you know. Cannabis coffee follows the same pattern. That is why it is very important not to take it in large quantities and, above all, to wait for it to take effect and not to go forward and take more if we believe that too much time has passed and that it does not work for us, because it will.
For some, coffee with marijuana reinforces the effect of marijuana. That is, if, for example, you drink coffee to wake up and use a variety that makes you happy and inspires you, it will happen like my friend: a total inspiration.
This is something that science has not yet been able to certify, but what some studies have concluded with regard to the combination of these two products is that the higher the amount of coffee we drink, the greater the desire to consume cannabis and this will decrease if the volume of coffee is reduced.
What is the reason for this? Coffee contains, according to a study by the American University of Ohio, a chemical that mimics cannabis. So, for example, if we feel euphoric because of cannabis, our bodies will ask us to be even more euphoric as we drink more coffee. Curious, isn't it?
⭐ Coffee with milk and cannabis
Since I haven't told you yet, you may be wondering if cannabis coffee should be used as a coffee only or if other ingredients like milk can be added to make a recipe for coffee with milk and marijuana. The answer is clearly yes..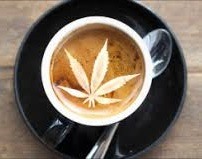 However, you will have to use whole or semi-skimmed milk, because they are the ones with fat. If you don't tolerate this feeling, you can use others, but you should add fat, such as butter. It's not the best option, but health comes first.
The steps to follow are the same as in the recipe above, only at the end you add the milk. To soften it, there are people who add cinnamon and even honey. It's a matter of taste. Of course, you can also use sugar, although I encourage you to eat it without anything, so that you can enjoy coffee and marijuana on the palate.
✨ Conclusion
And that's all I had to tell you about the coffee. On the one hand, what must be taken into account when preparing the recipe itself (with and without milk) and, finally, the effects of combining the two products.
Remember that, just like when you eat it, in this case, cannabis will also take time to act, so be patient, enjoy the moment and its effect will be felt. Also, remember that each organization is different and its impact will be different. Don't forget this, especially with the amount of cannabis you use.
Finally, I would like to know whether you think that I left something in the inkwell that you want us to discuss together or whether you have something to bring in so that we can all take it into account when making coffee with cannabis
And, of course, if you liked it, I invite you to evaluate it and share it in your social networks. Until the next post!?
Click to rate this post!
[Total:

216

Average:

3.1

]

Noelia Jiménez
I love to cook and write about marijuana. One day I started making marijuana butter and since then I haven't stopped creating the most varied recipes you can imagine.
See more posts
How to make thc syrup →