Reading Time
6
minutes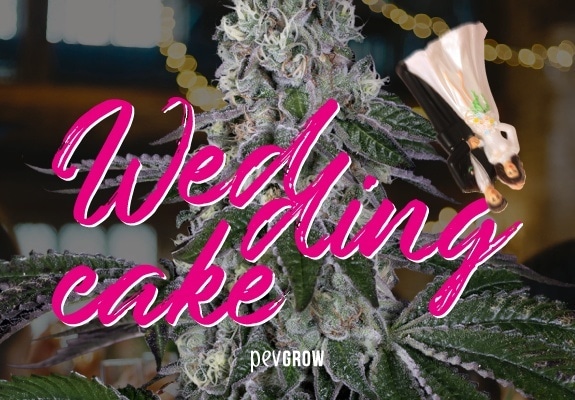 There are certain cannabis genetics that will go down in history for their unique aroma, like Cheese, others for their extreme potency, like Amnesia, some for their specific medicinal properties like Cannatonic and a few for their intense taste like Sour Diesel.
But there are a number of varieties that will never become old fashioned because they have several desirable characteristics, potency, taste, yield, etc. And in that exclusive group is the Wedding Cake, a plant that burst onto the cannabis scene just 3 years ago and is already among the most sought-after. Read carefully what follows and you will soon discover the reasons for its fame.👉
⛳ Summary of Wedding Cake features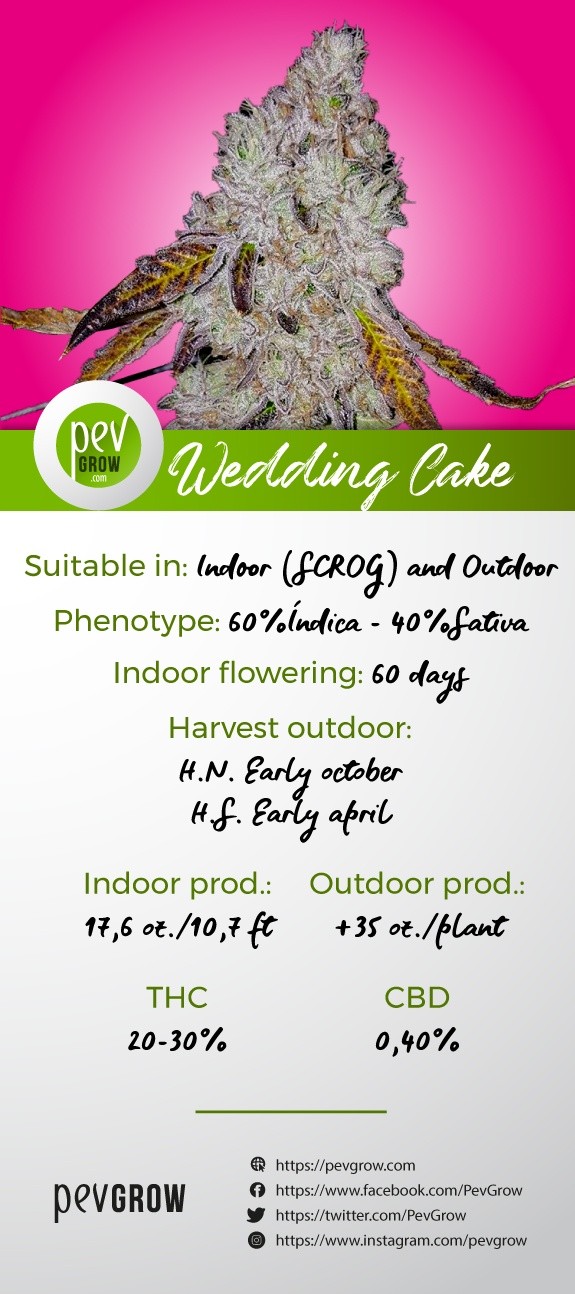 📲 How was this genetics created?
It comes from the Triangle Mints line created by Seed Junky Genetics, which was created from the cross between the Triangle Kush and the Animal Mints. It is also known as "Pink Cookies" because the Animal Mints is a mixture of varieties Cookies during flowering it acquires beautiful pink tones.👉💜
The nickname "Wedding Cake" was coined by the Jungle Boys after they cultivated the Triangle Mints#23 clone and discovered in it some vanilla shades reminiscent of wedding cake. This same group of growers helped make this plant famous all over the world thanks to its great media influence.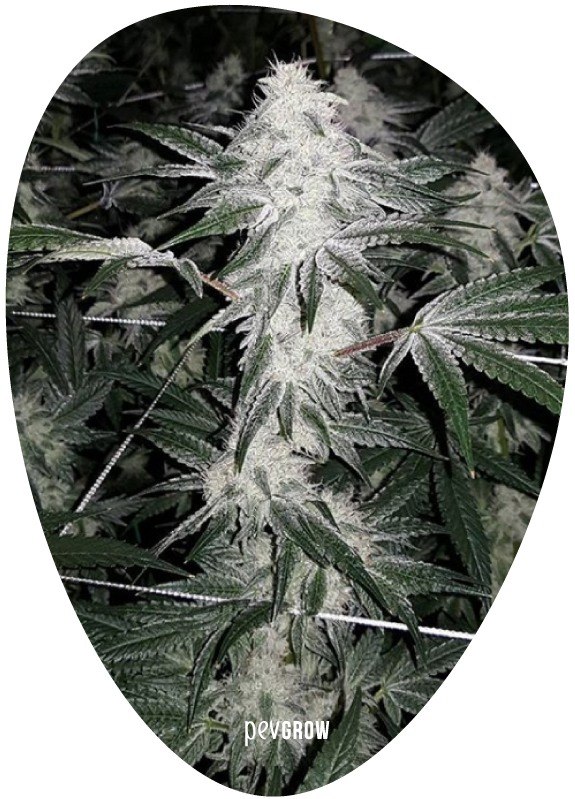 ➕ The Wedding Cake as a plant: Indica or Sativa?
It is slightly more indica than sativa, approximately 60% indica over 40% sativa. Apparently it has as much of sativa as of indica, but if we look only at its effect we notice more the indica part, especially when it is used in excess.
Its morphology is similar to that of most modern polyhybrids, especially those from the USA. It has a rapid growth, so it develops a lot of plant mass in a short time, with flexible but resistant stems, medium/high distance between knots and leaves of intermediate size.
In flowering it doubles its size approximately, and quickly fills the branches with inflorescences that end up forming thick, dense, very hard and extremely resinous buds. The calyx/leaf ratio is very good and this together with the large amount of trichomes and the colors of the flowers, give it a very striking and appealing appearance, impossible to resist.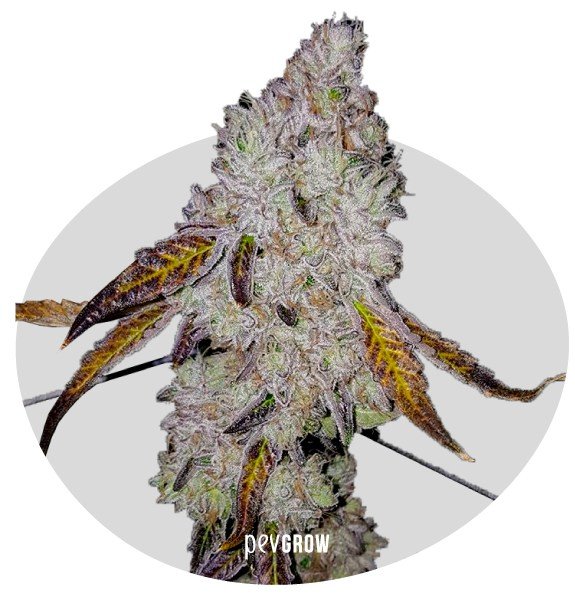 And what does the Wedding Cake variety look like as cannabis ?
They are of those weeds that from the first glance you know it is a jewel, shining because of the layer of resin that gives it a velvety appearance, on the dark background of the colorful flowers and orange pistils, more than a jewel is a treasure.
Its texture is crunchy, but due to the great hardness it acquires it is difficult to crush with the hands. The flowers are so tight that they yield a lot in the grinder, with only a small portion of bud is enough to fill a joint, and with little more you can roll a Blunt.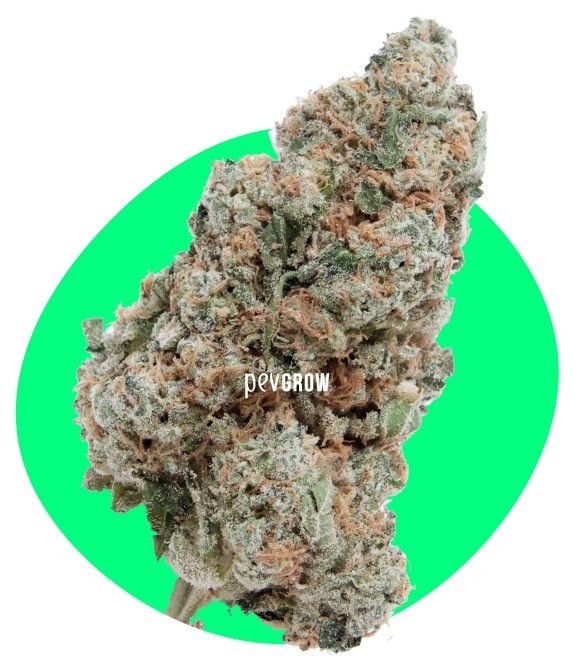 🚀 Crop, flowering time and yield indoors and outdoors
It must be said that to get the maximum yield and quality from the Wedding Cake a minimum of growing experience is necessary, although it is quite hardy in general, so it is suitable for novice growers too, although they will probably not get the best harvest until after 2 or 3 crops of this strain.
In indoor the ideal option is to make a SCROG (SCreen Of Green) because the structure of the plant and its speed of development invite to choose this method. It responds very well to pruning, and forms new shoots at full speed, so it will fill the entire net in a very short time. The harvest comes after approximately 60 days of flowering and produces about 17.6 oz per 3x3ft (500 grams/m2), so the Wedding Cake can be considered a fairly commercial plant.
Outdoors it can be grown in different environments, although it is grateful for the warm climate. It resists humidity moderately well, without going overboard of course, but better than many other varieties. It is usually harvested in early October in the northern hemisphere and can produce over 35.3 oz (1 kilo) of weed each plant well grown in the sun.
Quality and quantity extractions and concentrates
The resin performance is outstanding, as are most variations of the Cookies family. In extractions with solvents such as BHO can exceed 25% of the weight in return, in rosin passes 20% and in bubble hash the return is about 15% with the dry weed, and about 10% if it is Fresh Frozen.
Not only cannabinoids are concentrated in the concentrates and extracts, so they are not only potent. Isolating such a quantity of terpenes multiplies the spectacular aroma and taste of the Wedding Cake, so much so that it can even saturate your nostrils.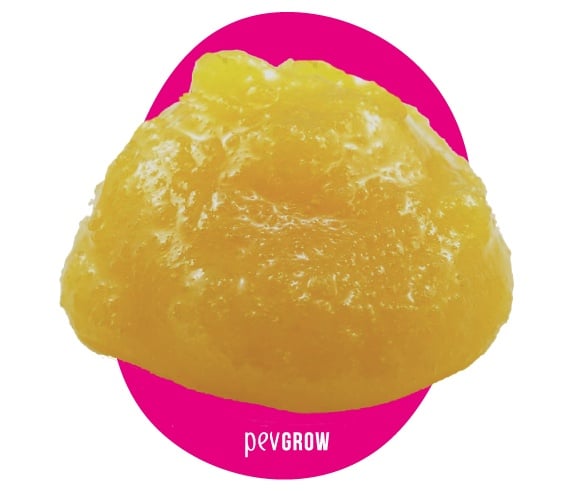 ✅ Aroma, taste and terpene profile of the Wedding Cake
It is probably the most surprising feature, a combination of terpenes and flavonoids that end up shaping an unparalleled organoleptic quality. The aroma mixes citrus touches reminiscent of lemon with the vanilla icing on some cakes and pies, altogether on a sweet background.
The taste is sweet, mentholated, creamy and very intense, like a good dessert where the vanilla lemon persists, but with the typical touch of pine of the OG varieties. It will probably become your favorite flavor of weed if you give it a chance.
Terpene analyses show large amounts of Limonene and Humulene, significant levels of Caryophyllene and Myrcene, and traces of Pinene and Linalol:
Limonene: 0.97%.
Humulene: 0.74%.
Caryophyllene: 0.20%
Myrcene: 0.10%
Pinene: 0.1%.
Linalol: 0.1%.
🔥 Wedding Cake effects and THC level
One could say that the power of this genetics is one of special category, only at the level of Gorilla Glue#4 or Girl Scout Cookies, 2 of its predecessors in the first place of the podium of the most consumed weed in the world.
The effect begins in the form of euphoria, the first thing you notice when consuming it, it lifts you up, clears your mind and makes you feel connected to your environment. This sensation can last a long time, but little by little you will perceive its therapeutic power at a physical level too, goodbye to muscle tension and joint pain, hunger and in some cases a sleepy feeling.
The duration of the effects can be extended to more than 2 hours, and may be excessive for users with low tolerance. On the other hand, for experts and regular stoners Wedding Cake will satisfy them like few other weeds do. The average percentage of THC is around 20%, but in some cases it can be as high as 30%.
🎯 Available Wedding Cake Seeds
Seed Junky Genetics does not sell seeds from Wedding Cake or Triangle Mints, its original name. But there are currently a number of seed banks that have their feminized versions or crosses of the elite clone.
If you want good S1 seeds from the original seedling I recommend the PEV Bank Seeds' Wedding Cake, as they look very similar to the original clone. Other options are the ones from Original Sensible Seeds, Barney's Farm or Seedstockers.
Wedding Cake
Wedding Cake is the trendy variety of cannabis in USA, and it's not surprising, because this plant offers you at the same time a huge power, delicious taste and an incomparable amount of resin…
Features
Bank: PEV Seeds
Type: Feminized.
Genetics: Triangle Kush X Animal Mints
Flowering period: 65 days
Phenotype: 30% Indica/ 70% Sativa
Harvest ext. HN: Mid-October
Harvest ext. HS: Mid-April
Outdoor production: 1 kg/plant
Indoor production: 450 gr/m2
THC: 25% CBD: 0.4% CBG: 0.1%
For those who prefer to grow autoflowering plants, there is Philosopher Seeds' Wedding Cake Auto, Barney's or Original Sensible's as well, so there is no longer any excuse not to try the hottest pot in the U.S.
Wedding Cake variety crosses
Good Wedding Cake crosses are already starting to come out, both in the USA and in Europe, another proof of the momentum of this plant. From the American banks we have the Dosi-Cake from Archive Seedbank, the Eye Candy from Exotic Genetix, or the Wedding Cake x F1 Durban x Gushers and from the European banks we chose the Hawaiian Snow x Wedding Cake x Gelato 33 from Green House Seeds without any doubt.
Wedding Cake x F1 Durb x Gushers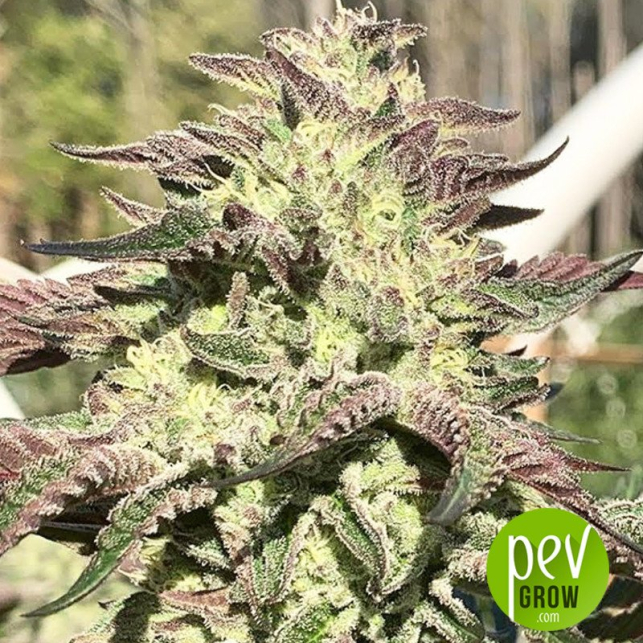 Wedding Cake x F1 Durb x Gushers marijuana variety is a dominant indica hybrid. A plant that stands out for its strong growth, medium size and resistance to pest attacks…
Features
Bank: Purple City Genetics
Type: Feminized.
Genetics: Purple, Wedding cake x F1 Durb x Gushers
Flowering period: 10-11 weeks
Phenotype: Indica-dominant hybrid
Harvest ext. HN: Mid-October
Harvest ext. HS: Mid-April
Outdoor production: 1200 gr./plant
Indoor production: 650 gr./m2
THC: 20-25%
🧐 An impressive list of achievements in its short history
Another reason for its resounding success is the number of major competitions it has won or been among the top positions in the short time since it started, most notably the first place achieved in the hybrid category of the 2019 Karma Cup.
Other great cups it has won include second place in the outdoor category of the 2018 Emerald Cup, third place in the bio category of the 2019 Highlife Cup, and second place in the hybrid category of the 2018 Karma Cup.
We are convinced that the Wedding Cake boom will not be a passing fad, it has many possibilities to become the variety of the next decade, so if you haven't tried it yet, you're missing out on one of the century's greatest cannabis, so don't say I didn't warn you.
The best hydroponic marijuana strains →