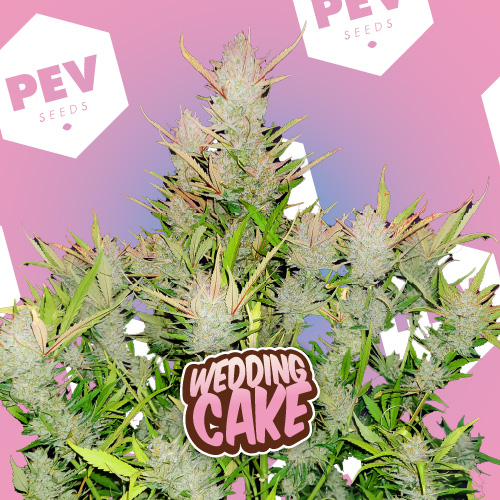 Wedding Cake is the trendy variety of cannabis in USA, and it's not surprising, because this plant offers you at the same time a huge power, delicious taste and an incomparable amount of resin. How did you get this incredible strain? Here below you have the answer to that and any other question...
What genetics does PEV Seeds Exotic Wedding Cake strain contain?
To get feminized seeds of this variety we did a self-pollination of the elite clone Wedding Cake from USA, so we can say that our seeds are S1.
The original clone came out of a cross between the Triangle Mints and the Animal Mints, created by Seedjunky genetics, and is actually a retro-cross of the Animal one.
How is Wedding Cake feminized in general?
Structurally it is very similar to Girl Scout Cookies, with quite branching and medium/high distance between knots. The leaves are of a dark shade, medium width and the calyx/leaf ratio is very interesting. In flowering begins to produce resin before any other, to finish completely frosted, with a snowy appearance by the thick layer of trichomes that wrap the dense buds.
How is Wedding Cake variety grown indoors and outdoors?
Due to its open and branched morphology, it is interesting to apply SCROG technique for indoor growing, since it increases its production and reduces the risk of developing fungi. You can put 4 plants per 3x3ft (m2) with enough time for vegetative growth, or 9 plants per meter, which will need less cycle at 18 hours to occupy the entire support net.
Outdoors it is very interesting to perform several prunings, an early F.I.M. pruning, in the fourth or fifth knot, and then go pruning the secondary branches, so that it forms more and more buds. We advise to use tutors or other forms of support for the buds, that way it produces more.
When do you harvest the feminized Wedding Cake?
Indoors its flowering lasts until 9 weeks approximately, and in outdoor crops is harvested at mid October. Grown outdoors in the southern hemisphere is cut in mid-April.
Wedding Cake strain yield?
As for the production of buds it is in the average, remaining around 15.8 oz per 3x3ft (450 grams per square meter) in indoor cultivation. However outdoors can give you an extraordinary harvest, by exceeding 35.3 oz (1 kilogram) if you plant it in mother earth in early spring.
Resin production is exuberant, possibly a record, although it is not uncommon considering the ancestors of this hybrid.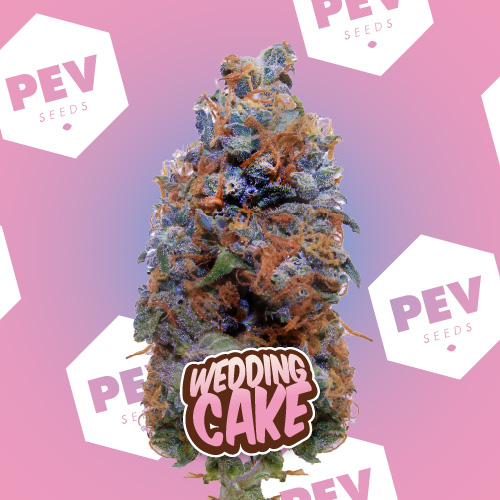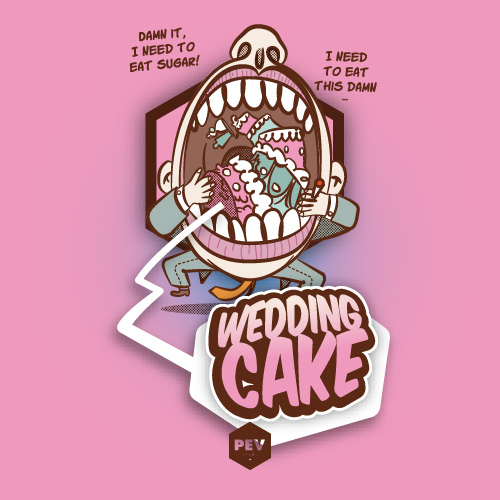 What is the aroma and taste of Wedding Cake?
Its aroma is very appetizing, as its name indicates it reminds you of cakes or pies. It should be noted that the term "Wedding Cake" was coined by the Jungle Boys after they grew this incredible plant, due to its touch of vanilla, mixed with lemon and a sweet undertone, a combination of terpenes that usually surprises a lot to everyone who tastes it.
Wedding Cake strain effects?
Just by telling you that it exceeds 25% THC you can get an idea of the power of this strain. It is not very advisable for inexperienced consumers because it can overcome them. After a few puffs you will notice a tingling sensation that runs through your body, causing a quality brain stimulation, motivating and inspiring. After a long time you begin to perceive how the effect becomes more relaxing, without being narcotic, pure natural medicine.
Wedding Cake strain price for sale at the best price
You are also curious and want to test the genetics that are increasing sales in the USA, right? Well, now you have the possibility to get 100% female seeds of Wedding Cake, with the best quality/price ratio in the market.
You may also be interested in: