Photosynthesis is the biological process by which the plant transforms water, mineral salts, CO2 and luminic energy from the sun into sugars, chlorophyll, cannabinoids and terpenes ... is not fascinating?
Lighting systems are undoubtedly one of the secrets to get a successful indoor crop, thus, PEV Grow works with well-known brands such as Philips, Agrolite, Sylvania, Hortilight, Cool tech ... authentic state-of-the-art technology for your indoor crop.
The lighting equipment you can find at PEV Grow is a guarantee of success .
There is nothing more pleasant than being able to imitate the sun energy for your plants!
In addition, every cannabis crop or any other plant needs specific lighting, we will try to help you choose the most appropriate lighting stuff to your needs.

In PEV Grow you may choose among different lighting stuff for your plants. On one hand you can find the most complete Plant lighting, of course with different types of power (from 100w to 1000w), luxe kits that have been created with the best components on the market, also cooltube kits which helps you keep more stable the temperature of your indoor crop, as well as low consumption fluorescents bulbs;and LED equipments,  for the rooting of cuttings and sprouts and for keeping mother plants.
You may also find Kits with electronic ballasts, which offer the best light performance with a reasonable consumption.
If you are a traditional grower, do not give up on the technology provided by high pressure sodium lamps;(HPS) or by metal halide lamps (MH) of different levels of light such as 250, 400 and 600 watt.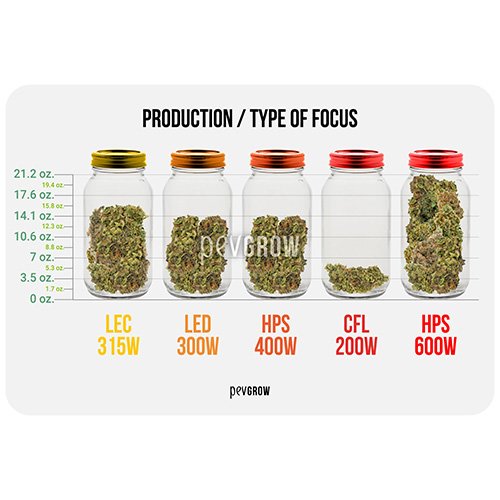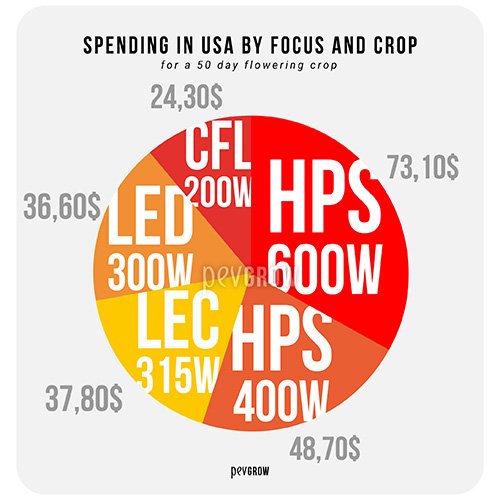 The price per gram has been estimated by calculating the maximum production that is expected to be obtained on average with these types of growing lights, i.e. 15.8 oz. (450 grams) with 315w LEC, 14.1 oz. (400 grams) with 300w LED, 14.1 oz. (400 grams) with 400w HPS, 5.3 oz. (150 grams) with 200w CFL and 21.2 oz. (600 grams) with 600w HPS.
*Kw price calculated to date: May 2020
An advance on the technology of metal halide is found with the new lamps of LEC technology (CMH or metal halide ceramic), which are 50% more efficient, as they dissipate the heat more efficiently besides providing a light spectrum more suitable for your plants. As Plant lighting for your indoor, we also offer you a wide selection of reflectors and power units complemented with light rail moving systems, "easy roller" suspension chains and pulleys, electronic ballasts, sockets, plugs...etc ...
The sun will rise in your indoor garden ...
Promised!
Opinions and doubts about Plant lighting
Leave us your opinion or ask us any questions you have about this category and participate in the draw!
Among all of you who comment or send us your questions there will be a bimonthly draw for a 50 euros voucher to buy in Pevgrow. What are you waiting for? Write now and participate!