In the middle of the 90's appeared in Amsterdam a variety of marijuana that changed so much the cannabis panorama there as in the rest of the world. At that time there were already many potent genetics in the menu of the coffee-shops, but nothing that resembled the great White Widow.
At first it was only available as a smoking bud in Green House's first coffee, but its great success quickly led to being offered in seed form as well. The White Widow was the first of the famous "White" family of cannabis, a lineage that continued with the White Rhino, the Great White Shark or El Niño among others.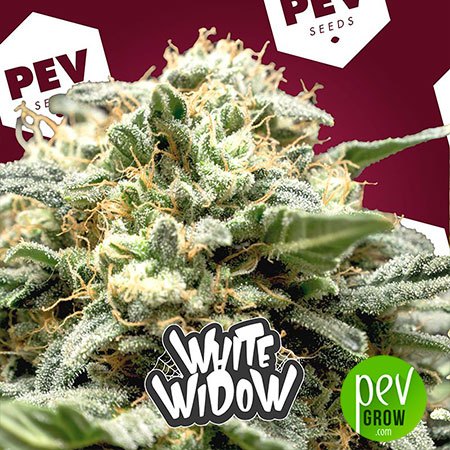 What genetics does White Widow have?
It is said to be a F1 hybrid created from the cross between a Brazilian (Possibly Pink Manga) and the Kerala of southern India. There was some controversy about the origin and father of this new strain, the most widespread version is that it was created by Scott Blake (Shantibaba) but many people claim it is the work of Ingemar from De sjamaan seed bank.
Our feminized version of White Widow comes from a selected clone of seeds from the first period. Luckily we keep the original genetics, because after leaving Nevil and Shantibaba the Green House bank, this brand's widow was never the same.
How's White Widow in morphology and appearance?
The appearance and growth of the plant does not seem like the typical hybrid between pure sativas as is the case, since its structure is compact, wide leaves, and short flowering time. Actually in cultivation behaves more like an indica marijuana plant, something that also happens with other varieties.
This was a trend in cannabis breeding in the 70s, 80s and 90s, trying to preserve the soul and effect of the sativas on the body and flowering time of the indicas. You can see something similar with Skunk#1 or Blueberry among others.
White Widow comes from a phenotype with a more sativa morphology, but flowering time and ease of cultivation are more in line with Indica genetics.
How is White Widow grown indoors and outdoors?
One of the objectives in creating this variety was to be able to stabilize a variety with sativa effect but easy to grow indoors. The White is suitable for both the SOG method and the SCROG or LST, as it produces a good main bud, but also responds well to pruning and low-stress training.
We like to put about 12 or 16 plants per square meter, without pruning, with about 3 weeks of growth. In this way they tend to fill the space quickly, something we prefer to save time and optimize resources.
In outdoor cultivation we do like to prune the White Widow to improve its shape and that can penetrate better the light. If you do a FIM pruning and several prunings of secondary branches it will end up in the shape of a hedge, and you will gain a lot in production.
When is the feminized White Widow harvested?
In indoor cultivation only needs about 9 weeks of flowering to be completely ready, after clear growing time. With this genetics you can adjust the flowering time to define the type of effect. By this I mean that if you prefer that the effect is more psychoactive it is better to harvest indoors with 8 weeks, but if you like or need the power is more relaxing you should cut the White Widow with 9 or even 10 weeks of flowering.
When you grow your crop outdoors it arrives in early October in the northern hemisphere, although it can be left perfectly until the middle of this month. In the southern hemisphere it is cut at the beginning or middle of April.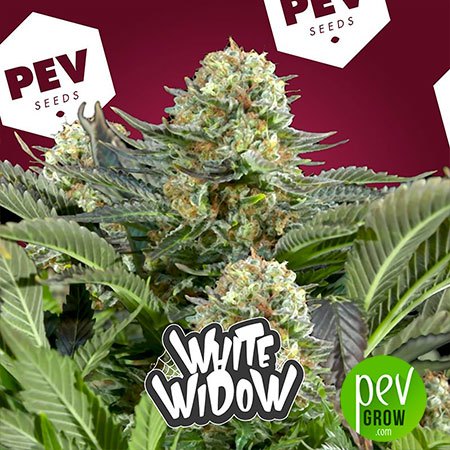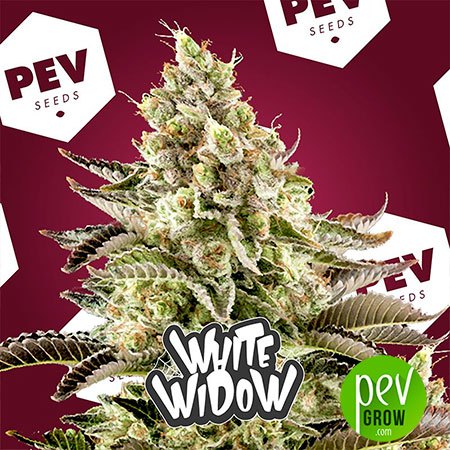 How much does the White Widow from PEV Seeds produce?
Flower production is medium/high, with some phenotypes that can be very productive. As a general rule, White Widow yields 400 to 500 grams per square meter indoors.
In outdoor cultivation each specimen can produce about 600 or 700 grams without problems, especially in places with a lot of hours of direct sunshine. The resin production is exceptionally high, hence the nickname "White", because at the end of flowering the glossy resin layer gives a totally white appearance to this strain. 
How's the taste of feminized White Widow?
If you give it a good root wash, this herb does not scratch anything, it produces a smoke so soft that it seems to caress the throat. Its taste is bittersweet, when you inhale it is not perceived very well, but when you exhale the contrast of nuances is appreciated perfectly. 
This taste has conquered many cannabis consumers, especially those who keep old mother plants of this genetics. We know cases that do not want another variety, and is that the Widow does not leave anyone indifferent, so it has reached the Olympus of marijuana.
What effect does White Widow variety have?
The type of effect is clearly hybrid plant, with strong psychoactivity from the beginning, euphoria and happiness. In the physical part the effects are very powerful, causing an unusual body heaviness. This high goes great for disconnecting from the world for a couple of hours, lying on the couch and enjoying a good movie or listening to music. 
White Widow can be a very interesting marijuana therapeutically to treat muscle aches or stress among other things. It opens the appetite in a huge way, and consumed in excess can serve as a natural sleeping pill. One of its negative points is that it dries out the mouth in an extreme way, forcing it to constantly hydrate itself.
Sale of feminized seeds of White Widow
If you were looking for White Widow marijuana variety seeds but in feminized format you are lucky. In Pevgrow we can offer you the best feminized version of the mythical Widow and also with an unbeatable value for money. What more could you ask for? Come on, cheer up and try this super weed.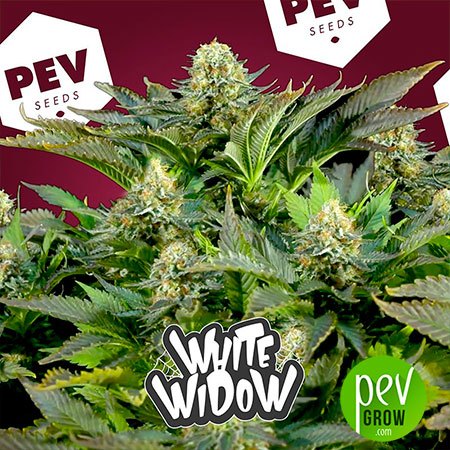 You may also be interested in: