The Blue Dream feminized marijuana seeds from PEV Bank Seeds are released with the intention of meeting the European demand for legendary American genetics. In this case we are facing a very well balanced hybrid, which offers a series of very interesting qualities for both growers and consumers.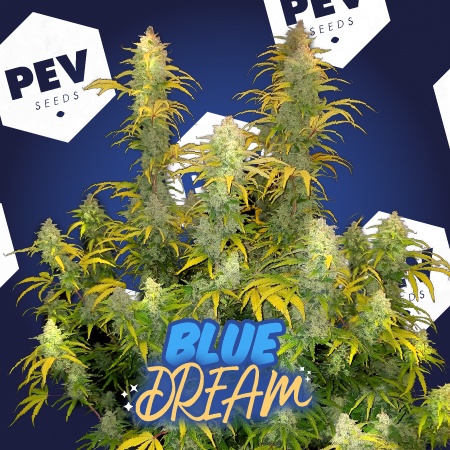 What is the genetics of these PEV Bank seeds?
Since we tried this marijuana on one of our trips to the west coast of the USA we had it clear, this has to be tried by everyone! The problem is that this herb is only kept as a clone, and it is not very accessible to say, so we go to plan B.
Blue Dream is a cross between Super Silver Haze and Blueberry , 2 of the varieties that we keep in our mother plant pantry. In order to produce 100% feminized seeds, we reversed our Blueberry and pollinated the SSH, and the truth is that we were pleasantly surprised by the result.
How is Blue Dream in general terms?
It has as many indica characteristics as it does sativa, that is why I told you that it is a very balanced hybrid . It develops at full speed since it is born, marking the typical growth of Haze hybrids , with a wide distance between nodes, stems and leaves of medium size and thickness, and an exuberant branching.
During flowering it continues to grow a lot, it can quadruple its height, and it is a fact to take into account, especially in indoor cultivation. Although the growth pattern seems totally sativa, Blue Dream during bud formation behaves like an indica, blooming at full speed and forming large caliber buds, which can acquire bluish tones when the temperature difference between the day and the night is over 12 degrees.
How are these feminized seeds grown?
Indoors, we recommend pruning the main tip of the plants to control their height and promote horizontal growth. If you put 9 plants / m2 in 11-liter pots, you don't need to give them more than 15 or 20 days of vegetative growth, and instead of having 9 large central buds, you will get 36 or 54 very well-formed secondary branches.
But if you want to see the full potential of this plant, give it a try outdoors. In outdoor crops it thrives, so much so that we have seen some Blue Dreams in northern California that could serve as a tree house. If you want to get the most out of it, germinate the seeds at the beginning of spring, and when the plant has more than 5 nodes, you can transplant it to mother earth, or to a large pot.
When does the harvest of Blue Dream arrive indoors and Exterior?
One of the best things about this strain is that despite its great sativa influence, its flowering is not very long. In indoor cultivation it needs about 9 or 10 weeks of flowering to mature properly. Outdoors, as a general rule, it is harvested at mid-October in the northern hemisphere, and mid-April in the southern hemisphere.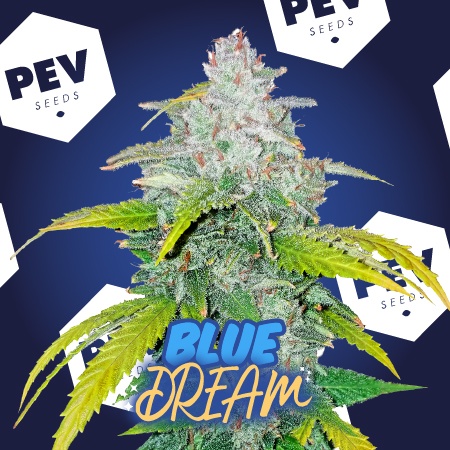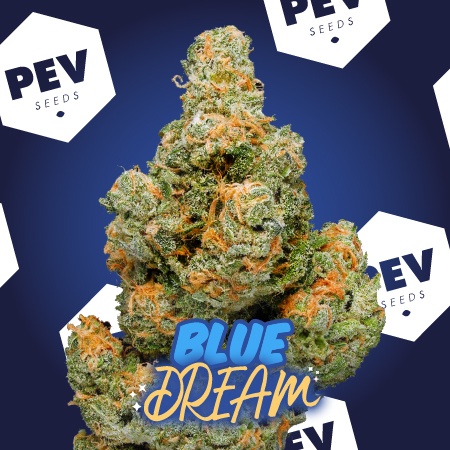 How is the production of these seeds?
A true record, since it can exceed 21.2 oz per 3x3ft ( 600 grams / m2 ) indoors when grown without limiting factors. In the open air or in the greenhouse, each Blue Dream can exceed 264,17 US gal  (1000 grams)  of ready-to-eat yerba, even can exceed 528,34 US gal (2000 grams), but for that you have to plant in the ground directly and very soon.
What does Blue Dream marijuana taste and smell like?
The aroma is the genuine Haze, spicy, woody, and citric. Its smoke is very dense, opens the lungs and can be tasted very well. The flavor that remains in the mouth is fruity and citrus, with the lemon clearly standing out, with reminiscences of pine, cedar, and incense.
How is the effect of this mythical cannabis?
Although its THC content is not the highest on the market, the Blue Dream chemotype gives it a powerful entourage effect, which shows with a high brain stimulation, and amplification of the senses. Some consumers highlight that this yerba leaves them in a pleasant state of reverie, with peace of mind and the body floating.
Buy Blue Dream Feminized seeds from PEV Bank Seeds at the best price online
If you've ever wondered Why are there some marijuana strains that never go out of style? Try Blue Dream and you will get the answers you are looking for, because it is like good music, which accumulates new fans as new generations listen to it, and it is that good things are always liked.
You may also be interested in: