Now you can find Papaya seeds at the cheapest price. This marijuana with fast flowering and with a tropical flavor allows discreet cultivations due to the size of the specimens, but very powerful in terms of production.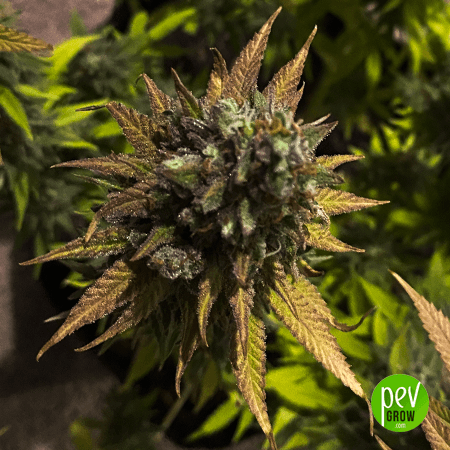 What is the Papaya plant like?
Medium in size, it is perfect for balcony or terrace crops that want to go unnoticed.
It does not branch too laterally, it concentrates its flowering in the central part, the buds are strong and dense like rock, loaded with delicious and aromatic resin.
What is the smell and taste of Papaya?
Its name says it all, an exotic and tropical aroma takes over the environment in each puff, divinely captivating will incite you to want more.
Its flavor is adorable, an absolute contrast between sweet and bitter, in the background you can appreciate the flavor of tropical fruits such as mango and obviously papaya.
What is the effect of Papaya?
Its effect is a bit sedative, it produces a pleasant sensation of drowsiness thanks to its predominance of indica, you can relax the body and minde, it is a suitable variety to combat stress, insomnia and nervous disorders.
Also acts as a muscle relaxant, helps reduce inflammation thanks to its powerful analgesic properties.
How to grow the Papaya cannabis plant?
In principle you should keep in mind that the structure of this plant deserves a little care and think about the most appropriate cultivation method, since it does not have very thick stems and its branches are also thin, if you opt for hydroponic crops or in coconut fiber substrate, you should boost your potassium intake a little.
Indoor, you can place more specimens than normal per m2 since it grows with few lateral branches, you can even put 14.you could use 7-liter pot and they will develop comfortable.
Outdoor, they develop a medium structure, they will not grow more than a meter and a half, treat them very well, taking care of the irrigation of the fertilizer so that they develop vigorously, in the middle or end of September the flowering occurs.
What is the production of Papaya?
In closet or indoor terraces you can leave up to  17.6 oz per 3x3ft (500 grams per m2) and in outdoor crops the incredible amount of 21,2 oz/plant(600 grams per planta) quite a gift!