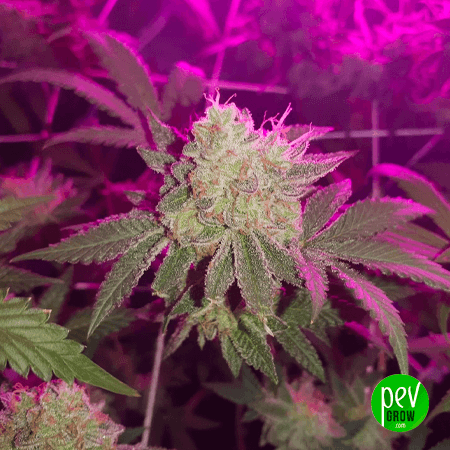 Sunset Sherbert are feminized marijuana seeds of a variety that has gained a lot of popularity in recent years. Spain Bulk Seeds has created the feminized version of this tasty plant, so that everyone can enjoy its excellent aroma and flavor, which has broken all the established schemes in this sector.
What is the genetics of these feminized seeds?
The original genetics were created by Sherbinski, one of today's fashionable breeders. It is a cross between Pink Phanties and Girl Scout Cookies , and it is very important within the Cookies family, as it is the link that joins the powerful Thin Mint Cookies with the tasty variety of Gelato marijuana. Its genotype is approximately 85% indica and 15% sativa, but it must be said that several phenotypes can come out, some that are more towards the sativa side, and most to the indica part.
How is Sunset Sherbert in general terms?
During the first stages of growth it is deceiving, because grows quite compact, forming many nodes in a small space, with wide leaves and medium-thick stems.. However, as it grows, its structure stretches more, which ends up being very branched too.
In flowering it does not grow as much as other components of this family, and it produces inflorescences everywhere, which despite not ending up being very voluminous buds, if they are extra hard, and hard like golf balls, with a velvety appearance. the exaggerated concentration of trichomes that it generates.
How are these seeds grown indoors and outdoors?
Its cultivation is not very difficult, and even the most novice grower can be able to get very good results. If you are going to grow it indoors, the ideal is to put 16 plants / m2 in 7-liter pots, with 3 weeks of vegetative growth, and without pruning. This way you will end up with a large central bud and 4 or 6 secondary branches quite a bit productive.
On the other hand, in outdoor crops we recommend to cut the main tip, either with apical pruning or with the FIM. With this we achieve that the production is better distributed, and thus we avoid in part the danger posed by the botrytis for large buds. It is important to place stakes or any other support for the branches, because they concentrate a lot of weight on the tips and they can break off.
When are Sunset Sherberts harvested?
Speed is one of its best qualities, and in indoor cultivation it ends the flowering cycle in just 8 weeks. Some phenotypes may need a few extra days, and with maturation you can enhance a more active or calmer effect, if You prefer a high with leverage and more narcotic, leave it until 9 weeks, but do not wait that long.
In outdoor cultivation with these seeds you have the advantage of being able to harvest before the arrival of the autumn rains, because it is usually cut at at the end of September in the northern hemisphere, and at the end of March in the southern hemisphere.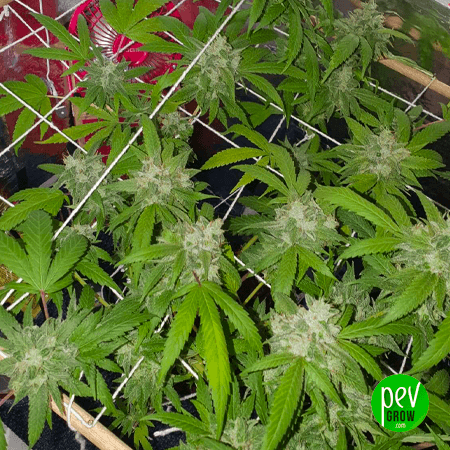 How is the production of these seeds from Spain Bulk Seeds?
The bud production is medium / high, but the resin and essential oil yield is directly spectacular. Under normal conditions you can achieve a production in indoor cultivation of about 14.1 oz per 3x3ft -15.8 oz per 3x3ft(400-450 grams / m2). Outdoors each Sunset Sherbert can give you more than 21,2 oz/plant(600 grams) of buds ready to consume.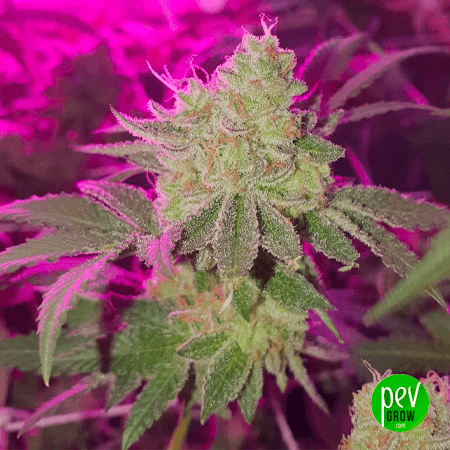 What does Sunset Sherbert smell and taste like?
We like to see the faces put on by those who try it for the first time, because it is a truly amazing experience. It tastes just like it smells, a complex mix between berries and citrus, wrapped in a sweet and caramelized background that you won't want to stop savoring. This yerba produces a very soft and fresh smoke, especially when fed with organic fertilizers, it is like having a sherbet in front of the sea in the middle of the afternoon of a summer day.
How is the effect of this tasty marijuana?
Its THC content is not one of the highest on the market, but that does not mean that its effect is not very intense. The mixture of its unique terpenes and flavonoids produces a entourage effect with a lot of psychoactivity, a torrent of ideas floods you with just 2 puffs, and plunges you into a pleasant state of peace and tranquility, but with an always active mind.
Buy cheap feminized Sunset Sherbert seeds from Spain Bulk Seeds online
We are sure that right now you only want one thing, to grow these seeds as soon as possible, we understand it. You may not know that at Pevgrow we give you the best quality / price ratio on the market, and we are so sure of it that if you find these cheaper seeds in any other store, we will refund double the difference, think about it.
You may also be interested in: