100 day satisfaction guarantee
Discreet delivery worldwide
Unlimited cash on delivery
Description
Play Text to Audio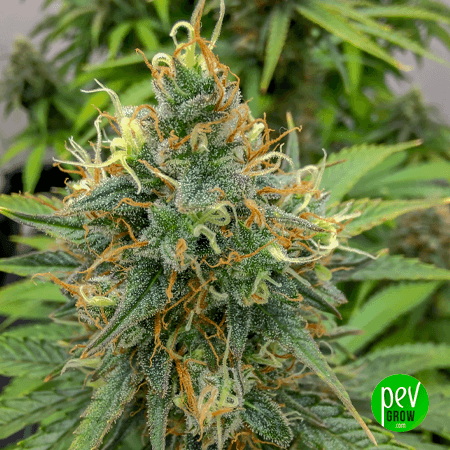 Zaza are marijuana seeds created by Spain Bulk Seeds as a feminized version of a strain that is starting to sound strong in southern California. Zaza has everything you could look for in a marijuana plant, easy to grow, fast flowering, good production in general, great taste, and above all an excellent effect.
What is the genetics of these seeds?
They are Zaza S1 seeds, which means that they are the result of crossing the Zaza variety by itself. This variety came into our hands along with others in the form of clones, and the original genetics is from Southbay Genetics, crossing of Scotts OG x Gas Station Bob. It is a polyhybrid with quite parity between indica and sativa, around the 50% of both.
What does the Zaza variety look like?
It has the typical morphology of modern polyhybrids, with much branching, medium distance between nodes, flexible and resistant stems, leaves with wide leaflets, and contained height.. In flowering it does not stretch much, so it is very controllable in cultivation indoor, and develops very compact, dense buds with a velvety texture thanks to the huge amount of resin that covers them.
How are these seeds from Spain Bulk Seeds grown?
In indoor cultivation it behaves very well if the Screen Of Green technique is applied, since it is the best way to get the maximum light to all the branches. By putting 9 plants / m2 in 11-liter pots, with 4 weeks of vegetative growth, and pruning the main tip and secondary branches, you will see buds in all corners of your indoor area.
In the open air, Zazas can become gigantic if they are planted early and have no limiting factors. As indoors, it is recommended to do several pruning during the growth cycle, to distribute the production of buds and that the sunlight penetrates better throughout the structure of the plants. If you use mesh or stakes you will get an extra performance, and at the same time you will avoid losses due to branch breakage.
When are the Zazas harvested?
When grown indoors, the flowering period is around 9 weeks, although there may be some phenotypes that are ready a few days before. Outdoors the harvest reaches mid-October in the northern hemisphere, and mid-April in the southern hemisphere.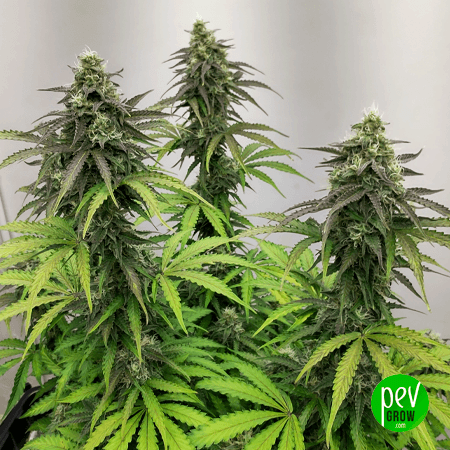 How much do these feminized seeds produce?
You don't have to be a crop expert to get excellent yields from these seeds. In indoor cultivation, 17.6 oz per 3x3ft or 21.2 oz per 3x3ft (550 or 600 grams / m2) can be removed, and outdoors each well-cultivated Zaza can exceed 26,4 oz/plant (750 grams) dry. That is not to mention the production of resin and terpenes, where it stands out especially.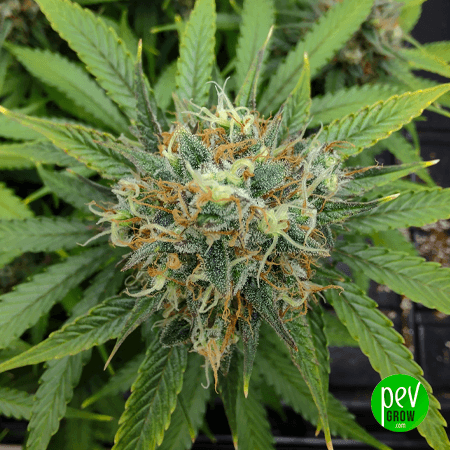 How is the aroma and flavor of Zaza?
If something pleasantly surprised us about this genetics was its flavor, very marked and long-lasting. The aroma has a touch of pine and moss that is original, and that later in the smoke goes quite unnoticed. When inhaling, it is reminiscent of Kush, but after exhaling there is a lemon and oil aftertaste that you cannot remove from your mouth.
How is the effect of this cannabis?
It is immediately effective, very euphoric at first, lifter of the spirit, motivator, and precursor of satisfaction. As time goes by, it becomes more and more physical, without leaving you lying down, but with remarkable relaxation. It causes a lot of hunger, and it is a perfect medicine to alleviate some types of pain.
Buy Zaza feminized seeds from Spain Bulk Seeds at the best price online
Don't miss the opportunity to be one of the first to try Zaza yerba in Europe, because surely in a while it will be a lot to talk about. Order your seeds at Pevgrow and get the best quality / price ratio on the market ... Guaranteed!
We remind our customers residing in France that cannabis seeds not listed in the European Community catalogue are products intended for genetic conservation and collecting, but not for cultivation. It is strictly forbidden to germinate them on French territory, except for those authorised by the European Union. We advise our customers not to violate the law in any way and we cannot be held responsible for their use.
Data sheet and characteristics
Type:
Feminized
Banks:
Spain Bulk Seeds
Genetics:
Kush
Og
Phenotype:
50% Indica / 50% Sativa
Harvest outdoor H.N:
Mid-October
Harvest outdoor H.S:
Mid-April
Indoor production:
21.2 oz per 3x3ft
Outdoor production:
25,6 oz/plant
Indoor flowering period:
9 weeks
Features:
Rapid flowering
Tasty
Effects:
Appetite
Euphoria
Powerful
THC:
23 %
Flavor and aroma:
Lemon
Symptoms:
Bloating
Pains
Opinions and doubts about Zaza
Leave us your opinion or ask us any questions you have about this seed and participate in the raffle!
Among all those who comment or send us your questions, there will be a monthly raffle for a €50 voucher for your purchases at Pevgrow. What are you waiting for? Write us and participate!