Reading Time
7
minutes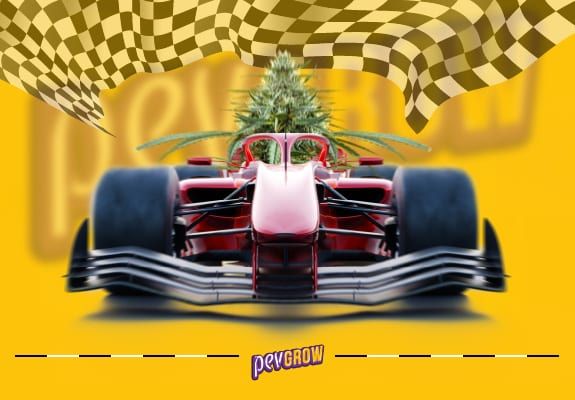 Fast Version marijuana has gained a foothold in the cannabis seed market over the last decade, and this type of plant is very interesting because it has some advantages over normal genetics. In this article we are going to see what Fast Version seeds are like, how they are grown, which are the best and the fastest, so that you have the maximum information about it and can correctly choose the ones you want to grow.
🚀 F1 Fast Version, Why are they called that?
The term "F1 Fast Version" was coined by the Sweet Seeds seed bank, which can also be considered as the inventors of this format of marijuana varieties, because they were the first to start marketing this type of seeds. The concept "F1" has a double meaning, since on the one hand it means "Filial 1" because they are seeds produced from the cross between a photodependent plant and its autoflowering version, that is, the first generation of this combination. On the other hand "F1" also means formula 1, and is related to the speed of Fast Version seeds.
"Fast Version" means fast version, because in reality these plants are replicas very similar to their normal version but with a shorter flowering period. Crossing a photoperiod genetics with its autoflowering version increases the hybrid vigor and resistance of the variety and accelerates the pre-flowering phase, fattening and maturation of the buds, something that can be very interesting for many growers. Other seed banks also offer similar varieties with other concepts, such as the Early Version from Delicious Seeds, or the Quick from Dinafem.
✨ How to grow Fast Version seeds?
They are grown much the same as normal strains, but it is important to take into account the speed of flowering in order to get the best out of it. In indoor cultivation it is advisable to give a little more time for vegetative growth, because due to its shorter pre-flowering period it is possible that the stretching that the plants give in this phase is also less. When making the final transplant, it is also necessary to consider bringing it forward for the same reason, because if we wait until the photoperiod changes, there is the possibility that they will grow less as well.
The most important change with respect to the normal flowering genetics is in the final maturation of the plants, since in the Fast Version seeds it arrives one, two, or three weeks earlier than in the normal versions. For this reason, it is necessary to be attentive and check the trichomes of the buds during the fattening phase to determine the best time to wash the roots prior to harvest, since it is crucial to achieve the best aroma and flavor of the yerba.
Fast Version seeds outdoors
In outdoor crops, keep in mind that Fast Version seeds begin to flower before their normal versions. For this reason it may be interesting to germinate the seeds a little earlier if the intention is for the plants to reach the largest possible size, and for the same reason it may also be advisable to bring forward the final transplant. When treating plants with phytosanitary products, it is very important to check the safety period of insecticides and fungicides, and in many cases give the last treatments in early or mid-August, since with many of these products it is recommended to leave a margin 1 month from the last application to the harvest of the plants. The ideal is to look at the data provided by the seed bank of the cultivated variety regarding the cut-off date of the plants, and calculate with respect to the safety period of the phytosanitary product that you are going to use.
Otherwise they are grown exactly the same as normal flowering varieties, in fact Fast Version seeds are easier to grow in general due to their higher hybrid vigour, because they are more resistant to stress, pests and diseases, and the fact that they that they can be harvested earlier avoids certain problems in outdoor cultivation, such as the rains that usually fall at the beginning of autumn in many places. This means that Fast Version marijuana strains are more suitable for inexperienced growers, especially Fast Version indicas.
✅ Best Fast Version varieties
Although this may depend on the personal tastes of each grower or consumer, there is a series of Fast Version seeds that stand out for their quality and each year they are the best sellers in this category. We are going to put different examples of the best Fast Version varieties, differentiating between indicas, sativas, and indica/sativa hybrids
Best Fast Version Indica Strains
Crystal Candy F1 Fast Version: A delicious strain that has an aroma and flavor very similar to the mythical Bubble Gum, with a relaxing and medicinal effect and a flowering time of 6 or 7 weeks indoors. In outdoor crops in the northern hemisphere, they are harvested in early September, and their cultivation is so simple that anyone can obtain large yields without much effort.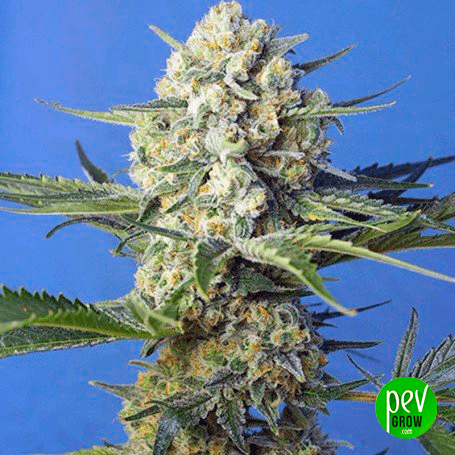 Buy Crystal Candy F1 Fast Version
Cream Caramel F1 Fast Version: Another very tasty Fast Version variety with a very interesting therapeutic effect to treat different ailments and diseases. It contains around 90% indica genetics, its flowering period indoors is 7 weeks and outdoors it is harvested in mid-September in the northern hemisphere. The same Cream Caramel as always but with an easier and faster cultivation.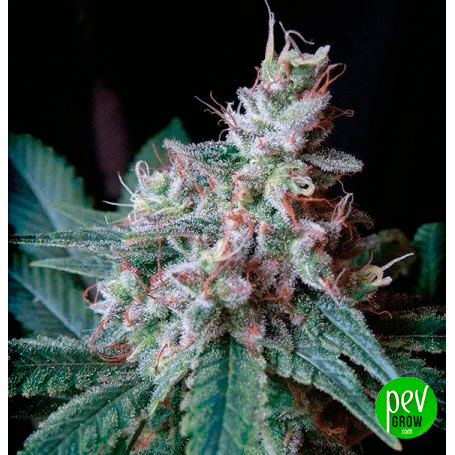 Buy Cream Caramel Fast Version
Lord Kush Early Version: One of the best fast-flowering Kush on the market, created by the Delicious Seeds bank in response to the demand for this type of strain. Its flowering cycle is just 45 days indoors, and outdoors or in outdoor greenhouses in the northern hemisphere it is harvested in mid-September, before the dangerous autumn rains arrive as a general rule.
Best Fast Version sativa strains
Durban Poison Fast Flowering: Special seeds for lovers of the sativa effect who, for whatever reason, cannot wait for the long flowering period that normal sativas usually have. It is a pure sativa that is harvested at the same time as the faster indicas or hybrids, 7 weeks indoors and at the end of September in outdoor crops in the northern hemisphere. Thanks to its speed and resistance, we think it may be the best option for novice growers who prefer the sativa effect.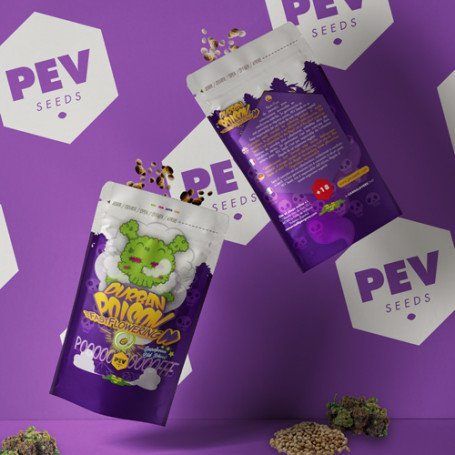 Buy Durban Poison Fast Flowering
Critical Neville Haze Early Version: With a sativa proportion of 80%, this variety combines the qualities of the Haze with one of the best Skunk phenotypes of all time, the great Critical Mass. It produces very well, its flavor is intense, and the flowering phase indoors is 6 and a half weeks only. Outdoors it is harvested at the beginning of September in the northern hemisphere and its THC percentage exceeds 20%.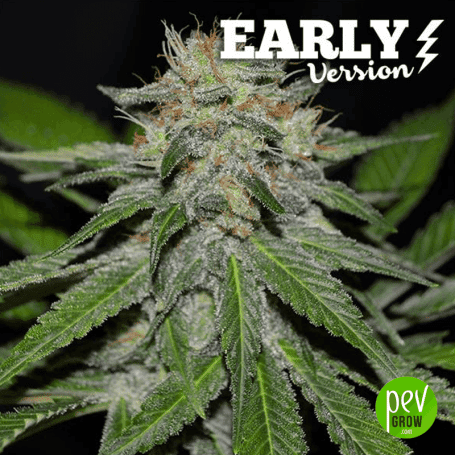 Buy Critical Neville Haze Early Version
Jack 47 F1 Fast Version: Its genotype shows around 75% sativa and 25% indica, and combines a high yield of buds with a good taste and effect. It is very similar to the normal version but with a life cycle approximately 20% faster, so it finishes in 6 or 7 weeks of flowering in indoor cultivation, and outdoors its harvest arrives in mid-September in the northern hemisphere.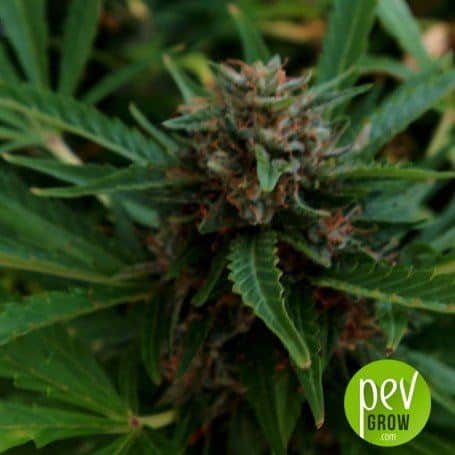 Buy Jack 47 F1 Fast Version
Best Fast Version Hybrid Strains
Tropicanna Poison F1 Fast Version: Fast Version seeds with a fairly balanced hybrid genotype, because it contains 60% indica and 40% sativa. The most representative of this variety are the beautiful red colors of its flowers, but we must not underestimate its high concentration of THC, its delicious flavor, and above all the great production of buds and resin that it generates in just 6 or 7 weeks of flowering.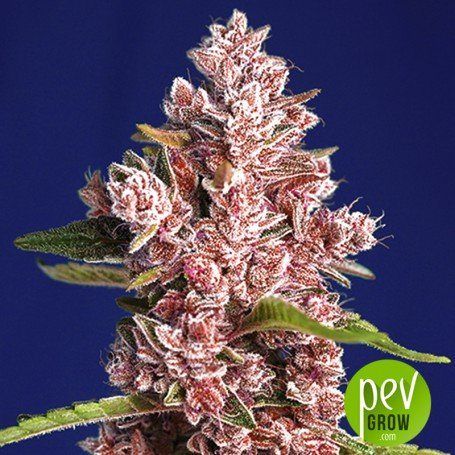 Buy Tropicanna Poison F1 Fast Version
Royal Cheese Fast Version: Fast Version variety from the Royal Queen Seeds seed bank with the most intense flavor you can imagine. It has about 60% indica and 40% sativa, and its cultivation is really simple due to its resistance to stress and especially because of its ultra-fast flowering, which allows it to be harvested in early September in outdoor crops in the hemisphere. north.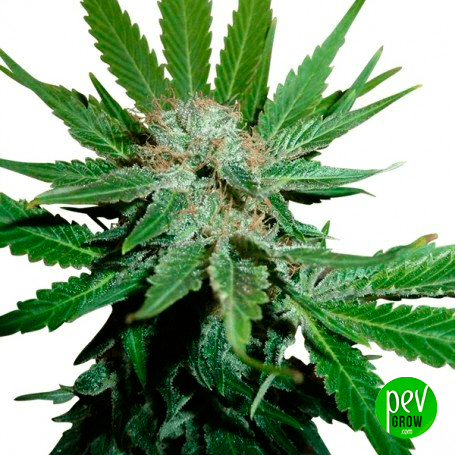 Buy Royal Cheese Fast Version
Caramelo Early Version: Both Tropicanna Poison F1 Fast Version and Royal Cheese Fast Version are hybrids with a higher indica load than sativa, and for this reason we wanted to include a primarily sativa hybrid Fast Version variety. Caramelo Early Version has the same flavor as the famous Lavender, with a very powerful psychoactive effect, but with the advantage of being able to be harvested in just 40 days of flowering.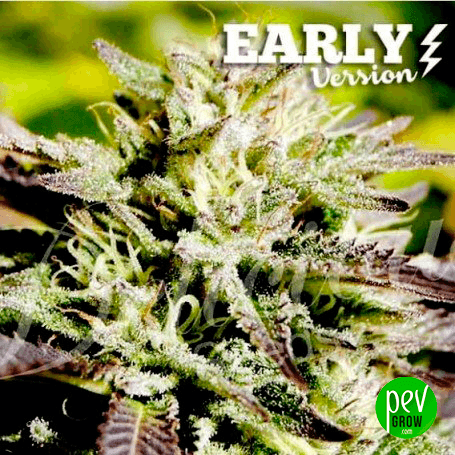 Buy Caramelo Early Version
🎯 Opinions about Fast Version seeds
Fast Version marijuana seeds can be very interesting for a large number of growers for many reasons, because the fact that they are photodependent but fast-flowering is a great advantage both for indoor and outdoor cultivation. If you grow outdoors in a rainy region and prefer photoperiod plants to autoflowering, the best solution is to grow Fast Version seeds because, as we have already seen these plants are normally harvested before the dreaded rains arrive.
In indoor cultivation, Fast Version genetics are the best option for people who want to harvest quality grass in the shortest possible time, due to the need to harvest earlier, to save resources, or to facilitate the cultivation itself, since the shorter the total period of the crop, the less chances of having problems we will have.
👾 Conclusion
Many people think that Fast Version seeds may be the most appropriate for novice or inexperienced growers who want to get an excellent harvest in terms of quality and quantity, because as they contain greater hybrid vigor they withstand much better the hazing that we usually commit when we started farming. In this article we have seen what Fast Version seeds are, how they are grown, which are the best on the current market, and other information that will surely be interesting for many people, so we would like you to share it on your social networks.
🧐 Frequent questions
What is the fastest Fast Version strain?
I am going to give you 3 options, as Fast Version indicates the Crystal Candy Auto variety, we think it is the fastest considering our tests. As Fast Version sativa the fastest is Durban Poison Fast Flowering is the fastest both to grow and to flower, and is also practically identical to the normal version. And as Fast Version hybrids, Caramelo Early Version is sure to be the fastest of all, and its excellent sweet flavor should be highlighted.
Are there Fast Version seeds in bulk?
In principle, all commercial Fast Version varieties are sold in formats of up to 10 seeds, as is normal in the sector. But if you are interested in buying Fast Version cannabis seeds in bulk, the best thing is to send us an email with what you need and I assure you that at Pevgrow we will get what you are looking for.
Cannabis Sinsemilla. Qu'est-ce que c'est, qui l'a inventé, comment est-il fabriqué et de quelles variétés s'agit-il ? →