Reading Time
6
minutes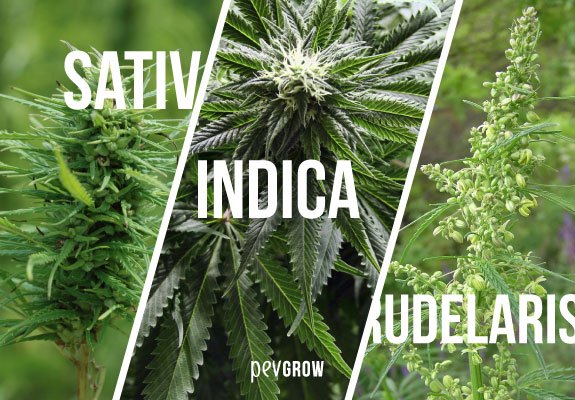 At this moment, it is really complicated to choose, which variety of marijuana you want to cultivate, among such a wide range of possibilities. It is a very wide and deep grotto in which it is very easy to lose the course, since every time that two different genetics merge, a new variety arises, but calm, in PevGrow we are to throw light on this problem and help you find the way out, which is simpler than you think, since all the varieties of marijuana that exist can be classified in three big groups: Sativa, Indica and Ruderalis
🚀 Marijuana Sativa
This type of weeds, are native naturally of Asia, America and Africa, and its characteristic morphology, is fruit of its adaptation to the environment, since naturally it has to support more humid climates, and it is for that reason that its typical structure, characterized by having long branches, with a wide internodal distance that transpires very well and resists the attacks of the fungi, a very wide root system, which contributes them an important vegetative growth, arriving in most cases to measure up to 4 meters of height.
How is it cultivated?
As for their cultivation, when growing indoors, it is important to control the height, and grows demoniacally, for it applies SCROG technique (more information "Growing marijuana with the SCROG method") because otherwise they will reach the focus very quickly. Outdoors, let them grow freely and acquire their maximum expression. Ah! I forgot, as an interesting fact, Did you know that all varieties of industrial hemp are considered Cannabis Sativa? You will never go to bed without learning something new!
What effects does it produce?
All Sativa varieties are characterized and loved for their energizing and creative effects, which do not affect at all the development of your daily activities, since they do not produce such a narcotic effect as the Indicas, and that is why they are known as the "Diurnal" varieties. They are perfect for those who want to boost their creativity, in fact, a server has a good arsenal of Sativas, to elucidate my weekly blog articles, I come in luxury!
Did you know that… ?
Sativa varieties have a diversity of flavours and aromas that is almost unique in botany.
If you like sativa varieties I recommend you:
– Euforia from Dutch Passion, winner of the first prize in the Highlife Cup 2002 and second prize in High Times Cup 2000, with a Skunk flavor that amazes me every day more, one of my favorites!
– Ak 47 from Serious Seeds, I love its impressive effects, lasting and psychoactive, with THC levels demonstrated by an independent laboratory in the Cannabis Cup 1999, an astonishing 21.5%.
– Original Amnesia from Dinafem Seeds, her name says it all, a beastly effect, and loved by thousands of followers all over the world, number 1 in the Dutch Coffee Shop, do you dare with her?
Infography Marijuana Sativa: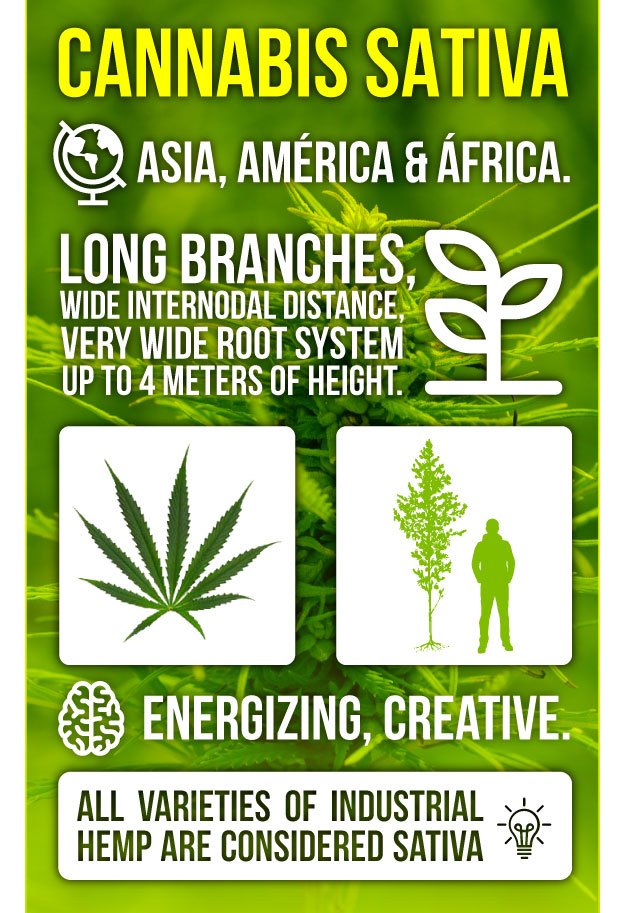 ✨ Marijuana Indica
It comes from Pakistan and India, and its morphology is marked by the arid and dry climates it has to face in its places of origin, facing times of drought. That is why its size is small, stocky and compact, shaped like a Christmas tree, with a condensed root system, to minimize water loss during transpiration. Its stems are robust and broad leaves of a dark green color very characteristic, with dense and heavy flowers loaded with high levels of THC, and whose maximum size usually ranges between 1.5 meters.
How is it cultivated?
Well in indoor crops, does not present any difficulty for cultivation, so it is a perfect choice if you are a novice in the field, since, with its small size and short flowering periods, you can get a good harvest and virtually effortless.
Outdoors, they are perfect for city growers who have a small balcony and like crops under the sun, and it goes completely unnoticed.
What effects does it produce?
These are the famous varieties "To sleep", as they produce a powerful body relaxation, known as the sofa effect, and that is why they are considered great options as medical marijuana, as they are really beneficial for the treatment of sleep disorders, anxiety attacks, nervous states and high stress situations and reduce seizures in epileptic seizures.
Did you know that… ?
In India, Cannabis Indica is used in religious ceremonies, and commonly used by naturalist medicine.
If you like the Indicas varieties I recommend you:
– Afghan Kush from World of Seeds, grows naturally in Central Asia, more specifically on the border between Tajikistan and Uzbekistan, and I love it thanks to its sweet aroma, and its great productivity.
– Northern Lights from Ministry of Cannabis, a true legend of cannabis, which since the end of the 80's drags a good caterva of followers around the world, was the first Indica I tried and since then, I keep a specimen in my private collection, like gold to me.
– Bubba Kush from Green House Seeds, winner of the 1996 Cannabis Cup, another classic that has been on the market for two decades, and believe me that's not by chance, its taste of berries, caramel and nuts gives you a gourmet experience within everyone's reach.
Infography Marijuana Indica: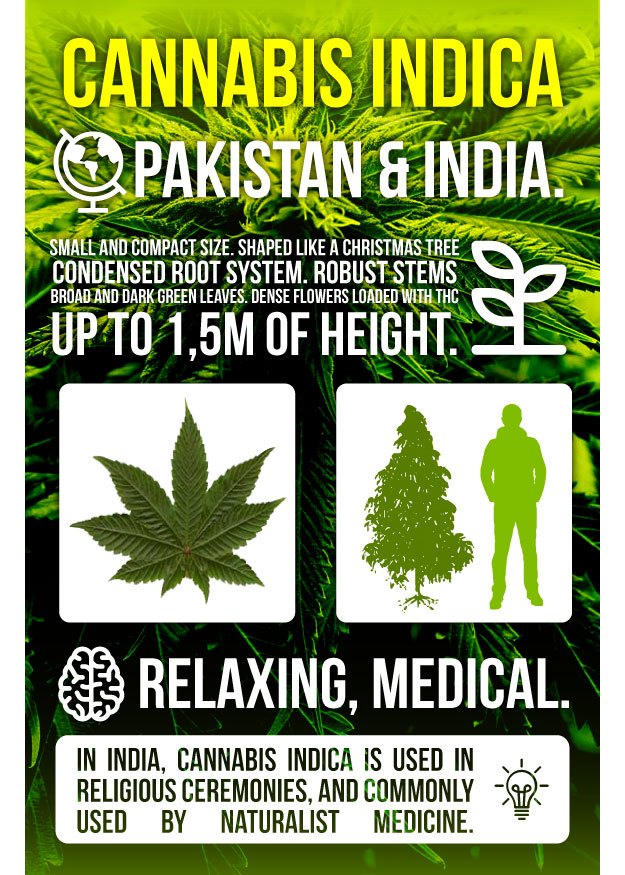 🔥 Marijuana Ruderalis
These plants are found naturally in Siberia and Kazakhstan, and fruit of the climatic conditions to which they are submitted, with few hours of light and very low temperatures, they have adapted to this type of means and what has caused that they do not need light to begin their flowering process. Its size is small and its appearance is wild, conical, as if it were a weed that borders the roads.
How is it cultivated?
The most outstanding characteristic of the Cannabis Ruderalis is its ability to flower according to the age of a particular plant, regardless of the photoperiod. This capacity is what we commonly know as autoflowering capacity, and that is why it is used in all crosses with original seasonal strains, to give them that autoflowering property.
What effects does it produce?
The plant Cannabis Ruderalis, does not have any effect by itself, by its low levels of THC and CBD, and it is for that reason that they are not usually found of pure form, but that they are used to combine them genetically with varieties Indicas or Sativas, that conserving intact all its properties, they manage to acquire the autoflowering capacity of Ruderalis, shortening the periods of flowering, and inheriting also its resistance to the climate and the plagues.
Did you know that… ?
As I mentioned before, the plant Cannabis Ruderalis is used by all breeders in the world to create their autoflowering varieties, crossing it with Sativa and Indica genetics, and they have improved over the years, to be placed in qualitative terms, at the level of feminised without doubt.
If you like autoflowering varieties I recommend you:
– Blueberry auto from Pev Bank Seeds, is undoubtedly one of my favorites, and not because bar for home, but because it is a spectacle, adapts without problems to all types of crops, climate, resistant to pests, flavor and aroma top, Can you ask for more?
– Super Hash Auto from Pyramid Seeds, what seduces me most about this plant, is its impressive Moroccan hashish flavor, strong and with a lot of personality.
– Auto Purple from Pyramid Seeds, and as you can see I have a weakness for the automatic varieties of Pyramid Seeds, on this occasion, its taste of must and fruits of the forest, I find irresistible!
Infography Marijuana Ruderalis: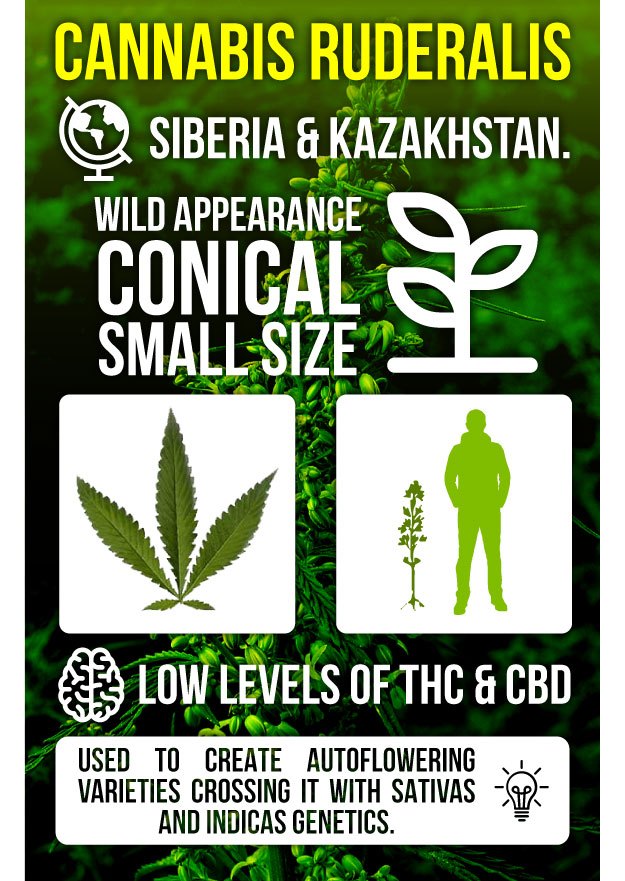 ✅ Différences between Marijuana Sativa, Indica and Ruderalis?
As you can see, each of them has different growth patterns, as well as completely different aesthetic characteristics, but today in the cannabis market, proliferates a large number of hybrids between Sativa and Indica, combined to the liking of the breeder depending on the effect it aims to achieve, and other factors to take into account, and of course the autoflowering versions that are achieved by combining the resulting hybrids earlier, with Ruderalis. Therefore, despite the majority of creations are hybrids, it is important that you know what their properties are and what effects or morphology will predominate depending on the dominant genetics.
⭐ Conclusion
In this article you have been able to learn which are the different types of cannabis plants that exist, as well as their main characteristics, effects and morphology, and differences between the three. If it has been useful to you, I would be very grateful if you could share it in social networks, you would help this blog grow day by day and you can continue enjoying the advice I prepare weekly for you!
Remember that you can also leave your doubts and tell us your experience in the comments section, thanks Cannalovers!

Alan Martínez Benito
CEO of Pev Grow, expert grower with more than 20 years of experience.
In constant struggle for the regulation of cannabis, mainly in the medicinal field.
See more posts
Landrace Marijuana Strains →