Reading Time
8
minutes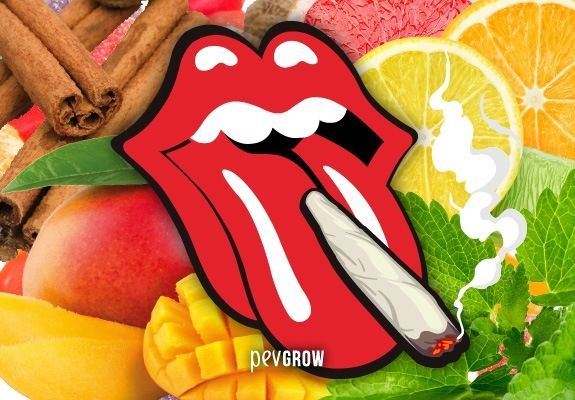 Fruity, spicy, wood, flowers … With the use of cannabis we can get as many flavors as you want at any time.
Each plant from the marijuana seed has unique characteristics of taste, smell and cannabinoids . The world of cannabis offers a wide range of possibilities , since the cultivation of different genetic variations can also have very different consumption experiences. Different flavors and smells that we can try and choose the one that best suits our needs.
Until not many years ago, only were known in marijuana 3 types of flavors: fruity, earthy and floral , but today, thanks to the crossing of genetic varieties, there are at least 48 flavors contrasted by experts and consumers . Among the flavors and aromas that can be found are the fruity flavor, the aroma of coffee, the aroma of cheese, the woody taste, the smell of jasmine, mint, pistachio, Tabasco, lavender … In addition, the origin of the entire range of flavors The marijuana offered is natural and organic.
🧐 Why are there different flavors?
And don't let them ask you what to do with your growth. Ask the Pevgrow community 👍!
The large number of flavors and smells that can be found in cannabis is the result of the combination of two organic elements present in marijuana: flavonoids and terpenes. The former are fragrances with many antioxidant and anticancer properties ( the best known flavonoids are beta-carotene and lycopene ).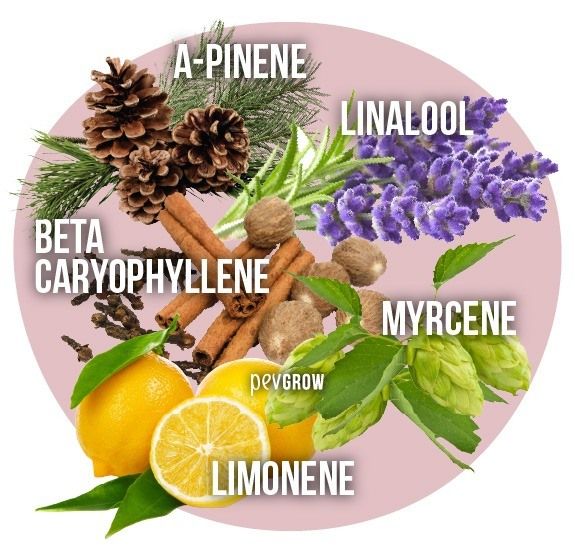 👾 Sweet-flavored marijuana
If we survey many cannabis users, surely a good portion of them would tell you that their favorite flavor is sweet. There is a huge palette of sweet flavors in marijuana, and many more have appeared in recent years thanks to the Cookies family, full of pastries, desserts, and even ice cream-flavored herb.
In this type of marijuana we can find nuances such as vanilla, honey, milk, etc. although the most common are usually fruity and floral, but these are so widespread that they deserve a separate category. If you like these pastry flavors, I recommend you take a look at the seeds Lava Cake, Biscotti, Girl Scout Cookies, Wedding Cake strain, Cereal Milk strain, or Ice Cream Cake among others.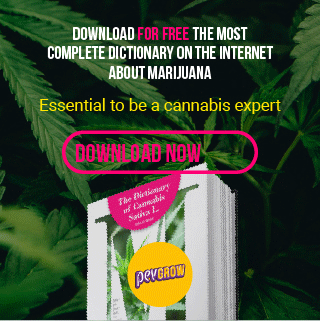 Free Download
Cannabis Dictionary
2023 Edition
Insert a correct email address
You must accept the privacy policy
SITE OF SHOPS ONLINE S.R.L with CIF: B98262777 and address for notifications in C/ VEREDA MAS DE TOUS Nº 22 LOCAL C, 46185 LA POBLA DE VALLBONA, VALENCIA, Phone: 961658271 Email: customer(at)pevgrow.com
At the name of Consulting we process the information you give us in order to provide the requested service, perform the billing of the same. The data provided will be kept as long as the business relationship is maintained or for the years necessary to comply with legal obligations. The data will not be transferred to third parties except in cases where there is a legal obligation. You have the right to obtain confirmation as to whether SITE OF SHOPS ONLINE S.R.L. is processing your personal data and therefore you have the right to access your personal data, rectify inaccurate data or request its removal when the data is no longer necessary
🎯 The best fruity flavors of cannabis
There are all kinds of fruity tastes in yerba, especially citrus thanks to the terpene limonene, but when this is with linalool, myrcene, or caryophyllene, it achieves combined combinations that can be reminiscent of banana (Banana OG), pineapple, grape, or mango among many others. Below you can see the most notable ones:
Grapes: It is the most fashionable fruit in recent years, since some of the most awarded hybrids of the last decade share this flavor. Grape Ape is one of the grape most widely used varieties in the USA to create new strains, as is the case with the mythical Grandaddy Purple, but without a doubt the most sought after today are the Purple Punch crosses such as Slurricane or the potent and tasty Wedding Crasher.
Tropical: Fruit flavored marijuana has always been considered exotic, as it is not as common as other fruity touches. Cinderella 99 became very famous at the time for being the first pineapple-flavored marijuana strain after the legendary Maui Wowie, but now there are others such as Guava Cake, Papaya, Forbidden Fruit, or Grapefruit that are reminiscent of tropical fruit and have a very intense flavor.
Berries: The famous Blue family of cannabis rose to world fame thanks to its beautiful colors and excellent berry flavor. Within this category we must highlight the great Blueberry, and what we consider to be its best offspring, Blue Dream.
Multifrut: Among the cannabis strains that mix many fruity notes should be highlighted Skunk, but there are other seeds that have become classics such as Critical Plus or Somango that seem to further accentuate these organoleptic properties.
Other fruity flavors of cannabis: Today you can find all kinds of fruity flavors in marijuana, from cherries like Cherry Pie, tangerines like Tangie strain, or even apples like the delicious Apple Fritter.
Sweet marijuana with floral touches
Although generally they tend to like fruity tones more, there are many people who prefer herbs with floral flavor within the sweet varieties. It really is one of the most widespread flavors in marijuana, as there are landraces like Jamaican Lambsbread that contains it. Other good flower varieties are White Rhino or Great White Shark, but you have a great supply of these types of seeds today.
Cannabis strains with a sweet caramel or candy flavor
Who doesn't like candy? Well, today we are lucky enough to be able to taste many marijuana with this flavor thanks to the multiple genetic combinations that have been made in recent years. From our point of view, the best marijuana seeds with a candy or caramel flavor are Bubble Gum, Zkittlez, Gushers, Runtz Strain, or the delicious Candyland Strain.
✅ Chemical flavors in marijuana
Chemical flavors are not very common in pure breeds, but since they appeared on the scene they Chem family have become more and more common. Although it seems too coincidental, the term Chem in this type of cannabis is given by Chemdog, the breeder who created the hybrid known as Chem Dawg, and not so much for its aroma or flavor.
The entire OG kush line, and a large part of the Sour family share chemical nuances, some that are more reminiscent of fuel, others that smell like solvents, cleaning products, metals, or even petroleum derivatives such as plastic or neoprene. From our point of view, the best chemically flavored marijuana strains are Chemdawg, OG Kush, New York Diesel, or the sticky Gorilla Glue.
🚀 Frankincense, the densest smoke cannabis
Incense flavors in marijuana were very fashionable during the 90s, coinciding with the reign of Haze hybrids in the Netherlands. It is curious to see that the Original Haze, the mother or grandmother of all those hybrids, did not have that cathedral aroma, but the vast majority of the offspring share that quality.
Among the hundreds of genetics that taste like incense, we must highlight some seeds such as Jack Herer, Amnesia CBD, Super Silver Haze, Neville's Haze, or even autoflowering such as Auto Northern Lights X Auto Haze, or the colossal Haze XXL Auto.
👌 Marijuana, that particular Earthy Flavor
The Earthy Flavor in cannabis is one of the most common, and that is not by chance, since this marked taste is given by myrcene, a terpene that is usually present in all varieties in greater or lesser to a lesser extent, since it is the second most widespread after caryophyllene.
If you are looking for seeds marijuanawith an earthy flavor, I recommend that you take a look at the famous Bubba Kush, which combines this taste with coffee touches to create a very original smoke. Another prestigious strain of cannabis with an earthy flavor is Skywalker OG strain which also gives you a top-notch high. Green Crack is another very earthy herb, although its flavor incorporates citric nuances, the aftertaste that remains in the mouth and the prevailing aroma is very similar to wet earth.
✨ Mentholated flavors in cannabis, fresh smoke and very mild balsamic
There are some pure varieties from Asia that produce a very smooth and refreshing smoke, reminiscent of the menthol cigarettes sold by some tobacco brands. But this type of flavor became fashionable with the appearance of the Cookies genetics, especially after the great fame achieved by the Thin Mint Cookies phenotype.
The terpene responsible for the mentholated flavor in marijuana is ocimene, and it is not usually at all common compared to others, but that does not mean that you cannot get commercial seeds with these organoleptic properties. Animal Mints is one of the most minty cannabis strains on the planet, which also offers a very powerful effect and great resin production. Other Options mentholated marijuana are Kmintz from Ripper Seeds or Biscotti Mintz from Barney's Farm.
⛳ Marijuana with a woody and spicy flavor
A few years ago it was one of the most common flavors among the herbs that were consumed, since it became very fashionable with the mythical Original Haze and some of its crosses. It must be said that it is usually quite common to find landraces with this type of flavor, especially in pure sativas, so many commercial seeds that are sold at the moment share this terpenic profile.
The mixture of caryophyllene and myrcene results in a smoke loaded with nuances reminiscent of cloves, thyme, rosemary, black pepper, noble woods, and many other notes that are usually incense, or even reminiscent of leather or leather garments. Right now there are a lot of marijuana seeds available with woody and spicy flavors, but if you want recommendations I advise you to take a look at Kali Mist x Jack Herer or Hindu Kush x Northern Lights.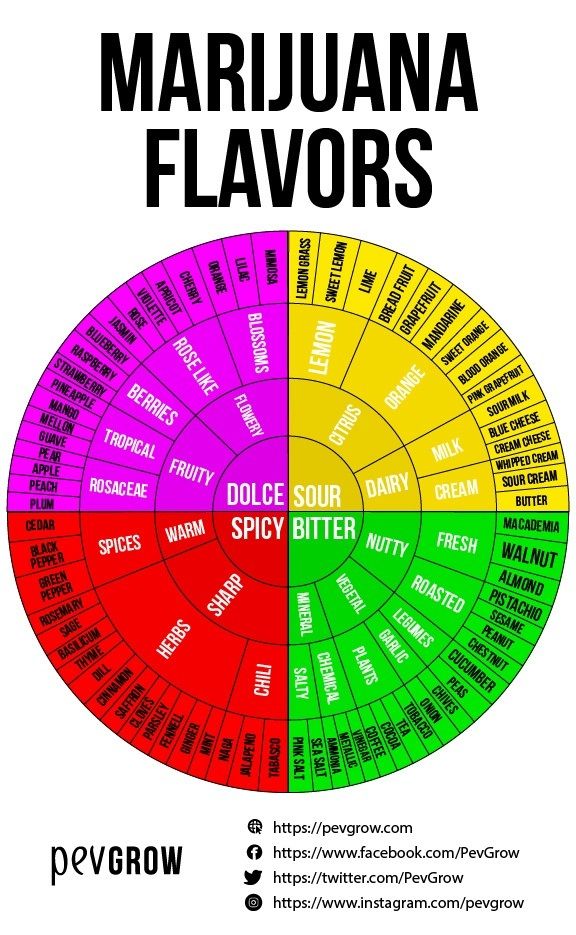 ⭐ Other outstanding flavors in marijuana
Over the last few years, a series of flavors have appeared in cannabis that show that with a certain proportion of terpenes and flavonoids, practically any taste can be achieved with this herb. Flavors of licorice, vanilla, wine, cheese, chocolate, popcorn, tea,etc.they are becoming more common, and with the massive breeding that is being done at the moment it is very possible that more and more appear.
One of the latest trends is the flavors of refreshing drinks, a trend that began with the famous Sunset Sherbert, reminiscent of slushies, and has continued with Sundae Driver and cocktails Mimosa and Bellini, among many others.
🔥 Conclusion
If with all the inconveniences that the prohibition of cannabis entails, so many different types of flavors have emerged, it is easy to imagine that in the coming years tastes for all tastes will appear. There are some seed banks that are making hundreds of genetic combinations to get flavors à la carte, so we are sure that the best is yet to come, and we will be there in Pevgrow to tell you about it.
⚠️ Frequently asked
How to make my yerba taste better?
The way marijuana plants are grown has a direct impact on the flavor that the buds will later have. Organic fertilizers origin enhance the creation of terpenes, flavonoids, and other aromatic molecules, and it is best that produces a mild smoke without scratching anything, so it tastes much better. A good washing of the roots, drying at a low temperature and a long subsequent is also very important so as not to lose a part of the compounds responsible for the aroma and flavor. You also have the option of using products that enhance the flavor of cannabis, but the organoleptic quality is determined by the genetics of the plants, the way they are grown, and the type of drying and curing that is done.
What is the best tasting marijuana plant?
This is very relative, as well as asking what is the dessert with the best flavor. Being objective, it is easy to think that the favorite flavors for most consumers are sweet and fruity, that is why they are also the most widely offered. If we talk about flavor intensity, I will tell you 3 genetics, Cheese, Tangie strain, and Sour Diesel, 3 different tastes that collapse the taste buds due to the large amount of terpenes they contain, flavors that remain intact from the first to the last puff.
How to flavor marijuana with fruit?
This does not work with all types of fruit, but to some extent you can add a little flavor to those buds that do not taste like anything. In tests carried out by ourselves, we have found that the best fruits to flavor insipid marijuana are citrus fruits, especially if they are freshly picked from the tree. If you want to try this method, it is necessary to over- dry the marijuana you want to improve, then put it in a glass jar that can be closed by vacuum, and before closing it, introduce pieces of orange, lemon, or mandarin. You have to leave it like that for 10 or 15 days, but it is very important to open the jar once a day for 5 or 10 minutes so that moisture does not accumulate.
Die besten Skunk-Sorten aller Zeiten →