Do you need accessories to assemble a drip irrigation system for marijuana plants? Well, you have come to the best place, because in this category you will find everything you need to be able to install a perfect automatic irrigation for cannabis, from tanks to water and air pumps, without forgetting the tubes, hoses, drippers, osmosis, diffuser stones, and kits drip irrigation systems that come with everything you need so you don't waste time choosing the products that make them up.
What is a drip irrigation system?
It is a method of automating the irrigation of the plants of our indoor or outdoor garden, in which different accessories are installed to facilitate the arrival of water and the nutrient solution from a tank to parts called droppers that have the ability to irrigate drop drop. This system is the most efficient when it comes to taking advantage of water and fertilizers, and it can be used in pots, slabs, or even when grown directly in the ground, as is often the case outdoors.
Accessories for the assembly of automatic cannabis irrigation
Watering is one of the hardest jobs that we self-consumption marijuana growers face, since these plants need to consume water and nutrients very often to achieve the best development, in some cases even daily. The best solution for many of us is to set up an irrigation system for indoor cultivation, since it allows you to prepare a tank with the nutrient solution for several days and program the frequency or amount of irrigation that the plants will receive.
Outdoors, the automatic irrigation of marijuana is also interesting, especially in guerrilla crops that we cannot visit every day, or for the summer season where the plants require large amounts of water. Both in indoor and outdoor cultivation, an automatic drip irrigation system may be the best or only solution to be able to go on a trip for several days without worrying about watering the cannabis, and with the peace of mind of not having wilting problems. plants due to lack of water.
The best irrigation accessories for marijuana
Depending on the size of your crop, the number of plants, their size in relation to the size of the pot, the environmental parameters of the crop, and the variety grown, plants may have different water needs, and this can vary greatly from one crop to another. It is also important to take into account if it is grown indoors, outdoors or in a greenhouse, since in indoor cultivation the parameters can be kept more stable than outdoors.
The cultivation method also totally changes the way the plants are watered, since in aeroponics the plants are receiving nutrient solution at all times, in hydroponics they need larger amounts of water than the same plants grown in coconut fiber, and growing with soil Water needs may be lower due to its greater capacity to retain moisture, especially in soils that contain a large amount of black peat and earthworm humus.
Parts of the drip irrigation system
The accessories that usually make up an automatic irrigation system are a tank to fill with water and fertilizers that represent the nutrient solution, a programmer that manages the quantity and frequency of irrigation, a water pump that drives this nutrient solution, a tube or hose that is usually 16mm or 25mm, fittings, elbows, end plugs, etc. and the droppers that are introduced into the substrate of our plants. In the case of not having soft water in the general household network, it will be necessary to install reverse osmosis equipment to eliminate part of the salts and obtain base water for irrigation with an E.C. less than 0,4.
This would be the necessary circuit, but it is also important to install an air pump with an airstone that is inserted into the tank to oxygenate the nutrient solution. Other accessories for the irrigation of marijuana would be a buoy kit that is placed in the tank to close the tap when it is full, preventing it from overflowing in cases of mistake and allowing it to automate its filling. Once the nutrient solution is prepared, it is also advisable to introduce a water heater so that the plants do not have root thermal shock, taking into account that the ideal temperature of the irrigation water is around 22º C. The most gourmet growers also use an ozonator to disinfect the water, eliminating possible pathogens that may be present.
If you don't want to complicate too much, you also have the possibility of installing an automatic irrigation kit for indoor cultivation, since it contains all the necessary irrigation accessories in the same set that can also be cheaper than buying everything separately.
How to install a drip irrigation system
If you are planning to set up your own hydroponics system, you can buy plastic pots with drainage, fill them with expanded clay, place a drained growing tray on top of a rectangular tank, and place the pots on top of the growing tray or table. Then an irrigation system can be assembled by putting a water pump inside the tank, from which a 16 mm tube comes out and goes up to the culture tray, and in it place the drippers that will be inserted between the clay balls. expanded to irrigate with the nutrient solution that we prepare. A diffuser stone is placed inside the tank, which is connected by a non-toxic tube with an air pump, to keep the nutrient solution oxygenated at all times.
This would be an ebb and flow system, because the excess nutrient solution would come out through the drain in the pots, down through the drainage hole in the culture tray, and then fall into the tank where the pump would recirculate it. With this same configuration, irrigation can be set up for aeroponic or NFT cultivation, but the pots would have to be changed for closed tubes, coconut or rockwool slabs, or textile pots. For a normal crop planting in soil or coconut fiber we need an irrigation controller or timer to be able to adjust irrigation times and frequencies, and the excess water would be better to discard in this case, but the circuit would be quite similar in general.
Diagram or design of a drip irrigation system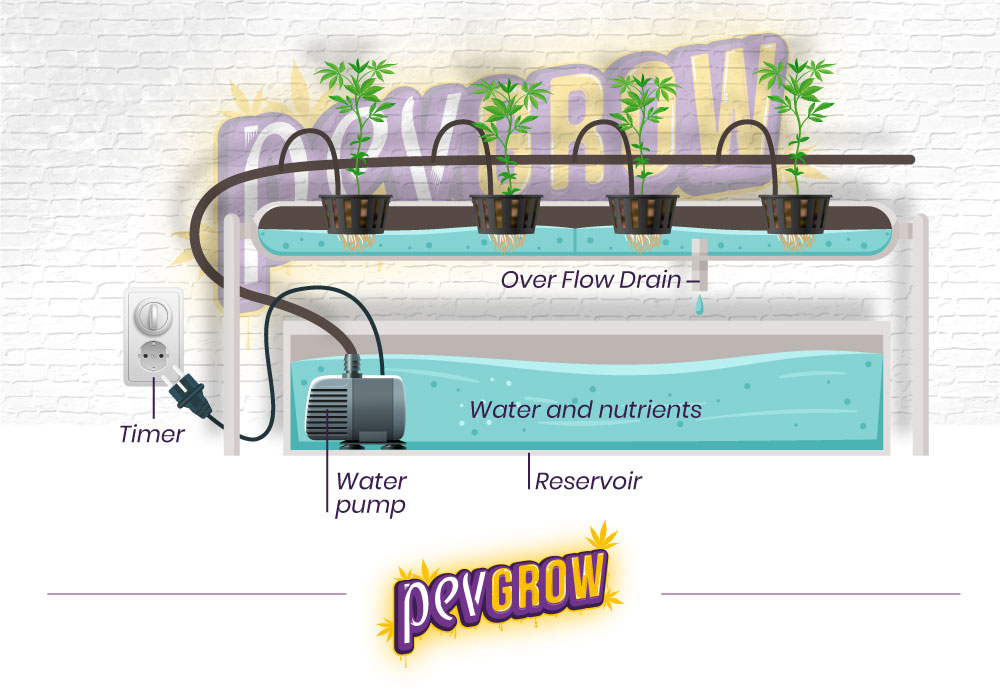 *image of an automatic irrigation design with ebb-flow system*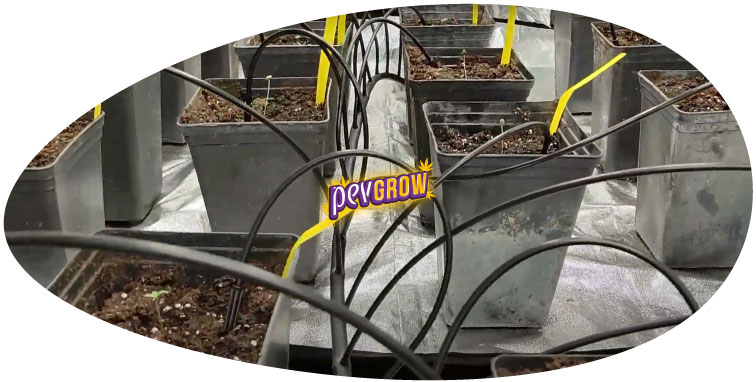 *image of the upper part of the crop where you can see the 16 mm tube and the drippers that come out of it and are installed in each of the pots to facilitate drip irrigation of marijuana*
Irrigation accessories for gardening in general
In this category you also have other irrigation products available such as manual or pre-pressure sprayers of various capacities, irrigation blankets, osmosis equipment, accessories for irrigation hoses, irrigation programmers, automatic irrigation systems for individual plants, irrigation lances, etc.
Depending on whether you grow outdoors or indoors, with soil, coco, rockwool, expanded clay or another substrate, and also depending on the size of the container or pot, you will have to water more or less frequently and with more or less water. amount. of water, so several factors must be taken into account before deciding on the accessories for garden irrigation or indoor cultivation that you may need in each case. I invite you to read this article on our blog in which we explain how to perfectly water marijuana plants so that it is clear to you and you do not make many of the usual mistakes that we usually make when we start growing.
Sale of accessories for drip or manual irrigation
Now that you have seen all the necessary accessories to assemble drip irrigation systems for marijuana, all that remains is to see what you need to automate the irrigation of your crop, calculating the specific needs of your plants in order to choose the size of the tank. the meters of tubes and ducts, accessories, elbows, plugs, derivations, etc. Take a tour of these subcategories and choose the accessories that best suit the specific needs of your crop, and if you have any questions you can contact us without obligation, we are here to help you.
Opinions and doubts about Drip irrigation systems
Leave us your opinion or ask us any questions you have about this category and participate in the draw!
Among all of you who comment or send us your questions there will be a bimonthly draw for a 50 euros voucher to buy in Pevgrow. What are you waiting for? Write now and participate!