Auto AK are autoflowering marijuana seeds from the Spanish Seeds bank, which stand out for their simplicity of cultivation, hybrid vigor, speed and production. It is one of those special strains for people who have just started growing cannabis, because it responds well in any circumstance.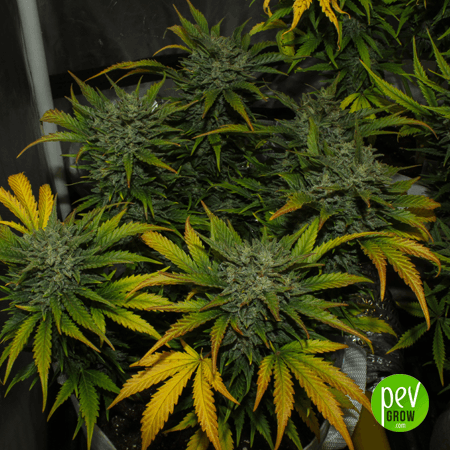 What is the genetics of Auto AK seeds?
It is the automatic replica of the famous AK-47 from Serious Seeds, and to integrate the genes responsible for autoflowering to this plant they used the Lowryder # 2 genetics from Joint Doctor. After 4 generations of stabilization, 100% of the offspring auto-flower at 4 weeks of age, sharing many of the highly desired traits of the potent AK-47.
What is Auto AK like in general terms?
It is very homogeneous, with little variation between phenotypes, hybrid with a great predominance of indica, compact morphology, strong trunk and branches, medium-sized leaves and high growth speed from when the seedling appears from the surface of the earth.
During pre-flowering it stretches its structure, so it expands both vertically and horizontally, stretching the nodes to make room for the buds, which are very compact, hard and really sticky.
How are these seeds grown indoors and outdoors?
Indoors you have several options, but if you grow with soil, I recommend putting 16 plants / m2 in 1.8 US gal(7-liter pots), with a continuous photoperiod of 16 hours of light and 8 hours of darkness.. On the other hand, if you grow with coconut fiber or Hydroponic you can put 4 plants / m2, but in this case it is better that the photoperiod is of more hours of light, 20 on and 4 off is the best to exploit the performance indoors.
For outdoor growers we have good news, because Auto AK seeds perform well in different environments, and can be grown outdoors all year round except in Winter, which does not usually grow much, not only because of the cold, on all because of the few hours of sunshine that there are at this time of year. If you want it to grow as big and productive as possible, don't skimp on soil and pots, give it more than 20 liters of substrate and Auto AK will make up for it with an extraordinary harvest.
When are Auto AK harvested?
Normally they are among the first to pick up, the pace of development that it imposes from the first stages of life allows it to finish much earlier than other cars, not to mention the photodependent ones. In indoor crops, needs around 70 days to complete its cycle, counting from germination to harvest.
If you grow it outdoors out of season it may require a week or even 10 days more than indoors, but in Spring and Summer its complete cycle is 2 and a half months approximately. This is because cold, cloudy or rainy days, and other inclement weather can delay the rapid development of these automatic seeds.
How much do these Spanish Seeds produce?
They are very commercial seeds, because they offer high bud production in the shortest possible time. In indoor cultivation you can get more than 17.6 oz per 3x3ft (500 grams / m2) without much effort, just by following the advice we have given you before. In outdoor cultivation each Auto AK will give you between 2,4 oz/plant to 4,2 oz/plany (70 and 120 grams )of dry cannabis.
How is the taste and aroma of Auto AK?
If you like very strong aromas and flavors, you will love Auto AK, because it is quite particular. It has the sweet touch of Skunk, but accompanied by citrus notes and a spicy point that gives it away, because it is very genuine in this variety. If you are going to grow it indoors, keep in mind that from mid-flowering it smells a lot, and a good anti-odor system is necessary so that it is not noticeable.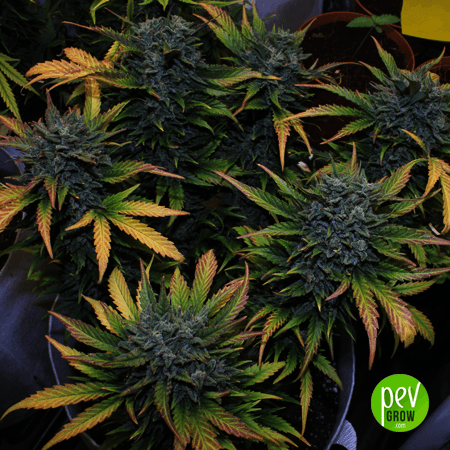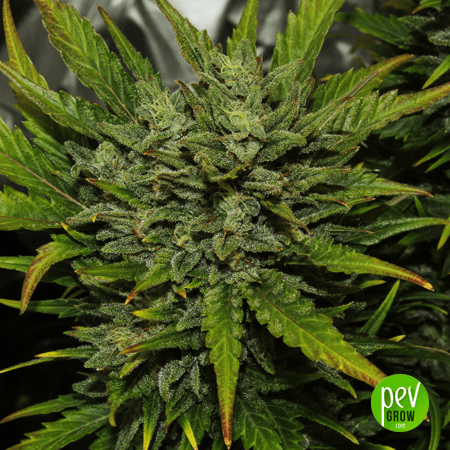 What kind of effect can we expect?
Very much in the style of modern indicas, which keep your body calm while stimulating the mind.. Recreationally, it is very good herb to have a laugh with friends, play video games, watch movies for stoners, etc. But if you need cannabis medicinally, can come in handy to relieve certain pains, open up your appetite, relax muscles, and stop seizures and spasms..
Buy Auto AK seeds from Spanish Seeds with the best quality / price ratio
Fans of the legendary strain AK 47 are in luck, here is a great autoflowering version with many of the traits of the champion of the 90s. Make a hole in your garden, germinate these seeds, and enjoy everything that it can offer you.
You may also be interested in: