PEV Grow presents White Widow x OG Kush by Spain Bulk Seeds. When we thought that breeders of Spanish Seeds had offered it all, they presented us a hybrid of this magnitude, a fusion between the great White Widow and the queen of America, OG Kush. You can't resist this temptation!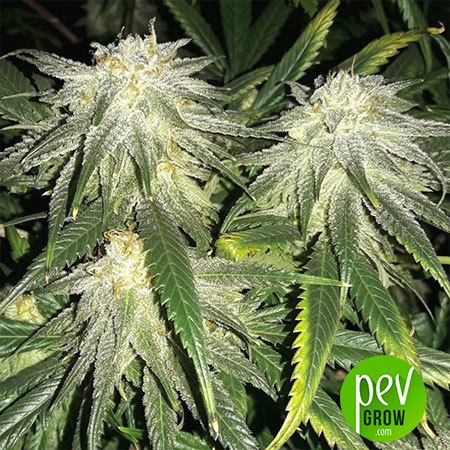 What is the morphology of White Widow x OG Kush? 
White Widow x OG Kush is a dominant indica marijuana, very similar in appearance to a Christmas tree, but underneath that aspect of a good girl there is a real beast that wants to be released. It grows strong and rude, does not need extra help to support the weight of their large crops, and it also has a fast flowering, about 55-63 days.  
What is the taste of White Widow x OG Kush? 
You've probably never tasted anything like this, a combo between the fruity and bittersweet touches of White Widow blended with a metallic and spicy Kush background, coupled with that characteristic pine aroma, an off-world sensory experience! 
What is the effect of White Widow x OG Kush? 
A variety suitable for smoking at night, right before bedtime, for its very relaxing effects that at a medicinal level are highly valued for its analgesic, anxiolytic and anti insomnia properties.  
How is White Widow x OG Kush cultivated? 
In indoor crops, the key factor is to choose the right lighting system, and undoubtedly the most recommended option for both performance and energy efficiency is to install a LEC light with 315w power. With half the power of a traditional system, it provides more intensity, less heat and the results are much better. Regarding the pots, I placed it in pots of 11 liters, with which I put 9 plants per m2.  
In outdoor crops, you will be able to cut it at the end of September, so you will not have problems with humidity or cold, as you will cut it before the rainy season arrives. 
How much does White Widow x OG Kush produce? 
Without a doubt the production is one of the strong points of this plant, with yields that can reach 900 grams per plant outdoors in sunny conditions and good temperatures, while indoors you can easily reach 550 grams per m2. 
Don't miss this great opportunity and buy at PEV Grow White Widow x OG Kush from Spain Bulk Seeds. Impressive!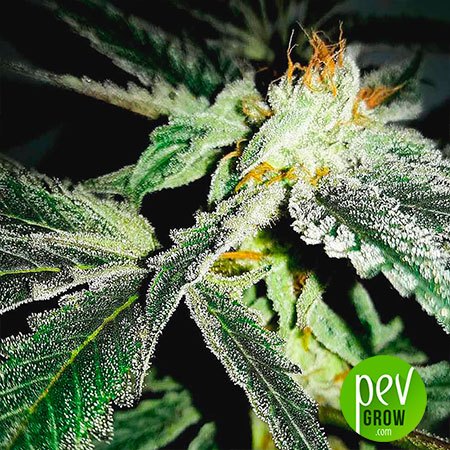 You may also be interested in: