The White Widow x White Widow seeds represent the feminized version of one of the most important strains on the cannabis market of all time, the genetics that put Amsterdam on the map, the mother of the white family, the original, the Great White Widow.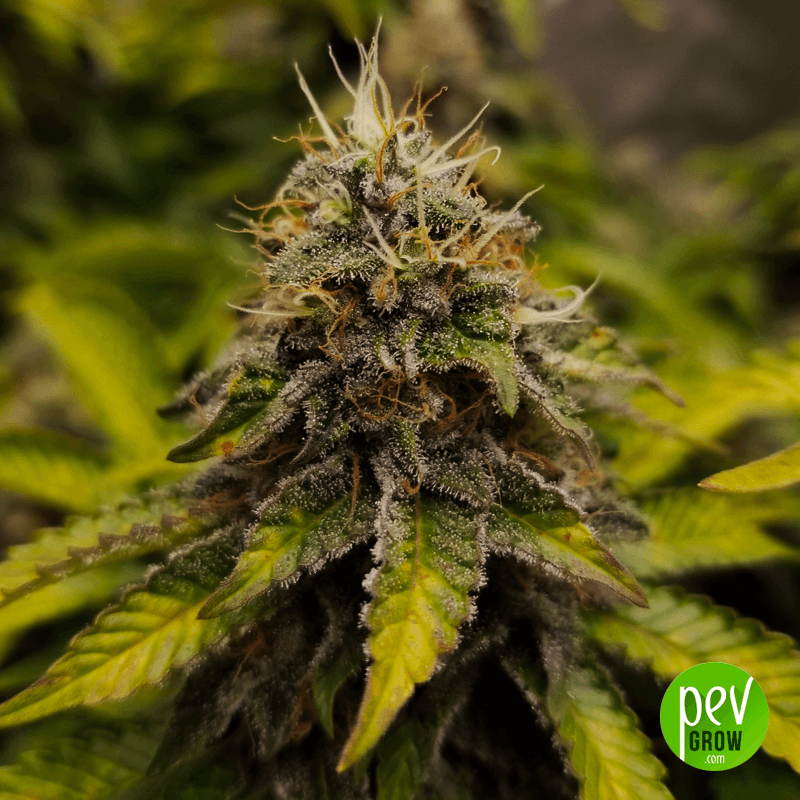 What is the genetics contained in these seeds?
They are seeds S1, which means that they are the product of self-pollination of a cutting by itself, in this case selected from the White Widow genetics, which is a F1 hybrid with parents from South India and Brazil.
This rearing method stabilizes many traits in the offspring in just one step, and in this case 100% of the progeny share the same desired qualities in terms of morphology, production, taste and effect. White Widow x White Widow by Spanish Seeds is a very balanced hybrid , around 50% indica and 50% sativa.
How is White Widow x White Widow in general?
It is very homogeneous, it grows at a good pace forming a robust structure, with strong branches and a thick trunk. If it is not pruned, it ends up in the shape of a small Christmas tree, with perfect geometric proportions.
In flowering it unfolds its full potential, developing some very compact flowers, with an unusual density, and hard as golf balls. The layer of resin that bathes the closest buds and leaves gave them the name White Widow to this plant, and although now there are strains that even exceed that amount of trichomes, when this variety came out it had never been seen nothing like it.
How are White Widow x White Widow seeds grown?
In indoor cultivation we think that it is better not to prune, and to take advantage of the main tips of the plants, which in this case are of an exaggerated volume. You can put 16 plants / m2 in 1,8US gal (7 liter pots) with 3 or 4 weeks of vegetative growth, and after that time change the photoperiod to flowering.
On the contrary, grown outdoors or greenhouse we prefer to do apical pruning or FIM, and distribute the buds better throughout the plant. This is so because if the larger flowers get wet once they are formed, fungi can develop that destroy our harvest, and that cannot happen.
When are these feminized seeds harvested?
Its indoor flowering cycle is approximately 9 weeks or 9 and a half weeks, and this also depends on your personal tastes about the effect. If you prefer it to be more cerebral and less narcotic, you can cut it with about 60 days of flowering, but if you like the more sedative and relaxing potency, wait until 67/70 days.
In outdoor cultivation it is harvested at early October in the northern hemisphere, and if you grow it with the help of the sun in the southern hemisphere, you will have to wait until the beginning of April if you want to cut it mature.
How much do White Widow x White Widow produce?
Each indoor plant can give you about 30 grams, so if you follow our advice and put 16 / m2 you can get
from 15.8 oz per 3x3ft to 

17.6 oz per 3x3ft

 ( 450 to 500 grams / m2 )in indoor cultivation.
Outdoors each White Widow x White Widow can produce
more than 

 24.7 oz

700 grams
of dry grass, especially if the seeds are germinated early and transplanted to mother earth. The production of trichomes and cannabinoids is very high too, so the total yield of these seeds is very interesting.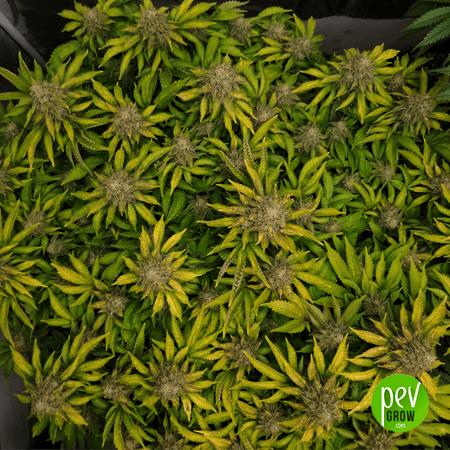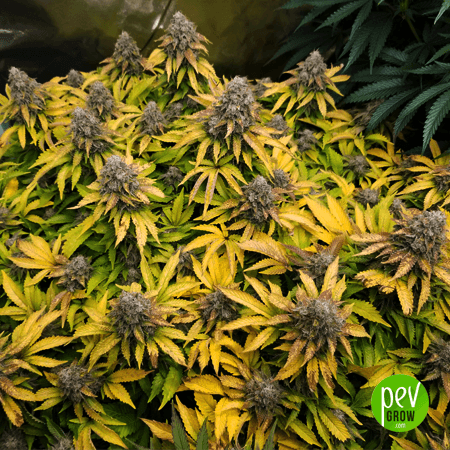 What does this cannabis smell and taste like?
The aroma is floral of medium intensity, the kind that do not smell much until you touch the buds in green, or when you carve the dry grass, there it does smell and good. The flavor is bittersweet, with very marked nuances, in a very dense smoke that enters smoothly and does not scratch anything with a good root wash.
How is the effect of White Widow x White Widow?
Very complete, with a very euphoric, social, stimulating and creative initial part, which is followed by an effect that is becoming more and more relaxing in every way. It is really powerful, not suitable for all audiences, long-lasting and very good medicinally.
Buy feminized seeds White Widow x White Widow from Spain Bulk Seeds online at the best price on the market
In all the rankings of the best cannabis seeds of all time, White Widow is always among the best positions, and it is not by chance, it is He has won it hard. A natural work of art, which includes the soul of 2 pure sativas in its genes, but in a body of indica, easy to grow and fast flowering, one of those varieties that you have to try at least once in your life.