Auto Blueberry are autoflowering marijuana seeds produced by the Spanish Seeds bank, and they have always been among the favorite varieties by consumers. This is no coincidence, since we are talking about one of the classic strains, a natural work of art that ended up forming its own cannabis family, and although the years go by and new fashionable hybrids appear, this genetics will always be at the top.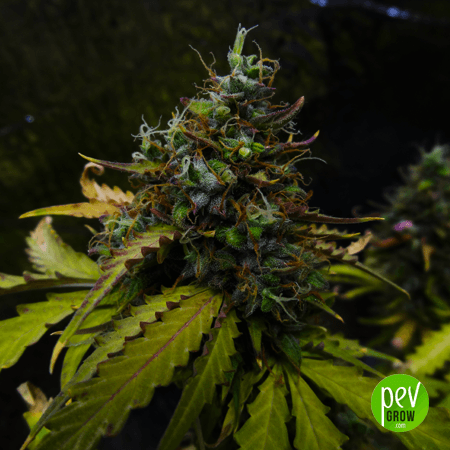 What is the genetics of Auto Blueberry seeds?
The producers of Spanish Seeds pollinated an elite clone of Blueberry that was selected in Spain at the end of the 90s, with an automatic flowering variety that only contributes the genes that mark spontaneous autoflowering.
The progeny is homogeneous in many respects, 100% autoflowering and feminized, and with many of the traits that made Blueberry one of the most beloved herbs in history. Its genotype is mainly indica, around 60%, with 20% sativa and another 20% ruderalis.
How is this variety in general?
In appearance it is very pretty, due to its solid constitution, its bluish colors and its bushy growth, which ends up forming the typical Christmas tree. Its leaves are large and a fairly dark shade of green, and it does not branch as much as other autoflowering plants. Thanks to this columnar structure, in flowering it builds a large central bud, very prominent, large and compact like few others.
How is Auto Blueberry grown indoors and outdoors?
In indoor cultivation, the ideal is to put 16 plants / m2 in 1,8 US gal (7-liter pots) , and if you don't have much growing experience, I recommend not transplanting, that is, sowing the seeds directly in those pots. The ideal photoperiod to squeeze its production is 20 hours of light and 4 hours of darkness per day throughout the growing cycle, both for vegetative and for flowering and maturation.
If you are lucky enough to live in a place with a temperate climate, you can grow up to 4 complete crops of these autoflowering seeds outdoors, in places with a continental climate you can grow 3, and in others with a tropical or equatorial climate you can grow it. a long the whole year. Outdoors it grows more if Auto Blueberry seeds are planted in large pots or in mother earth, especially in the season with more hours of sun.
When is this automatic variety harvested?
According to Spanish Seeds , it only needs 73 days of cultivation in total, from seed to harvest. This is relative, because due to environmental, cultural, or even genetic factors, it may mature earlier or need more time for its optimal harvest.
How much does Auto Blueberry from Spanish Seeds produce?
Indoors if you take into account the advice we give you, each plant can give you about 30 grams, and together you can get from 15.8 oz per 3x3ft to 17.6 oz per 3x3ft (450 to 500 grams / m2). Outdoors or in a greenhouse each Auto Blueberry can produce about 4,4 oz (125 grams) ready to eat.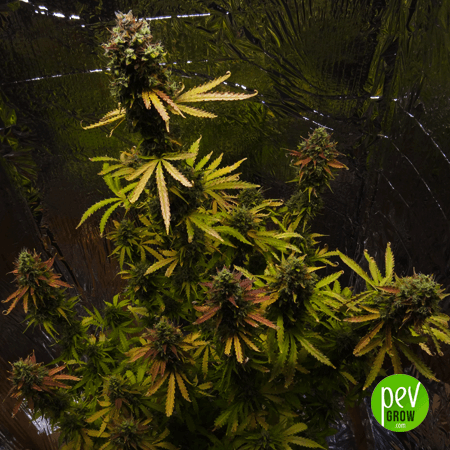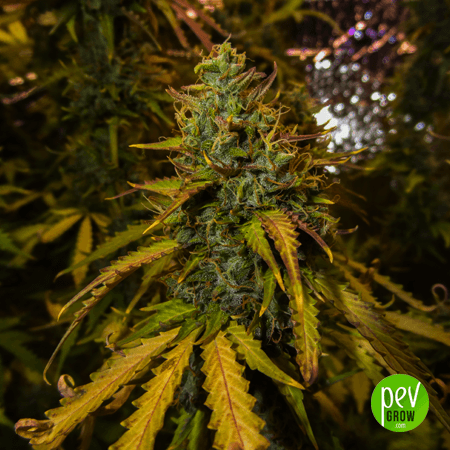 How is the taste and aroma of this automatic genetics?
From our point of view it is the best that these autoflowering seeds can give you. Earthy aroma, reminiscent of humid forests, and the taste is the most delicious you can imagine, like a fruit of the forest fruit salad, with equal parts sweet and earthy nuances, you will not want to try another.
What kind of effect does Auto Blueberry have?
If consumption is moderate, its effect is very pleasant, because keeps you awake and with an active mind, but totally relaxed on a physical level. On the other hand, if you go overboard, it becomes more sedating and narcotic, to the point of leaving you in a hypnotic state or directly asleep. Compared to the normal version, Auto Blueberry could be said to be more indica in this regard.
Buy cheap Auto Blueberry seeds online
If you are not an expert grower, and have never tried Blueberry genetics, these seeds are special for you, because they represent the fastest and easiest way to harvest cannabis from the Blue family.
You may also be interested in: