Auto AK x Auto Somango are the autoflowering seeds created by Spanish Seeds from the crossing of 2 special varieties for inexperienced growers due to their zero difficulty, great bud yield, and above all because they are one of the preferred flavors among consumers. .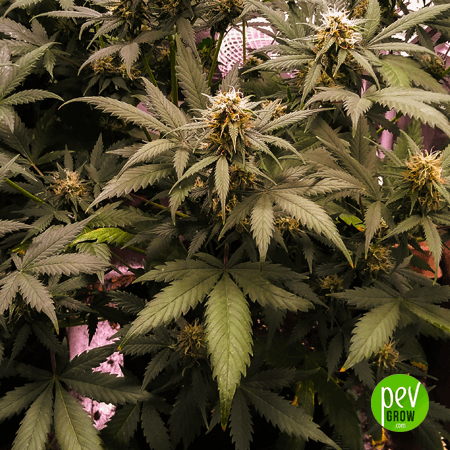 What is the genetics of Auto AK x Auto Somango seeds?
The parents of these seeds are easy to guess, right? But ... do you know where they come from? They are both polyhybrids heavily influenced by Skunk # 1, and that can be seen in several of their traits with the naked eye.
How is Auto AK x Auto Somango morphologically?
It is rather low, dense structure, with branches that do not develop much, so they are close to the main trunk. The distance between nodes is minimum, and it forms quite a leaf, so it is not a bad idea to apply a defoliation during pre-flowering.
At approximately 22 days of age it will begin to produce pre-flowers, although it will continue to grow for another 2 or 3 weeks, but at the same time it flowers. When it stops growing, it focuses on fattening the flowers, which end up being large and very compact.
How are these autoflowering seeds grown?
To take better advantage of the columnar constitution of this plant, in indoor cultivation the ideal is to try to make a SOG as uniform as possible. If you put 16 plants / m2 in 1,8 US gal (7 liter pots), with substrate type All Mix, and a photoperiod of 20 hours of light and 4 hours of darkness, you can achieve a great yield, with 16 huge main buds surrounded by secondary branches of good gauge.
In outdoor cultivation you can harvest throughout the year, but keep in mind that they will always develop better when they have more hours and intensity of sun. To try to reach the maximum size and therefore also production, it is necessary to try to form the largest root system in the shortest possible time, and for this it is best that they have enough liters of substrate rich in nutrients, so it is well thought out. use pots of more than 20 liters capacity.
When are Auto AK x Auto Somango harvested?
They are the fastest autoflowering seeds on the market, since in some cases they do not need more than 65 days of cultivation, counting from germination to harvest. On average usually take about 70 days to complete their total cycle, and it is possible that outdoors it will take a little longer, especially when they do not have the ideal conditions for optimal development.
How much do these Spanish Seeds produce?
In indoor cultivation you can achieve a harvest of more than 15.8 oz per 3x3ft (450 grams / m2) in just over 2 months, a high harvest if you take into account the minimum growing time that these seeds need.
Outdoors each Auto AK x Auto Somango can exceed 3,5 oz (100 grams) dry, but keep the advice I gave you previously, the more hours of direct sunlight and substrate these plants have, the better.
The resin production is very high, and it is extremely sticky and aromatic, special for cannabis extractions, since the return is high and the quality speaks for itself.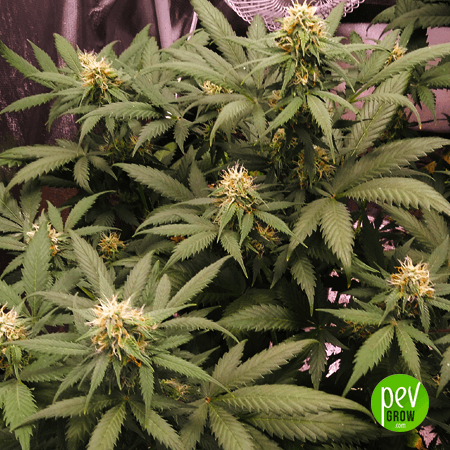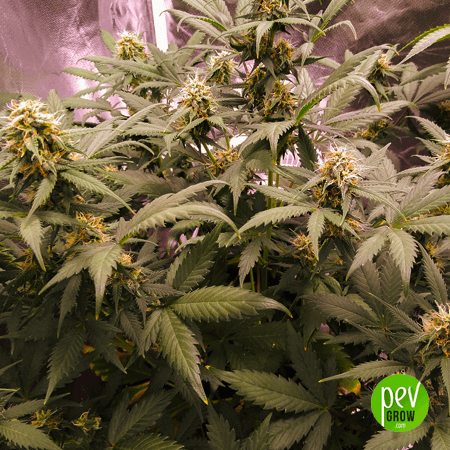 How is the aroma and taste of Auto AK x Auto Somango?
The aroma is very attractive, a fragrance that is marked, sweet and persistent. The flavor is more intense than that of most automatic varieties, very sweet and fruity, with many notes that remain on the palate.
What kind of effect does it have?
It is a stimulating point on a psychological level, it raises morale, motivates, and cheers. But what is most appreciated is the powerful relaxation of extremities and muscles in general, something that can be very interesting if used in a therapeutic way. At a recreational level, it is ideal to rest at night with total peace of mind.
Buy seeds Auto AK x Auto Somango from Spanish Seeds Online
If you have been growing for a short time, and want some seeds that do not require experience or a lot of knowledge about it, Auto AK x Auto Somango may be the perfect ones for you, because In a very short time and without much care, it will give you back a good harvest of tasty buds.
You may also be interested in: