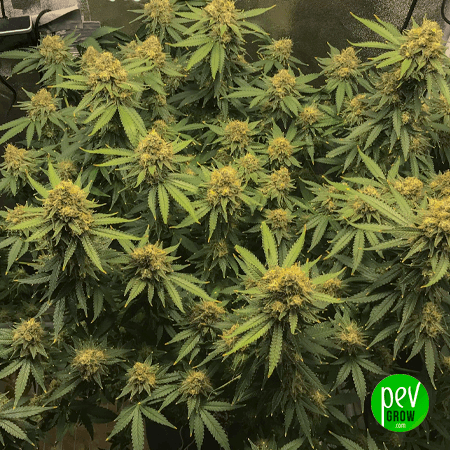 Cake Mix are feminized marijuana seeds created by the bank Spain Bulk Seeds from a very exclusive American elite clone. This herb stands out for its aroma and effect, but it has many other interesting qualities, so I recommend you read carefully what follows.
What is the genetics of these seeds from Spain Bulk Seeds?
It is a 3-band cross between Cherry Pie , Girl Scout Cookies, and Triangle Kush, 3 of the pillars on which the best current cannabis genetics in California is sustained. It contains a very balanced chemotype, approximately 50% indica and 50% sativa.
What is Cake Mix like in general?
Its appearance is curious and surprising at the same time, because in the first stages of growth it remains very compact, but as it develops it stretches its structure until it is quite open and branched.. The buds of this plant are very hard, not as bulky as those of a Skunk, but they look like stones because of the rocky and shiny appearance that gives the exaggerated amount of resin that surrounds them.
How are these seeds grown indoors and outdoors?
The best way to exploit the structure of these plants in indoor cultivation is by applying the SCROG technique , because in this way we can arrange their branches as best suits us. You can put 9 plants / m2 in 11 liter pots, with 4 weeks of vegetative growth, and in that time do FIM pruning to all the upper tips. Once the mesh or the entire illuminated space is filled, the photoperiod is changed to flowering, and at that time all the branches and shoots that remain below the mesh or net can be removed, thus making better use of the energy of the plants and produce more.
In outdoor cultivation you can do something similar, and since there is usually more time for vegetative growth, you can do many prunings so that the bud yield is distributed as best as possible. For maximum growth, use pots of at least 50 liters, and add microbial life to the soil to accelerate root development.
When are Cake Mixes generally harvested?
It depends on the phenotype, because the fastest specimens can be cut with 8 weeks of flowering in indoor cultivation., but there are some plants that require 1 week or 10 more days. Outdoors they are harvested during the first fortnight of October in the northern hemisphere, and between April 1 and 15 in the southern hemisphere.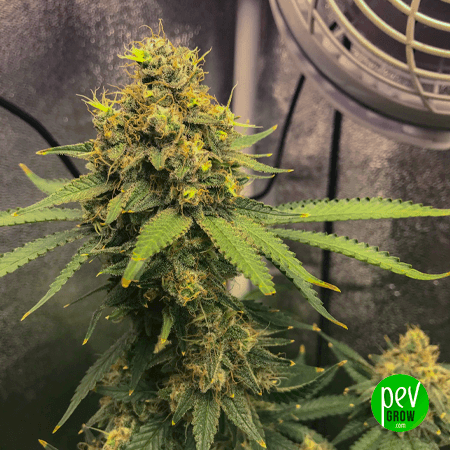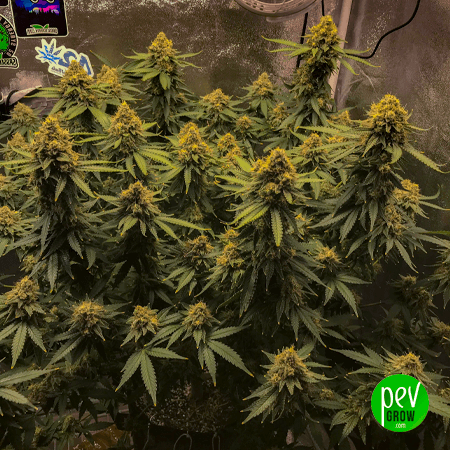 How much do these feminized seeds produce?
They produce very well in every way, because their buds are very fleshy and tight, so they do not lose as much weight during drying as others. In well-configured indoor crops can exceed 17.6 oz per 3x3ft (500 grams / m2) , and outdoors each Cake Mix can give you more than 24,6 oz/plant (700 grams )well grown.
How is the aroma and taste of Cake Mix?
The smell is very sweet and pronounced, very pleasant but so powerful that it can cause problems because it is perceived for miles. It needs a minimum of curing to show its full organoleptic potential, but I assure you that it is worth the wait because it is a special flavor, sweet, creamy, earthy, Kush, with a fruity touch, an incredible combination that is reminiscent of the mixture that prepares to bake cakes.
What kind of effect does this herb have?
If I tell you that exceeds 25% of THC I suppose you can get an idea of the power we are talking about. You don't have to consume a lot to feel its effects in all its intensity, just a few puffs are enough to teleport you to a new world, with a great euphoria and mental energy at the beginning, and always keeping the body relaxed and anesthetized.
Buy Cake Mix feminized seeds from Spain Bulk Seeds cheap online
If you are a fan of flavors reminiscent of desserts, you have to try these feminized seeds, because they stand out for this quality in addition to offering a huge yield of buds and resin. A great harvest of cakes is waiting for you, do not let it escape.
You may also be interested in: